"There is no sincerer love than the love of food" - George Bernard Shaw
---
Try this delicious pasta recipe anytime during the week or on the weekend. Thick, rich creamy sauce made with homemade Italian sausage. It doesn't get better than this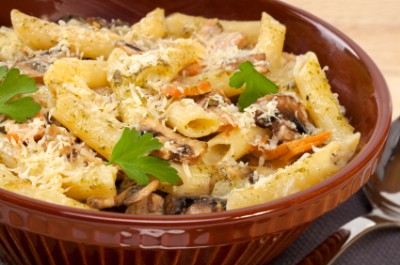 Creamy
Rigatoni with Sausage Cream Sauce is an exciting dish that is easy to make. It's rich and creamy with a subtle taste of fennel from the sausage mixture. You can make this dish two ways. The easiest way is buying bulk Italian sausage. My way is to make your own sausage. It's not that difficult it just takes a little more time and it creates a much better flavor for this pasta dish.
My sausage recipe calls for a little bit of red wine but every family has their own variation. The difference between Italian sausages depends on the regions they are produced. The Northern regions produce sausage that is seasoned with fennel and garlic and is sweeter than the Southern regions which produce a much spicier sausage seasoned with red pepper flakes.
This Rigatoni with Sausage Cream Sauce recipe took some time for me to develop. If your not afraid of the butter, cream and cheese in this dish I'm sure you'll enjoy it. I said it's good. I never said anything about healthy.
INGREDIENTS
1 pound of Rigatoni
1 pound of bulk sausage (My recipe below)
2 Tbls of butter
1 bunch of long green onions, chopped
2 cloves of garlic, chopped
5 baby portabella mushrooms, sliced
1/4 cup of white wine
1/2 cup of chicken broth
1 cup of heavy whipping cream
1 cup of freshly grated Parmesan cheese
1/4 cup of fresh chopped Italian parsley

PREPARATION
Sauté the sausage in a separate pan.
Drain on a paper towel and set aside.
In a large skillet sauté the onions and garlic in the butter for around 2 minutes.
Add the mushrooms and sauté for another 2 minutes.
Stir in cooked sausage.
Deglaze the pan with the white wine.
Add the chicken broth and the cream and cook until bubbly.
Stir in the Parmesan cheese.
In 6 quarts of rapidly boiling water cook the pasta until al dente. About 10 to 15 minutes.
Drain the pasta and toss in the cream sauce.

NOTE: I don't use salt and pepper in this recipe because there is plenty in the sausage mixture.

Plate and garnish with parsley.

Italian Sausage

INGREDIENTS
1 pound of ground pork
1 Tbls of fennel seed
1 tsp of freshly ground black pepper
1 tsp of salt
1 tsp of sweet paprika
1 tsp of crushed red pepper flakes
1 tsp of dried basil
1 clove of garlic, chopped
1 Tbls chopped fresh parsley
2 Tbls of red wine

PREPARATION
Mix all the ingredients together thoroughly by hand.

Mangia!
---
Eat Like An Italian
Very proud to announce my new paperback "Eat Like an Italian" will be released around the first of April. This book will contain most of our old favorites plus many new recipes. Official release will be announced through our newsletterm "Shut Up and Mangia", and our Facebook page. Again thank you for your support. Without you we would not exist.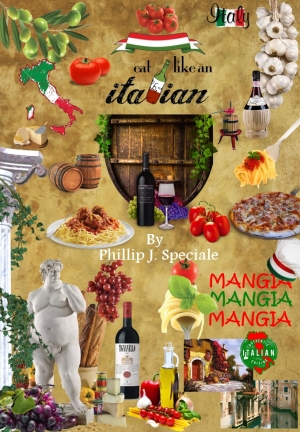 ---
Site News
If you haven't joined us yet please visit my Facebook Fan page. Besides our rss feed, all new recipes and site announcements will appear on this page.
We have over 6000 fans so far and it keeps getting bigger everyday. Thanks. We'd appreciate it if you share this page with all your FB friends.
Great Chicago Italian Recipes is dedicated to adding new and traditional Italian recipes for your enjoyment. The site is getting bigger and better. Don't forget the addition of "The Italian Grocer" and the"The Great Italian Music Store" for your convenience. Thank You for supporting this site.


---
Final Thoughts
If you enjoy our newsletter please feel free to email this newsletter to a friend so they can Subscribe to "Shut Up and Mangia!" and begin to enjoy the many Italian recipes we have to offer.
Mangia Italiano!
Take Care,
Phillip J. Speciale