"This is my advice to people: Learn how to cook, try new recipes, learn from your mistakes, be fearless, and above all have fun" - Julia Child
---
Tender pieces of chicken smothered an artichoke, mushroom and pepper cream sauce with plenty of garlic. Enjoy! Mangia Italiano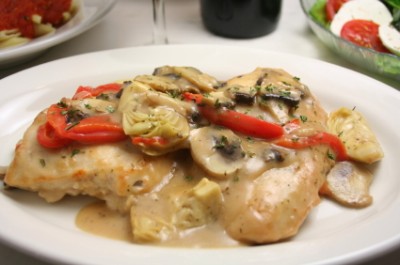 Chicken Artichokes Mushrooms and Peppers
This Chicken Artichokes Mushrooms and Peppers recipe is delicious with a garlic cream sauce. This is one of the best recipes you can make if you love garlic as much as I do.
A classic garlic cream sauce is simple to make. It can be used on pasta, meat, shrimp and even salads but the best is over this roasted chicken. The cream sauce combined with the artichokes,.... Read More


---
Eat Like An Italian
Very proud to announce my new paperback "Eat Like an Italian" will be released around mid September. This book will contain most of our old favorites plus many new recipes. Official release will be announced through our newsletterm "Shut Up and Mangia", and our Facebook page. Again thank you for your support. Without you we would not exist.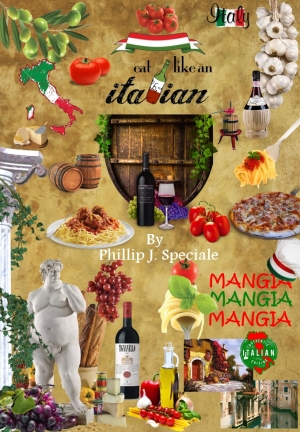 ---
Site News
If you haven't joined us yet please visit my Facebook Fan page. Besides our rss feed, all new recipes and site announcements will appear on this page.
We have over 6000 fans so far and it keeps getting bigger everyday. Thanks. We'd appreciate it if you share this page with all your FB friends.
Great Chicago Italian Recipes is dedicated to adding new and traditional Italian recipes for your enjoyment. The site is getting bigger and better. Don't forget the addition of "The Italian Grocer" and the"The Great Italian Music Store" for your convenience. Thank You for supporting this site.


---
Final Thoughts
If you enjoy our newsletter please feel free to email this newsletter to a friend so they can Subscribe to "Shut Up and Mangia!" and begin to enjoy the many Italian recipes we have to offer.
Mangia Italiano!
Take Care,
Phillip J. Speciale