"Shut Up and Mangia!"
---
Blessed indeed is the man who hears many gentle voices call him father! ~ Lydia M. Child
---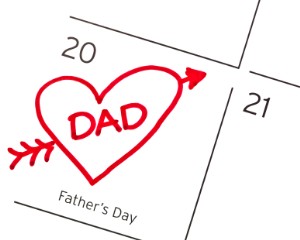 ---
Benvenuti Amici
Felice Festa del Papa
Welcome to the 35th issue of "Shut Up and Mangia!". This special Father's Day issue will focus on Dad and his favorite food.
This year treat your father to his favorite meal. Cook up a great dinner, give him plenty of gifts and most of all give him all of your time. Time is the most important gift you can give him.
---
Site News
Congratulations to the winners of the "Mangia Italiano Spring 2010 Recipe Contest". We wish you the best and hope you enjoy your prizes as much as we've enjoyed your recipes.
1st Place- $100.00 Amazon.com gift certificate
Stoonad Stuffed Shells
By: Danielle D,
Boston, MA, USA
2nd Place- wins a "Great Chicago Italian Recipes" Sweatshirt
Buona Baked Pasta
By: J. Baker,
Milwaukee, WI
3rd Place- Wins a "Great Chicago Italian Recipes" Cooking Apron
Tomato Salad
By: Joanne Bellantoni,
Port Chester, NY USA
4th Place- Wins a "Great Chicago Italian Recipes" Tote Bag
Lasagna di Melanzane alla Parmegiana
By: Margalit Rosenblatt,
Cambridge, MA
5th Place- Wins a "Great Chicago Italian Recipes" Coffee Mug
Grandma Saviano Double Fried Eggplant
By: Anthony Speciale,
Pine Brook, NJ 07058 USA
Nana DeMarco's Potato Pie
By: Janet C. Ranieri,
Sea Girt, N.J.
NOTE: There was a tie for fifth place but I decided to send prizes to both. Congratulations!
I would again like to thank everyone who submitted such great recipes. Check back for details on our next contest.
If you haven't had a chance to visit my new site "Mia Cucina Pazzo.com" do so now. It's a fun place where I get to write anything I want and share my thoughts on a variety of Italian subjects. Feel free to post your comments anytime. I'm doing my best to add new recipes and some interesting articles on various Italian topics..
Great Chicago Italian Recipes is dedicated to adding new and traditional Italian recipes for your enjoyment. The site is getting bigger and better with the addition of "The Italian Grocer" and the"The Great Italian Music Store". Thank You for supporting this site.


---
Father's Day Recipes
Here is a list of the featured recipes for you to celebrate Father's Day.
Stuffed Baby Portobello Mushrooms
Smoked Mozzarella and Penne Salad,
Bistecca Florentina,
Double Baked Potato,
Garlic String Beans and
Cream Puffs.

Just click here and enjoy. Mangia Italiano!
---
Festa Pasta Vino
Plan a great Father's Day by attending Festa Pasta Vino this weekend, June 18th, 19th and 20th on 24th and Oakley in Chicago. I'll be there with the family in the evening eating great food and listening to great music.
This is Chicago's most popular celebration of Italian culture. For more information visit Onesti Entertainment.com .
---
Great Recipe Book
If you are looking for new exciting recipes you can always check out my new ebook Mia Cucina Pazzo.

---
Final Thoughts
If you enjoy our newsletter please feel free to email this newsletter to a friend so they can Subscribe to "Shut Up and Mangia!" and begin to enjoy the many Italian recipes we have to offer.
Happy Father's Day
Mangia Italiano!
Take Care,
Phillip J. Speciale