---
Forever on Thanksgiving Day
The heart will find the pathway home. - Wilbur D. Nesbit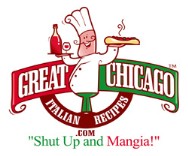 ---
Benvenuto
This November 19th issue of "Shut Up and Mangia!" will feature part two of "An Italian Thanksgiving".
"An Italian Thanksgiving" is an American holiday celebrated Italian style. Among the traditional Turkey, stuffing and cranberries we also bring antipasti, pastas and desserts to the table.
Cooking for Thanksgiving in a typical Italian home usually begins on Monday in order to have everything ready by Thursday. I usually begin the same way my mother did, by laying out slices of American bread so they can dry out to make the stuffing.
The day before Thanksgiving the pasta dish is made which is usually lasagna, stuffed shells or ravioli. Also the gravy, meatballs and braciole are also made at this time. This leaves Thanksgiving day for the turkey, roast and ham. It's always a lot of work, but it's well worth seeing everyone enjoying the food.
The most important Italian ingredient on Thanksgiving is family and friends.


---
Site News
Not much has been going on with the site recently. Just trying to add more great recipes and maintaining the site.
Again, if anybody has some great Italian Recipes they would like to share, please send them through my Share Recipes section as usual.
Thanks again to everyone for supporting the site by purchasing products from The Italian Grocer and my Cafepress store. These are great products are specifically chosen for all your Italian cooking needs.


---
More Restaurants Serving Thanksgiving Dinner
Caliterra
located at 633 North St. Clair is a perfect place to celebrate Thanksgiving. This Italian restaurant located in the Wyndom Hotel gives you a great Italian meal for Thanksgiving. For reservation call 312-274-4444.
Carmine's
will celebrate Thanksgiving by serving their regular menu. They feature authentic Italian cuisine and live entertainment. Carmine's, is located at 1043 North Rush. For reservation call 312-988-7676.

Giannotti Italian Steakhouse
is located at 4926 North River Road, Shiller Park, Illinois. This great Italian restaurant features their regular menu plus turkey,ham and lamb with all the trimmings. For reservations call 847-678-2600.

Tuscany
located at 550 South Milwaukee Ave. in Wheeling, Illinois is offering a traditional Thanksgiving dinner plus their regular menu. For reservations call 847-465-8446.


---
GreatThanksgiving Books
Here are a couple of great Thanksgiving recipe books to help celebrate the holiday. The first book "The Thanksgiving Table: Recipes and Ideas to Create Your Own Holiday Tradition"
by Diane Morgan focuses on cooking and tradition with some great recipes to get you started.
The second book, "Thanksgiving: Festive Recipes for the Holiday Table (Williams Sonoma Kitchen Library)"
by Chuck Williams, features great traditional recipes with easy to follow intructions.
If you've never cook Thanksgiving dinner before, these two books will come in handy in preparing a great holiday meal.


---
Chicago Thanksgiving Events
On Thanksgiving Day, Thursday November 22, Chicago hosts it's annual Thanksgiving Day parade on State Street from Congress Parkway to Randolph Street. From fantastic floats to marching bands, this parade attracts more than 300,000 spectators, making it one parade you shouldn't miss. For more information contact Chicago Festival.org.


---
Great Thanksgiving Sites
I found couple of interesting sites you may want to visit for the holiday. The first is Thanksgiving on the Net. This site is packed with information about the holiday and has a few good links to other Thanksgiving sites.
The other site we really enjoyed was The Holiday Spot. This site is full of gift ideas, crafts, coloring pages, recipes plus so much more for the whole family.


---
Great Italian Thanksgiving Recipes Part Two
Here are a few recipes to help celebrate the holiday. There are so many recipes I broke them up into two pages. First we start with a Herb Roast Turkey a Sicilian Roast Pork Shoulder and a Pineapple Glazed Ham then we move on to two stuffing dishes, Basic Bread Stuffing and one of my favorites, Italian Bread Stuffing. For side dishes you can choose from Cauliflower with Pancetta, Italian Style String Beans or Candied Sweet Potatoes. Also I refer you to some of my favorite side dishes on my site like Braciole, Meatballs, Sweet Peas, Sauteed Spinach and Brussels Sprouts. Enjoy!


---
Final Thoughts Feel free to email this newsletter to a friend so they can Subscribe to "Shut Up and Mangia!" and begin to enjoy the many Italian recipes we have to offer.

Take Care and have a Happy Thanksgiving,

Phillip J. Speciale


That's a discovery! That's Italian! That's
Great Chicago Italian Recipes.com




---