"Shut Up and Mangia!"
---
Nothing would be more tiresome than eating and drinking if God had not made them a pleasure as well as a necessity.  ~Voltaire
---
Benvenuti Amici
Recipes from Rome
Welcome to the 21th issue of "Shut Up and Mangia!". This issue will focus on Rome and Roman cuisine.
Rome is one the most popular tourist destinations in Europe. People come from around the world to visit famous landmarks like the Patheon, Vatican City, the Trevi Fountain, and of course the Colosseum. Like many parts of Italy, people also travel to Rome to experience their exquisite cuisine.
The creative combinations of flavor and unique cooking techniques accompanied by their lavish feasts showed a distinct difference between Rome and other regions of Italy. Roman cuisine was strongly influenced by the Greeks among other influences.
This newsletter will feature five of my favorite Recipes from Rome, recommended books on Roman Cuisine, a couple of great websites on Rome and a few restaurant in Chicago specializing in Roman cuisine.
---
Site News
I'm still working on the ebook featuring my recipes. The book entitled "Not Another Italian Cookbook" "A Fictitious and Humorous Look at Italian-American Cooking Featuring Authentic Family Recipes". will feature all my recipes in a humorously entertaining sort of way unlike any recipe book you've ever read. We're still on schedule for a middle of July release.
Great Chicago Italian Recipes is dedicated to adding new and traditional Italian recipes for your enjoyment. The site is getting bigger and better with the addition of "The Italian Grocer" and the"The Great Italian Music Store". Thank You for supporting this site.


Check out the new promo for the video site.
Coming Soon Fall 2009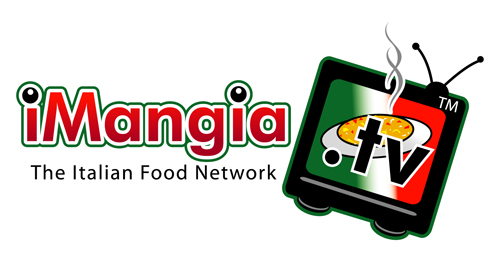 ---
Great Cookbooks
Here are two books featuring some of the best recipes from Rome. The first book is Cooking the Roman Way: Authentic Recipes from the Home Cooks and Trattorias of Rome
by David Downie. "Cooking the Roman Way" features simple authentic recipes that make you feel like your in Rome.
The second book is In a Roman Kitchen: Timeless Recipes from the Eternal City
by Jo Bettoja. This book features more than 200 recipes which the author collected from private households in Rome. This book also has a large chapter on pasta and rice dishes you're not likely to find anywhere else.
---
Great Travel Sites
If your planning a trip to Rome, I wouldn't leave without visiting these two sites. Everything you need to know about this beautiful ancient city can be found at About Roma and Rome World Guide. Between these two terrific sites you should be able to plan the best family vacation or just a romantic vacation for two.
---
Chicago Roman-Style Restaurants
Francesca's Amici
is located at 174 North York Rd. in Elmhurst. This restaurant, which is part of the Mia Francesa family of restaurants, serves up some of the best Roman-style food. This authentic trattoria offers guests authentic cuisine accompanied by great service. For reservations call 1-630-279-7970.

Gruppo Di Amici
located in the Rogers Park neighborhood at 1509 West Jarvis Ave. serves up some great Roman-style food and features an extensive wine and beer list. For reservations call 1-773-508-5565.

Mangia Roma
located at 1623 North Halsted St. in the features authentic Roman specialties using only the best ingredients. Mangia Roma is a family owned restaurants which incorporates contemporary plus traditional dishes into your dining experience. For reservations call 1-312-475-9801.

La Bocca della Verita
located at 4618 North Lincoln Ave. is a favorite Roman-style trattoria which features authentic family recipes. For reservations call 1-773-784-6222.
---
Great Roman Recipes
Here are five of my favorite recipes from Rome for you and your family to enjoy. The first recipe is for traditional Roman Artichokes. Then this is followed by Pasta and Lentil Soup, Macaroni with Ricotta, Roman-Style Chicken and a Roman Pear Patina for dessert. Enjoy!
---
Final Thoughts
If you enjoy my site please feel free to email this newsletter to a friend so they can Subscribe to "Shut Up and Mangia!" and begin to enjoy the many Italian recipes we have to offer.
Mangia Italiano!
Take Care,
Phillip J. Speciale

That's a discovery! That's Italian! That's
Great Chicago Italian Recipes.com
---