---
"Too few people understand a really good sandwich" - James Beard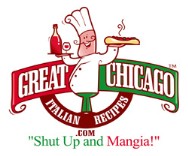 ---
Benvenuto
The September 16th issue of "Shut Up and Mangia!" will focus on some great Panini recipes.
The Panini is becoming one of the most popular food trends to come out of Italy since the pizza. In America more and more people are discovering just how versatile the Panini can be. You can basically create any type of Panini that fits your specific taste. By using cheeses, cured meats, fresh vegetables, chicken and seafood you can create some wonderfully delicious sandwiches for lunch, for the kids after school or just a quick snack.
Be creative, try different ingredients until you find your signature recipe. My favorite is simply prosciutto, roasted red peppers and mozzarella cheese.
In this newsletter I'll give you five great Panini recipes to get you started plus my recommendation on a Panini recipe book, a few Chicago restaurants that serve Panini and a great site for further recipes. Also I'll include my recommendation on purchasing a Panini press. Before I bought mine I would use a brick covered with aluminum foil and a griddle which actually works just fine.


---
Site News
Thanks to everyone supporting for the site by purchasing products from The Italian Grocer and my Cafepress store. These great products are specifically chosen for all your Italian cooking needs.


---
Restaurants that Serve Panini in Chicago
Panini Panini
located at 6764 North Sheriden Rd. is one of the best places to go for fantastic sandwiches. These hearty sandwiches are served with only one side but the sandwiches are filled with delicious meats and cheeses.

Caffe Baci
located at 20 North Michigan Ave. is another great spot for Panini. You can find some great sandwiches here. Visit their site at Caffé Baci.com for a complete list of there sandwiches.
Vella Cafe
at 1912 North Western Ave. has outstanding Panini. Café Vella also serves up home made pastries, soups, crepes and salads. Visit their site at Vella Café.com for more information.
Bari Foods
at 1120 West Grand Ave. specializes in some delicious imported Italian food. The grocer-deli produces some best sandwiches in the city using fresh baked bread from D'Amato's Bakery right next door. Visit their site at Bari foods for a list of some great products.

Ventrella's Caffe
located at 4947 North Damen Ave. serves up some fresh Italian sandwiches, baked goods and soups along with some great gelato and sorbetto.


---
A Great Panini Book
This is one of my favorite books about making Italian sandwiches. Jennifer and Jason Denton's book Simple Italian Sandwiches: Recipes from America's Favorite Panini Bar
is full of great information about making panini, crostini, bruchetta and many other sandwiches utilizing a variety of different ingredients. It's a great book for anybody wanting to prepare some delicious Italian favorites.
---
Events
Chicago features the World Music Festival 2007 on September 14 through the 20th. Visit their site for scheduled events at World Music Festival 2007.
---
Great Panini Site
Here is a sites that have some excellent panini recipes. There are quite a few different panini recipes at Family Oven.com
---
Great Panini Recipes
Here are a few of my favorite Panini recipes which are not included on my site. Try the Prosciutto, Roasted Peppers and Mozzarella Cheese Panini, the Sausage and Spinach Panini, the delicious Roasted Vegetable Panini and the Grilled Lemon Chicken Panini recipe, plus an excellent Salami and Provolone Panini.
---
Final thoughts
Feel free to email this newsletter to a friend so they can Subscribe to "Shut Up and Mangia!" and begin to enjoy the many Italian recipes we have to offer.
Take Care,
Phillip J. Speciale

That's a discovery! That's Italian! That's
Great Chicago Italian Recipes.com
---