Great Chicago Italian Recipes
Great Recipe
Perfect Sunday Gravy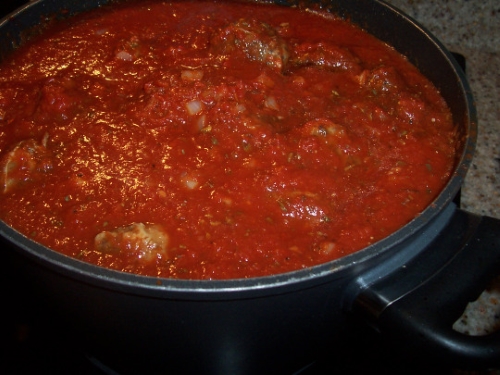 Perfection
As the, "is it called gravy or sauce argument rages on", we will attempt to give you tips and information on how to make the best Sunday Gravy you have ever tasted. Traditional Sunday gravy is a rich, meat based gravy that originated in the kitchens of Italian-American families. There are many variations of this recipe and choices must be made. Should I add braciola or just use meatballs and sausage? Should I add neck bones or spare ribs? Ground beef or pork? The truth of the matter is to use what is available. If you have time to make......
Read More
---

Great Chicago Italian Recipes.com is proud to introduce our own original blend of Chicago-Style Italian Beef Seasoning. If you are craving the great flavor of of a Chicago-Style Beef Sandwich you can now re-create them in the comfort of your own home.
Read More
We are proud to share with you a few more emails regarding what our customers are saying about our "Chicago-Style Italian Beef Seasoning":
"The spice is perfect. Used it once. Too hot here in Utah to cook indoors. Will use it again in September." Mike - Sandy, Utah
" Thank you so much for your amazing Chicago-Style Seasoning!!! this stuff is absolutely wonderful! Thank you so much again. you know have a life time coustomer" Tony - Lomita, CA
"Love your seasoning, Phil ... reminds me of momma's and nonna's cooking ... I use it in many dishes to add that extra flavor!!" Marianne - Las Vegas, NV
"It was great everyone raved how good the beef tasted" Edward - Ottawa, Il
"I really liked this,will be ordering more very soon. Grazie!" Marge - Willsboro, NY
"Dear Phillip, So happy to review your Chicago-Style Italian Beef Seasoning.
Born and raised in inner city Chicago, I needed my Italian Beef fix out here in California! Nothing out here at all close to the rich, spicy, peppery, flavor of your seasoning. Add that to thin sliced top or bottom round, and I might even enjoy a Cubs game again!
I've gone to the lengths of ordering Portillos and having it shipped up here to the Lost Coast. Al's, on Taylor St., nor Mr. Beef on Orleans, offer that option.
I have been eating Italian beef's ( hot and sweet, dipped) since my childhood in the sixties....my Father took me to Carl's stand on 146th ( I think), when I was a youngster!
We'd bring home a dozen for everyone. ...the best gardinerre being at Mr. Beef. Your seasoning should be sold in quart jars! I use a whole one each time I make it! The best part about your fantastic seasoning is giving these old hippies out here a taste of the best of what the Chicago meat packing district still has to offer.
I've tried others... but none that I lie about and tell people I made! Thanks for my notoriety out here....I've even posted your seasoning in Facebook!" Skylar - Hydesville, CA
Chicago-Style Italian Beef Seasoning
is availabe online only. So give it a try and let us know what you think and we'll send you a free copy of our ebook
Mia Cucina Pazzo.
We would love to hear from you.
---
Italian Potluck Dinner
"Italian Potluck Dinner"
is the place to have a little fun. If you can't decide what to make for dinner just have
"Luisa the Italian Cat"
decide for you. Here is the deal, just click on one of the buttons above and whatever category you get, you have to make something in that category for dinner. No cheating now. You can only choose once. No going back and trying another button. Every so often we will be changing the category order just in case you have them memorized. Have fun and make sure you email us to let us know how the recipes are turning out. Mangia Italiano!
---
Fine Italian Prints

Limited Edition
Three beautiful Italian-inspired prints are now available for your home or office. These prints capture the very essence of old world Italy and will truly compliment any room. This is a great way to bring that touch of old-world charm into your home that looks warm, inviting and has a slightly aged feeling. For further information and detailed images of these beautiful limited edition prints just visit our
"Fine Italian Prints"
page.
---

"Italian Food Tips and Info" features great cooking tips and information to help you create and understand your favorite recipes. It is an informative section which will give you an insight into the Italian way of cooking and living. Articles such at "All About Risotto", Spaghetti Etiquette", "Eating Italian Food on a Date " among many others will all be featured on this page. We hope you enjoy this section as much as we love bringing it to you. Just click on the link "Italian Food Tips and Info"

---
"The Italian Experience"
is a new section that will feature articles about Italy's food, culture, art and history. The allure of Italy and Italian culture has a sense of timelessness. It is defiantly a country of great variety and interest to many people around the world. From its ancient history and traditions to its modern trendy fashions and products, Italy is truly a country worth exploring. Enjoy!
The Essence of Grappa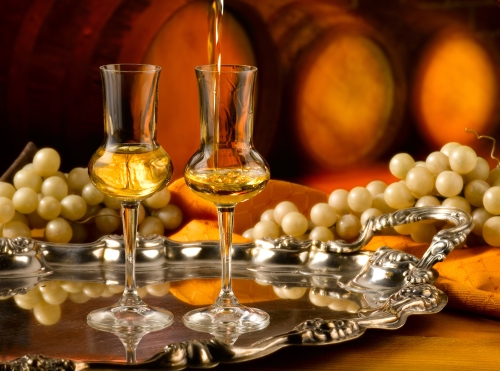 Delicious Brandy
Grappa is a unique Italian beverage made from the grape's discarded skins, stalks, seeds and stems. This fragrant pomice brandy has been produced in Italy since sometime between the 12th and 15th centuries. It's another type of product that seems to have been developed out of necessity by the peasants. Not one to let anything go to waste, the laborers who help produce the wine, would use the remnants of grapes to produce the beverage to unwind after work and keep them warm in the winter.
During this time it was predominately produce in the Northern regions of Italy. Today, almost every winery in Italy .................. Read More
Our Great Italian Recipes
Here are a few of our featured recipes below to get you started. All the dishes are made with the freshest ingredients.
Buongiorno
Sit back, grab a glass of wine and enjoy the many Italian recipes Great Chicago Italian Recipes.com has to offer.
This site will provide you with some great family Italian recipes.

Italian food is a celebration. A celebration of life, family and friends.

Italian food is a blessing which should be shared and enjoyed by all.
From me to you, from my family to yours, I will be bringing you the finest, tastiest, most delicious recipes I could find.
The Adventure Begins
The recipes I will be featuring will begin with some great Italian appetizers and end with some fantastic Italian desserts.
Italian recipes from different regions of Italy will include various sauces, meat, seafood and pastas with special sections devoted to pizza and cooking for kids.
We will also focus on: Italian Wine and Cheese, Coffees and Espresso, and Cooking Supplies and Techniques.


Great Italian Chefs
Visit our new section Great Italian Chefs for some interesting stories and original recipes from Chef's such a Nick Stellino, Rao's Las Vegas Chef Carla Pellegrino, the infamous Patsy's in New York's Chef Sal Scognamillo plus many more.
Healthy Italian Recipes
If your looking for low fat, low cal Italian recipes then visit our Healthy Italian Recipes section for some delicious recipes that include Turkey Piccata, Fusilli with Tuna, Ravioli with Spinach plus new healthy recipes will be added each week.


Everyday I will be adding a few new recipes.
So together lets discover all the magic Italian food has to offer. Together lets...

...MANGIA ITALIANO

Subscribe to my free newsletter, "Shut Up and Mangia!". Just click here and receive two free ebooks just for joining. You will then receive your first issue and continue receiving it once a month. Also you will have access to all of "Shut Up and Mangia's" back newsletters featuring more great recipes.
Home | The Italian Grocer | Italian Heritage | Italian Chefs | New Contest | What's New | Restaurant Reviews | Your Reviews | Appetizer Recipes | Soup Recipes | Salad Recipes | Bread Recipes | Vegetable Recipes | Pasta Recipes | Poultry Recipes | Beef Recipes | Pork Recipes | Veal Recipes | Lamb Recipes | Seafood Recipes | Pizza Recipes | Cooking for Kids | Italian Cheese | Italian Wine | Dessert Recipes | Coffee and Espresso| Italian Dinner Music | Food Glossary | About the Cook | Sitemap | Share This Site | Contact | Privacy Policy | Disclaimer | Submit Your Recipes | Your Italian Recipes | Archived Menus