Great Chicago Italian Recipes

Recipes of the Day
Rich
Taganu D'Aragona has been prepared on Good Saturday in Sicily from at least the 1600's. Taganu is simply Sicily's version of Timpano, which is layers of pasta, meats,
Read More


Italian Minestrone Soup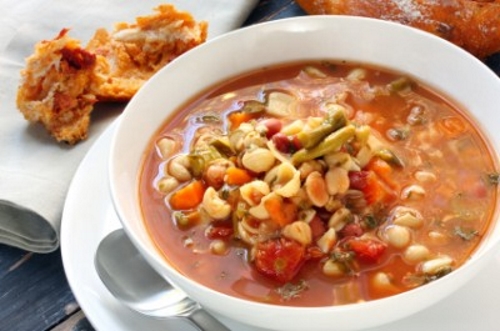 For the love of...minestrone. This soup to end all soups is a recipe that takes on a life of it's own.
One of Italy's signature dishes, it widely said that Italians eat more minestrone than pasta.
There is no set recipe for this dish. I'll include my favorite, but the wide range of variation for this soup is endless. Using any fresh vegetable that's in season, makes this definitely one of the heartiest of Italian soups. The thick rich density of flavors of this rustic recipe combined with ditalini pasta will............. Read More


Our Favorite Spot
If you're ever on Taylor Street in Chicago make sure you visit Three Aces. The best place for great Italian food prepared by Executive Chef Matt Troost. Your hosts, Lyle Aker and Anthony Potenzo are always there to greet you and make sure your have a great time.

Read More
Buongiorno
Sit back, grab a glass of wine and enjoy the many Italian recipes Great Chicago Italian Recipes.com has to offer.
This site will provide you with some great family Italian recipes.

Italian food is a celebration. A celebration of life, family and friends.

Italian food is a blessing which should be shared and enjoyed by all.
From me to you, from my family to yours, I will be bringing you the finest, tastiest, most delicious recipes I could find.
The Adventure Begins
The recipes I will be featuring will begin with some great Italian appetizers and end with some fantastic Italian desserts.
Italian recipes from different regions of Italy will include various sauces, meat, seafood and pastas with special sections devoted to pizza and cooking for kids.
We will also focus on: Italian Wine and Cheese, Coffees and Espresso, and Cooking Supplies and Techniques.


Great Italian Chefs
Visit our new section Great Italian Chefs for some interesting stories and original recipes from Chef's such a Nick Stellino, Rao's Las Vegas Chef Carla Pellegrino, the infamous Patsy's in New York's Chef Sal Scognamillo plus many more.
Our Great Italian Recipes
Here are a few of our featured recipes below to get you started. All the dishes are made with the freshest ingredients.
Healthy Italian Recipes
If your looking for low fat, low cal Italian recipes then visit our Healthy Italian Recipes section for some delicious recipes that include Turkey Piccata, Fusilli with Tuna, Ravioli with Spinach plus new healthy recipes will be added each week.



Everyday I will be adding a few new recipes.
So together lets discover all the magic Italian food has to offer. Together lets...

...MANGIA ITALIANO

Subscribe to my free newsletter, "Shut Up and Mangia!". Just click here and receive two free ebooks just for joining. You will then receive your first issue and continue receiving it once a month. Also you will have access to all of "Shut Up and Mangia's" back newsletters featuring more great recipes.