Great Chicago Italian
Cooking for Kids
---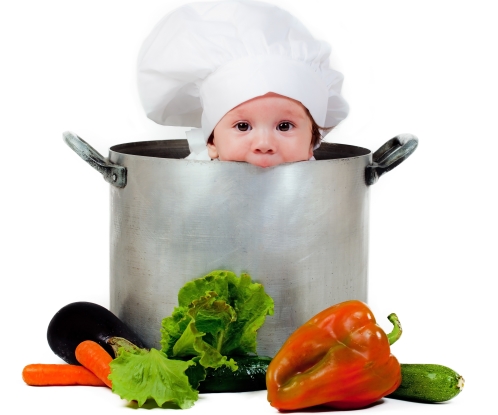 ---
DON"T COOK YOUR KIDS
Unlike the picture suggests, this section is
Italian cooking for kids
, not cooking your kids.
Everyone knows the difficulty in getting your children to eat. One of the best way to get them to eat is by getting them involved in the kitchen. Kids love to eat what they make.
Even after you teach them everything you know, you can rest assure that when they get older they'll still be coming over for dinner.

Always make sure the kitchen is safe for the little ones. They should never get near the stove or use sharp utensils. There will still be plenty of things for them to do.

Though there is a limited variety of Italian food kids will eat, if you start them off young you shouldn't have a problem getting them to eat when they're older.

Normally when cooking for my kids I'll limit the portions and limit the spices. Kids taste buds need time to develop so I never spice up a recipe. The simpler the better.

I started cooking for myself when I was around ten years old. Mom and Dad both worked so either I learned to cook or starve. Those were the good old days. Needless to say I came up with some of the strangest concoctions you could imagine. I've gotten much better since then.

It's a wonderful experience cooking with the kids and you'll be creating memories that will last a lifetime. Cooking for kids can bring you much satisfaction.
Here a some of my kid's favorite recipes. Have fun and enjoy.
Italian Style Macaroni and Cheese
Creamy cheesy macaroni Italian Style.
Spaghetti with Meatballs
Alway a hit with the kids and adults alike.
Mini Pizzas
Miniaturized pizzas for miniaturized people.
Buttered Noodles
A complex Italian dish made with a lot of love.
Macaroni, Cheese and Tomatoes
Creamy macaroni, cheese and tomatoes, Italian style.
---
Don't forget to click on the logo below and subscribe to my
NEW NEWSLETTER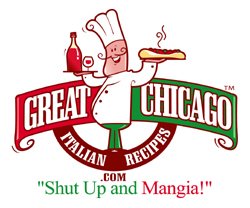 That's a discovery! That's Italian! Thats Great-Chicago-Italian-Recipes.com!
Leave Cooking for Kids and Return to Italian Recipes
---
---
For more great family fun ideas check out Best Family Advice. This site is full of great advice and activities for the whole family.
---
Home | The Italian Grocer | Italian Heritage | Italian Chefs | New Contest | What's New | Restaurant Reviews | Your Reviews | Appetizer Recipes | Soup Recipes | Salad Recipes | Bread Recipes | Vegetable Recipes | Pasta Recipes | Poultry Recipes | Beef Recipes | Pork Recipes | Veal Recipes | Lamb Recipes | Seafood Recipes | Pizza Recipes | Cooking for Kids | Italian Cheese | Italian Wine | Dessert Recipes | Coffee and Espresso| Italian Dinner Music | Food Glossary | About the Cook | Sitemap | Share This Site | Contact | Privacy Policy | Disclaimer | Submit Your Recipes | Your Italian Recipes | Archived Menus