Spaghetti with Meatballs
for Kids
---
---
STUFF THEY LIKE THE MOST
I know I'm stating the obvious here with this spaghetti with meatballs recipe, but if I didn't include it you would notice it missing.
What kid don't love spaghetti and meatball. They're even happy with a can of Spaghetti-O's. I know I was. But if we opened a can of Spaghetti-O's we wouldn't be cooking with our kids now would we?


Who would want to miss all that slurping noise and spaghetti sauce all over their little faces. It's how they express how much they enjoy it.
Now they can enjoy making spaghetti with meatballs just as much as eating it. Just get all the ingredients ready first then invite them in the kitchen to help prepare their dinner.


SAUCE
INGREDIENTS
1 pound box of spaghetti
1 small onion finely chopped
1 clove of garlic finely minced
2 Tbls of extra virgin olive oil
1 28oz can of tomato puree
1 6oz can of tomato paste
1/2 cup of water
1 Tbls of sugar
1/2 tsp of dried basil
1/2 tsp of dried oregano
1/2 tsp of salt
1/2 tsp of pepper



PREPARATION
In a sauce pan saute onions and garlic.
Add tomato puree and tomato paste
Add remaining ingredients and cook for about a half hour.
Boil 6 quarts of water in a large pot with a little salt and oil.
Add spaghetti and cook for about 10 minutes until tender.
Drain and top with sauce.



MEATBALLS

INGREDIENTS
1 pound of ground beef
1 medium yellow onion, chopped
2 cloves of garlic, finely chopped
1/4 tsp of dried basil
1/2 cup of bread crumbs
1/2 cup of Romano cheese
1/4 cup of fresh Italian flat leaf parsley
1/2 tsp of salt
1/2 tsp of black pepper
1 egg
1/2 cup of vegetable oil



PREPARATION
Mix all the ingredients together.
Form meat into small balls. Make them kids size. This the part the kids will enjoy the most. My son is the official meatball maker in our house.
Fry the meatballs in oil until browned on both sides.
Add to sauce

Keep the kids away from the boiling water and oil. Other than that they should easily help prepare the rest of the meat with your guidance.





---
Don't forget to click on the logo below and subscribe to my
NEW NEWSLETTER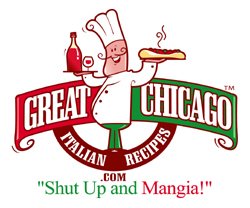 That's a discovery! That's Italian! That's
Great Chicago Italian Recipes.com
Leave Spaghetti with Meatballs and Return to Italian Recipes
---
---
Home | The Italian Grocer | Italian Heritage | Italian Chefs | New Contest | What's New | Restaurant Reviews | Your Reviews | Appetizer Recipes | Soup Recipes | Salad Recipes | Bread Recipes | Vegetable Recipes | Pasta Recipes | Poultry Recipes | Beef Recipes | Pork Recipes | Veal Recipes | Lamb Recipes | Seafood Recipes | Pizza Recipes | Cooking for Kids | Italian Cheese | Italian Wine | Dessert Recipes | Coffee and Espresso| Italian Dinner Music | Food Glossary | About the Cook | Sitemap | Share This Site | Contact | Privacy Policy | Disclaimer | Submit Your Recipes | Your Italian Recipes | Archived Menus