Great Chicago Italian
Cheese
---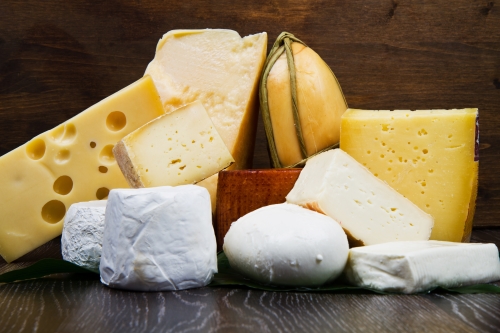 ---
FORMAGGIO
Any discussion of Italian food would not be complete without mentioning Italian Cheese. Cheese is an important part of the Italian culture and everyday living. Cooking Italian would not be the same without it.
Italy has almost as many cheeses as there are regions. Not really, but it would sure seem that way. You can take a tour of Italy through the eyes of cheese. Regions like Lombardy, Veneto, and Piedmont produce some of the finest cheeses in the world.


The most famous of all the Italian cheese is Parmigiano Reggiano. Aged between one and two years, this cheese is incomparable to any other and used with a wide variety of recipes.

What would pizza be without mozzarella? What would lasagna be without ricotta? Cheese plays very an important role in Italian cuisine. Without it would be similar to eating without wine.

Here is a great list of Italian cheese to help guide you.


Asiago has a delicate flavor used as table cheese or for grating. A product of Venito, this cheese is made from cow's milk.
Bel Paese is made at Metzo in Lombardy. This popular cheese has a tangy flavor and is soft buttery and elastic.
Burrini is a mild soft cheese produced in southern Italy. This cheese is molded around a pate of butter, which will be spread on butter and eaten with the cheese.
Caciocavallo is cheese made from cow's milk and is a product of southern Italy and Sicily. When young it is mild in flavor and makes a great table cheese. When aged it can be used grated in a variety of Italian dishes.
Crescenza is cheese form Lombardy, Veneto and Piedmont. It's a soft mild cheese similar to cream cheese and is delicious mixed with various herbs.
Dolcelatte is a smooth blue cheese, milder than gorgonzola.
Fontina has been made in the Aosta Valley in northwestern Italy since ancient times. This cheese melts easily and is the main ingredient in Fonduta. It is soaked in milk and melted with butter and mixed with egg yolks and spooned on bread to create a taste worth living for.
Grana Padano is produced in numerous regions throughout Italy. It's flavor is similar to Parmigiano Reggiano.
Gorgonzola in named for the town it originated in near Milan, but is no longer produced there. It is now produce in Como, Milan, Brescia and many other provinces in Italy. Gorgonzola is one of the finest of the world's blue cheeses. This cheese is best eaten at the end of a meal with a nice dessert wine.
Gruviera is simply the Italian version of Swiss cheese. Mild in flavor, this cheese can be used in a variety of dishes.
Marscapone is a cow's milk cheese used in many desserts and sauces. Similar the cream cheese, marscapone is mainly produced in Lombardy.
Mozzarella di Bufala is made with water buffalo's milk and is very soft and mild in flavor. Due to the scarcity of water buffalo, the majority of this cheese is now made with cow's milk and used in a variety of dishes and especially on pizza.
Parmigiano Reggiano originated in the province of Reggio Emillia and is by far the King of Italian cheeses. Aged to perfection, this cheese is used in a variety of Italian specialties.
Pecorino Romano is made from sheep's milk and is slightly sharper than Parmigiano. This cheese is produced throughout central and southern Italy and good for grating in many Italian dishes. Recipes calling for parmesan cheese can be substituted with Romano if you like a sharper flavor.
Provolone is made from cow's milk and is produced mainly in southern Italy. This firm mild smoky flavored cheese is probably my favorite eaten just with aloaf of bread and a glass of wine.
Ricotta is not really cheese but a milk by-product. Ricotta is a popular ingredient throughout Italy and is used for a variety of dishes including lasagna, raviolis and manicotti. This soft moist cheese has a slight sweet flaver.
Taleggio is a rich semi-soft cheese made from cow's milk. Depending on it's age, taleggio cheese can range from mild to pungent in flavor. This cheese is also a product of the Lombardy region and goes great with fruit at the end of a meat'.
I'm getting hungry for Italian cheese. Enjoy!
---
Don't forget to click on the logo below and subscribe to my
NEW NEWSLETTER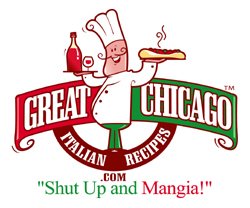 That's a discovery! That' Italian! That's
Great-Chicago-Italian-Recipes.com
Leave Italian Cheese and Return to Italian Recipes
---
---
Home | The Italian Grocer | Italian Heritage | Italian Chefs | New Contest | What's New | Restaurant Reviews | Your Reviews | Appetizer Recipes | Soup Recipes | Salad Recipes | Bread Recipes | Vegetable Recipes | Pasta Recipes | Poultry Recipes | Beef Recipes | Pork Recipes | Veal Recipes | Lamb Recipes | Seafood Recipes | Pizza Recipes | Cooking for Kids | Italian Cheese | Italian Wine | Dessert Recipes | Coffee and Espresso| Italian Dinner Music | Food Glossary | About the Cook | Sitemap | Share This Site | Contact | Privacy Policy | Disclaimer | Submit Your Recipes | Your Italian Recipes | Archived Menus