Great Chicago Italian
Dessert Recipes
---
---
DOLCE, DOLCE, DOLCE
Italian dessert recipes or any dessert recipe is the reason we eat. If there is no dessert, then why have the meal in the first place. You need to set a goal during dinner and that goal is dessert.
Now that the holidays are over and everybody put on a few extra pounds we should be cutting back on our desserts. I've never found that to be a legitimate reason. Cut back on something else but not my desserts.
Indulge yourself on some of the finest Italian dessert recipes I have to offer.
From a delicate zabaglione to a decadent chocolate covered cannoli. You'll find yourself willing to risk those few extra pounds just to enjoy these Italian favorites.
Bathe in the chocolate and bask in the custard. Also, let's not forget the biscotti and the tiramisu and the cakes and the cookies.
So get on board and let's discover the sinful pleasure of Italian desserts.
Cannoli Topped With Chocolate
Melt in your mouth cannoli topped with semi-sweet chocolate.
Italian Tiramisu
This traditional Italian classic dessert will leave a lasting impression on yourself and your guests.
Zabaglione with Berries
Light easy to make custard made with sweet Marsala wine.
Sfinges
Fried puffy pizza dough coated with lots of sugar
Italian Gelato
Creamy rich gelato in four delicious flavors.
Orange Ricotta Almond Tart
A delicious new dessert for you to love.
Simple Ricotta Cheesecake
Delicious cheesecake for the entire family or for yourself.
Cream Puffs
Crisp pastries filled with custard and sprincked with powdered sugar.
Cassata alla Siciliana
Sicilian cake filled with ricotta and topped with frosting, candied fruits and nuts.
Walnut Butter Cookies
Light flaky cookies dusted with powdered sugar.
Limoncello Zabaglione
A light, airy, lemony dessert.
Chocolate Tartufo
Rich chocolaty ice cream treat.
Pizzelles
Light, crisp waffle like cookies dusted with powdered sugar.
Sfogliatella Riccia
Light flakey pastry stuffed with sweetened ricotta cheese and candied fruit.
Zuccotto
A a chocolaty rich, easy to make dessert I'm sure you'll enjoy.
Mascarpone with Peaches
Sweet and creamy Italian dessert.
Strawberries in Wine
Fresh strawberries marinated in red wine and sugar.
Chocolate Ricotta Cheesecake
Rich creamy chocolate dessert.
Chocolate Malt Cheesecake
Great chocolate malt flavor.
Double Chocolate Biscotti
Delicious crunchy chocolate and hazelnut.
Italian Chocolate Mousse
Rich and creamy chocolate mousse made with rum and espresso.
Struffoli (Italian Honey Balls)
Sweet gooey Neapolitan holiday treats.
Panna Cotta
Light creamy dessert topped with berries.
---
Discover great recipes for tasty chocolate treats. Visit Everyone-loves-chocolate.com for some delicious chocolate recipes. Try all of these recipes for your cooking and baking pleasure and get rave reviews from others when they taste your creations.
---
---
Don't forget to click on the logo below and subscribe to my
NEW NEWSLETTER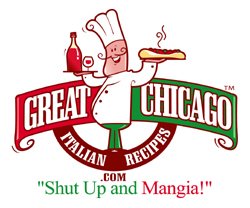 That's a discovery! That's Italian! That's
Great Chicago Italian Recipes.com
Leave Italian Dessert Recipes and Return to Italian Recipes
---
Home | The Italian Grocer | Italian Heritage | Italian Chefs | New Contest | What's New | Restaurant Reviews | Your Reviews | Appetizer Recipes | Soup Recipes | Salad Recipes | Bread Recipes | Vegetable Recipes | Pasta Recipes | Poultry Recipes | Beef Recipes | Pork Recipes | Veal Recipes | Lamb Recipes | Seafood Recipes | Pizza Recipes | Cooking for Kids | Italian Cheese | Italian Wine | Dessert Recipes | Coffee and Espresso| Italian Dinner Music | Food Glossary | About the Cook | Sitemap | Share This Site | Contact | Privacy Policy | Disclaimer | Submit Your Recipes | Your Italian Recipes | Archived Menus