Italian Vegetable Recipes
---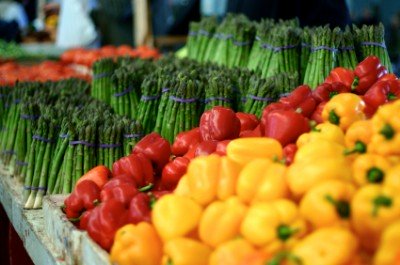 ---
NUTRITIOUS DELICACIES
These Italian Vegetable Recipes are very tasty and nutritious. Unfortunately my children still prefer some canned varieties which they know drives me crazy. Slowly I'm getting them to eat fresh vegetables.
Fresh vegetables are featured in almost every Italian meal. They are used in sauces, prepared as a side dish or served as an antipasto. They provide a variety of vitamins, are low in fat and provide fiber.
Italy is a land of vegetables. Zucchini, tomatoes, artichokes, cauliflower and a host of other vegetables are plentiful. One of the greatest sights in Italy is an Italian market. Here you'll find fresh fruits and vegetables direct from the farms.
A typical Italian dinner may not only feature boiled or steamed vegetables, but also fried, stuffed or baked. Many main Italian meals are based just on vegetables. For instance one of my favorites, eggplant Parmesan is a great choice for a Sunday dinner.
Here you'll find plenty of Italian Vegetable Recipes to serve mainly as side dishes and I'll make sure I include some main dishes like the eggplant Parmesan. Please share these great Italian Vegetable Recipes with family and friends.
Stuffed Zucchini
Tender zucchini stuffed with prosciutto, bread crumbs and cheese.
Stuffed Tomatoes
Delicious stuffed tomatoes.
Eggplant Parmesan
Eggplant full of flavor.
Brussels Sprouts
Brussels sprouts made three ways.
Sauteed Baby Carrots
Sweet baby carrots sauteed with long green onions.
Double Baked Potatoes
My world famous double baked potatoes.
Sweet Peas with Pancetta and Pine Nuts
Little tasty baby sweet peas.
Creamy Cauliflower with Onions
Delicious cauliflower with onions and breadcrumbs.
Pan Fried Rosemary Potatoes
Fried red potatoes with onions and rosemary.
Hot Giardiniera
Hot and Spicy vegetable topping for your pizza, beef sandwich and Italian sausage.
Pearl Onions with Peas
Sweet pearl onions braised in broth with nutmeg and peas.
Sauteed Mushrooms
White button mushrooms sauteed in butter and garlic.
Sauteed Spinach
Spinach sauteed with garlic and olive oil.
Zucchini e Pomodori
Vegetarian recipe with parmesan cheese, oregano, garlic and parsley.
Breaded Porcini Mushrooms
Lightly breaded, crisp porcini mushrooms.
Italian Marinated Vegetables
Fresh vegetables marinated with a great dressing.
Stuffed Eggplant
Eggplant stuffed with fresh tomatoes, mushrooms and cheese.
Zucchini Ricotta Frittata
Great Italian omelet filled with veggies, cheese and smoked pork butt.
Asparagus Frittata
Firm vegetable frittata baked in a springform pan.
Shells with Roasted Vegetables
Rich caramelized veggies mixed with whole wheat pasta. (Healthy Recipe)
Eggplant Mozzarella
Delicious baked eggplant topped with basil and smoked mozzarella.
---
Don't forget to click on the logo below and subscribe to my
NEW NEWSLETTER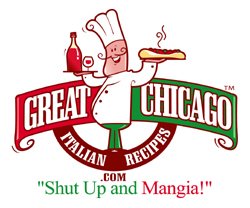 That's a discovery! That's Italian! That's
Great Chicago Italian Recipes.com
Leave Italian Vegetable Recipes and Return to Italian Recipes
---
---
Home | The Italian Grocer | Italian Heritage | Italian Chefs | New Contest | What's New | Restaurant Reviews | Your Reviews | Appetizer Recipes | Soup Recipes | Salad Recipes | Bread Recipes | Vegetable Recipes | Pasta Recipes | Poultry Recipes | Beef Recipes | Pork Recipes | Veal Recipes | Lamb Recipes | Seafood Recipes | Pizza Recipes | Cooking for Kids | Italian Cheese | Italian Wine | Dessert Recipes | Coffee and Espresso| Italian Dinner Music | Food Glossary | About the Cook | Sitemap | Share This Site | Contact | Privacy Policy | Disclaimer | Submit Your Recipes | Your Italian Recipes | Archived Menus