Best Italian Salads
---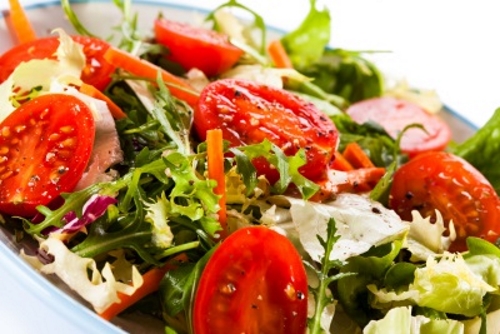 ---
INSALATA
Some of the
Best Italian Salads
are posted on this page. Including my version of everyones favorite, Antipasto Salad. These traditional salads use only the freshest ingredients.
The antipasto salad is a choice of my favorite meats and cheese, combined with olives and other Italian delicacies all laid out on a large platter. It's a meal all by itself. All you need is a fresh loaf of Italian bread.
Also, among the Best Italian Salads that I'm sure you will enjoy are the Caprese Salad and the traditional Panzenella Salad.
No salad should be eaten without wine and bread. If you don't have any wine or bread then wait until you get to the store before you make any of these salads. A nice Italian salad is one of the most refreshing, fulfilling dishes you could prepare.
There are many different lettuces you can use to make a great salad. These include, iceberg, romaine, bibb and Boston. I use a lot of cherry tomatoes and plum tomatoes for most of my salads. But I use nice beefy beefsteak tomatoes for my caprese salad.
Lets start with my Antipasto Salad and we'll see where we end up from there. I hope you and your family enjoy the Best Italian Salads you can create.
Italian Antipasto Salad
This variety of meats,cheeses and vegetables has always been a favorite among many Chicago restaurants and homes. Don't forget the wine and the bread.
Caprese Salad
Fresh tomatoes, fresh mozzarella, fresh basil. Simply the best.
Tomato, Cucumber and Onion Salad
Fresh tomatoes, cucumbers and onions sprinkled with dried oregano.
Fennel Salad
Light, crisp fennel tossed with cherry tomatoes and onions.
Broccoli Salad
There is nothing better than this fresh broccoli salad.
Pasta Salad with Pancetta
Creamy pasta salad with crispy pancetta.
Arugula Salad with Figs and Walnuts
Fresh figs and walnuts compliment the arugula in this delicious salad.
Panzanella
Excellent Tuscan bread salad.
Potato Salad with String Beans
This salad is made with olive oil and balsamic vinegar.
Sicilian Escarole Salad
This salad a delicious starter.
Warm Apsaragus and Parmesan Salad
This warm asparagus salad is excellent topped with Parmesan cheese.
Chef Carla Pellegrino's Warm Seafood Salad
This delicious salad if great for a Fall evening.
Calico Salad
Crunchy, sweet and delicious three bean salad.
Mediterranean Salad
Great salad.
Italian Potato Salad
Red potatoes,eggs and veggies with a creamy vinegar and oil dressing.
---
---
Don't forget to click on the logo below and subscribe to my
NEW NEWSLETTER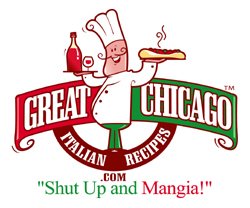 That' a discovery! That's Italian! That's
Great-Chicago-Italian-Recipes.com
Leave Best Italian Salads and Return To Italian Recipes
---
---
Home | The Italian Grocer | Italian Heritage | Italian Chefs | New Contest | What's New | Restaurant Reviews | Your Reviews | Appetizer Recipes | Soup Recipes | Salad Recipes | Bread Recipes | Vegetable Recipes | Pasta Recipes | Poultry Recipes | Beef Recipes | Pork Recipes | Veal Recipes | Lamb Recipes | Seafood Recipes | Pizza Recipes | Cooking for Kids | Italian Cheese | Italian Wine | Dessert Recipes | Coffee and Espresso| Italian Dinner Music | Food Glossary | About the Cook | Sitemap | Share This Site | Contact | Privacy Policy | Disclaimer | Submit Your Recipes | Your Italian Recipes | Archived Menus