Potato Salad with String Beans
---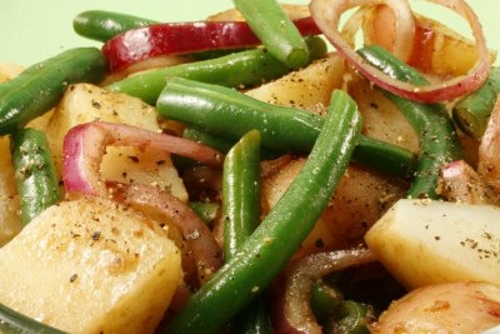 ---
REFRESHING SALAD
This Potato Salad with String Beans recipe is quick and easy. Any kind of salad is a major part of an Italian meal. Some salads are Italian meals. My favorite and I'm sure a favorite of many is an antipasto salad and a loaf of bread. For something different and refreshing this salad with work just fine.
There are many different variations of this salad that you can make, but this one uses a nice olive oil and balsamic vinegar instead of the usual mayonnaise based salad. For this recipe I use red potatoes and Haricot Vert which are French string beans that are longer, thinner and with and intense color and flavor than most American varieties. If you can't find Haricot Vert then regular string beans will work just fine.
This Potato Salad with String Beans recipe should be serve before the meal like any salad. It's a rather heavy salad so the portions should be a little smaller if you want to get through the rest of the meal.


INGREDIENTS
2 pounds of small red potatoes, unpeeled
1/2 pound of string beans
1 clove of garlic, chopped
1 small red onion, chopped
1/4 cup of olive oil
3 Tbls of balsamic vinegar
1/4 cup of parsley
1/2 tsp of salt
1/2 tsp of fresh ground black pepper



PREPARATION
In a large saucepan cook the potatoes in boiling water for about 15 to 20 minutes until tender.
Add the string beans and cook for another 7 to 10 minutes.
Drain the potatoes and string beans and rinse under cold water until cool.
Cut the potatoes into quarters and place then in a large bowl.
Mix in the string beans.
In a small bowl whisk together the olive oil, vinegar, red onion, garlic and parsley.
Season with salt and pepper.
Pour the mixture over the potatoes and string beans and refrigerate until chilled.

Serves 4 to 8 people.


---
Don't forget to click on the logo below and subscribe to my
NEW NEWSLETTER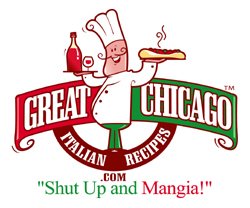 That's a discovery! That's Italian! That's
Great Chicago Italian Recipes.com
Leave Potato Salad and Return to Italian Recipes
Leave Potato Salad and Return to Italian Salad Recipes
---
---
Home | The Italian Grocer | Italian Heritage | Italian Chefs | New Contest | What's New | Restaurant Reviews | Your Reviews | Appetizer Recipes | Soup Recipes | Salad Recipes | Bread Recipes | Vegetable Recipes | Pasta Recipes | Poultry Recipes | Beef Recipes | Pork Recipes | Veal Recipes | Lamb Recipes | Seafood Recipes | Pizza Recipes | Cooking for Kids | Italian Cheese | Italian Wine | Dessert Recipes | Coffee and Espresso| Italian Dinner Music | Food Glossary | About the Cook | Sitemap | Share This Site | Contact | Privacy Policy | Disclaimer | Submit Your Recipes | Your Italian Recipes | Archived Menus