Great Chicago Italian
Food Glossary
---

---
A LITTLE HELP
This Italian Food Glossary should help you understand some of the terms used in this site.
This, by all means, is not a complete list. There are many more terms that just could not be listed here.
This is still a good start and should be able to help you quite a bit. Have fun and welcome to my Italian Food Glossary
Abbacchio-lamb
Aceto balsamic-Balsamic vinegar
Acuqua-water
Affettati-sliced meats
Affumicato-smoked
Aglio-garlic
Al Forno-oven baked
Alici-anchovies
Amoretto-almond liquor
Anatra-duck
Anice-anise
Anisette-aniseed liquor
Antipasto-appetizer course
Aragosta-rock lobster
Arista-duck
Arrosto-roasted
Asparagi-asparagus
Baccala-salt cod
Basilico-basil
Bel Paese-mild cheese
Bictola-swiss chard
Biscotti-cookies
Bistecca-steak
Bocconcini-small mozzarella balls
Bollito-boiled
Bolognese-meat sauce
Braciola-chops
Brasato-braised beef
Brodetto-fish soup
Brodo-broth
Bruschetta-bread topped with garlic, tomato and onion
Bufalo-water buffalo
Burro-butter
Cacciatore-hunters style
Caffe-espresso
Calimari-squid
Caldo-hot
Canestrelli-scallops
Cannellini-white bean
Capperi-capers
Caprese Insalata-mozzarella, tomato and basil salad
Capriolo-venison
Carbonara-cream and ham sauce
Carciofini-artichoke hearts
Cardi-cardoons
Carne-meat
Carpaccio-raw beef sliced thin
Cavolo-cabbage
Cavolfiori-cauliflower
Cetrioli-cucumber
Ciambotta-vegetable stew
Cipolle-onions
Coda alla Vaccinara-oxtail
Coniglio-rabbit
Costoletta-cutlets
Cotto-cooked
Cozze-mussels
Crostini-toasted bread
Crudo-raw
Cucina-kitchen
Diavola-spicy sauce
Dindo-turkey
Dolce-dessert
Fagiano-pheasant
Fagioli-beans
Farcito-stuffed
Fegato-liver
Filanti-soft cheese
Filetto-tenderloin
Finocchio-fennel
Foccaccia-flat bread
Formaggio-cheese
Forno-oven
Freddo-cold
Fritto-deep fried
Frutti de Mare-shellfish
Funghi-mushrooms
Gamberetti-shrimps
Gorgonzola-blue cheese
Grana Padano-hard white cheese
Granchio-crab
Griglia-grilled
Impanato-breaded
Indiviola-endive
Insalata-salad
Lardo-fat
Latte Fritto-fried custard
Lauro-bay leaf
Lenticchie-lentils
Lesso-boiled
Lemoncello-lemon liquor
Lemone-Lemon
Lupo di Mare-lobster
Maccarello-macherel
Maiale-pork
Mais-corn
Manzo-beef
Marinara-plain sauce
Marsela-sweet wine
Marscpone-cream cheese
Melanzane-eggplant
Minestrone-vegetable soup
Mortadella-pork sausage
Moscato-nutmeg
Mozzarella-rubbery soft cheese
Nodini-veal chops
Osso Bucco-braised veal shanks
Ostriche-oysters
Pancetta-bacon
Panna-cream
Parmesan-hard cheese from Parma
Pecorino-hard sharp cheese
Peoci-mussels
Pepe Verdi-green peppercorns
Pepe-pepper
Pesce-fish
Pesto-basil, pine nuts, cheese and garlic
Piselli-peas
Polenta-corn meal
Polipi-octopus
Pollo-chicken
Pomidori-tomato
Porchetta=suckling pig
Porcini-mushrooms
Prezzemolo-parsley
Prosciutto-cured ham
Provola-soft cheese
Provolone-sharp cheese
Ricotta-creamy whey cheese
Risotto-rice dish
Robiola-creamy white cheese
Rosmarino-rosemary
Salami-cured sausage
Sale-salt
Salsicce-sausage
Saltimbocca-veal with ham and sage
Salvia-sage
Sambucca-anise flavored liquor
Sardi-sardines
Scaloppinethin slice of meat
Scologna-shallots
Soppressa-dry sausage
Spigoli-sea bass
Spinaci-spinich
Stracchino-goats milk cheese
Stracciatella-chicken soup
Taleggio-cow's milk cheese
Timo-thyme
Tommo-tuna
Tortoni-liquor ice cream
Totano-squid
Trota-trout
Vitello-veal
Vongole-clams
Zabaglione-warm custard dessert
Zafferano-saffron
Zucchero-sugar
Zucchine-squash
Pasta Glossary
Different types of pasta for great Italian dishes.
Herbs and Spices Glossary
A nice list of herbs and spices to help you with any Italian recipe.
---
Don't forget to click on the logo below and subscribe to my
NEW NEWSLETTER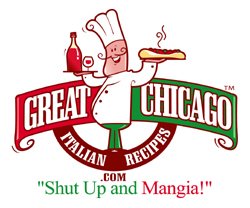 That's a discovery! That' Italian! That's
Great-Chicago-Italian-Recipes.com
Leave Italian Food Directory and Return to Italian Recipes
---
---
Home | The Italian Grocer | Italian Heritage | Italian Chefs | New Contest | What's New | Restaurant Reviews | Your Reviews | Appetizer Recipes | Soup Recipes | Salad Recipes | Bread Recipes | Vegetable Recipes | Pasta Recipes | Poultry Recipes | Beef Recipes | Pork Recipes | Veal Recipes | Lamb Recipes | Seafood Recipes | Pizza Recipes | Cooking for Kids | Italian Cheese | Italian Wine | Dessert Recipes | Coffee and Espresso| Italian Dinner Music | Food Glossary | About the Cook | Sitemap | Share This Site | Contact | Privacy Policy | Disclaimer | Submit Your Recipes | Your Italian Recipes | Archived Menus