Italian Wine
---
---
GRAPES FROM THE GODS


Was Italian wine created for food or was food designed around wine? This is a question I've asked myself for years because I can't see having one without the other.
Throughout history wine has been created to be by enjoyed by the rich an the poor alike. Wine production has been carried out for thousands of years. In order to consider the history of wine in Italy you have to consider the history of Italy itself. Wine and life in Italy are virtually the same. Italians couldn't imagine serving a meal without it and neither could I. Not having wine with a meal would be like leaving an important ingredient out of a recipe.


Wine is an ancient pleasure which dates back to around 6,000BC. But whether ancient or modern, many of the same conditions are required and many similar techniques are still used today to produce some of the worlds greatest wines. Italy is the second largest wine producer in the world, second to France.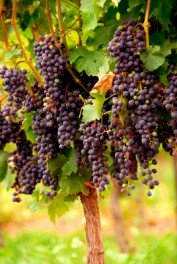 The best wines are produced from soil that would be considered poor quality for growing vegetables. Soils too rich in nitrogen and other nutrients are beneficial to most plants but can produce grapes unsuitable for winemaking. Vineyards are mostly founded in river valley's with slopes that provide an abundant of sunshine.


Vines need access to consistent but not excessive amounts of water. Just a moderate amount is needed to cause the roots to grow deep enough to absorb the needed amount of complex minerals to grow some of the best grapes in the world.


Grapes begin to bud in late March and develop fruit through out the summer. During this time the grower pays very close attention to his crop by caring for it's every need until harvesting time in early October.


Wine making is an art form that took centuries to develop. From the vineyards the grapes are harvested, crushed, fermented, bottled and ready to be served on your dinner table.


Throughout the next couple of pages I'll familiarize you with Italy's wine regions, wine classifications, grape varieties, wine terminology, wine storing, wine and food pairing, wine and cheese and maybe a little home wine making if I'm feeling ambitious.


Enjoy Vino Italiano




Wine and Food Pairing
Wine Pouring and Decanting
Wine Storing
Wine and Cheese
Wine Glasses



---
Don't forget to click on the logo below and subscribe to my
NEW NEWSLETTER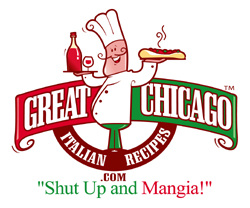 That's a discovery! That's Italian! That's
Great Chicago Italian Recipes.com
Leave Italian Wines and Return to Italian Recipes
---
---
Home | The Italian Grocer | Italian Heritage | Italian Chefs | New Contest | What's New | Restaurant Reviews | Your Reviews | Appetizer Recipes | Soup Recipes | Salad Recipes | Bread Recipes | Vegetable Recipes | Pasta Recipes | Poultry Recipes | Beef Recipes | Pork Recipes | Veal Recipes | Lamb Recipes | Seafood Recipes | Pizza Recipes | Cooking for Kids | Italian Cheese | Italian Wine | Dessert Recipes | Coffee and Espresso| Italian Dinner Music | Food Glossary | About the Cook | Sitemap | Share This Site | Contact | Privacy Policy | Disclaimer | Submit Your Recipes | Your Italian Recipes | Archived Menus