Italian Pork Recipes
---
---
YOU'LL LOVE THIS STUFF


These delicious Italian Pork Recipes have been enjoyed by my family and friends for years.

This versatile meat allows you to explore the many dishes Italy has to offer. Tender, juicy tenderloin, delicious chops topped with plum tomatoes, porcini mushrooms and sweet peppers, pork roast with rosemary potatoes are some of my favorite Italian Pork Recipes that will satisfy the whole family.
Everyone should be Italian at least once a week. I remember a great pork recipe that my mother made with potatoes and peas baked in a red sauce. It has a delicious flavor and the pork melts in your mouth.
Another one of my favorite Italian Pork Recipes is braised pork chops served on a bed of grilled polenta. I've made this recipe several times and every time it gets better and better.
I hope you enjoy these great Italian Pork Recipes
Italian Style Braised Pork Chops
Tender juicy chops served on a bed of grilled polenta.
Breaded Pork Cutlets with Red Sauce
Breaded cutlets bathed in a red sauce with peas and potatoes.
Roast Pork with Rosemary Potatoes
This pork and potato recipe has an excellent flavor and fills the house with the aroma of rosemary.

Stuffed Pork Rolls with Prosciutto
Delicious pork rolls stuffed with prosciutto,mozzarella and sun dried tomatoes.
Italian-Style Pork Ribs
Delicious ribs that shouldn't be shared.
Pork Chop Milanese
Crispy chops with arugula and cherry tomatoes.
Pork Tenderloin with Fried Gnocchi
Tenderloin with cream and sun-dried tomatoes.
Spitini a la Siciliana
Italian meat rolls stuffed with cheese and breadcrumbs and grilled to perfection.
Fig Stuffed Pork Chops
Sweet figs stuff these tender pork chops.
Pork Chops Marsala
Tender chops topped with mushrooms and a Marsala sauce.
Janis's Grandma's Neck Bone Gravy
A delicious gravy for Sunday dinner.
Braised Pork Roast
Tender pork braised in wine an herbs.
Stuffed Pork Chops
Pork chops stuffed with Fontina cheese and prosciutto and coated with crisp breading.
Italian Pork Tenderloin
Delicious tenderloin made with a light cream sauce.
Braised Ribs with Sausage
Tender country-style ribs with sausage over pasta.
Tuscan Pork with Peppers
Tender pork tenderloin topped with assorted peppers.
Porchetta Italiano
Delicious traditional Italian pork roast.
Rosa di Parma
Traditional pork tenderloin stuffed with prosciutto and cheese.
Grilled Italian Sausage Sandwich
Juicy grilled sausage topped with peppers, onions, mushrooms and tomatoes.
Cooking with Soppressatta
Five great recipes using delicious dried aged sausage.
Pork, Spinach and Ricotta Cannelloni
Seasoned pork wrapped in crepes and topped with bechamel sauce and mozzarella.
Pork Chops with Nancibella Sauce
Juicy tender pork chop topped with a delicious sauce.
Italian Seasoned Pulled Pork Sandwiches
Tender shredded pork sandwich topped with veggies.
Pork Soffritto and Pasta
Tender pieces of pork braised in a traditional soffritto sauce.
Pork Chops with Fennel
Boneless chops with a great flavor.
Traditional Homemade Sicilian Sausage
Delicious old family recipes.
Sausage and Bean Stew
Hearty dish for a cold day.
---
Don't forget to click on the logo below and subscribe to my
NEW NEWSLETTER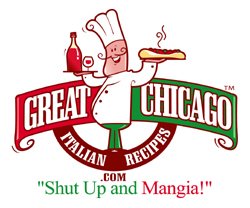 That's a discovery! That's Italian! That's
Great-Chicago-Italian-Recipes.com
Leave Italian Pork Recipes and Return to Italian Recipes
---
---
Home | The Italian Grocer | Italian Heritage | Italian Chefs | New Contest | What's New | Restaurant Reviews | Your Reviews | Appetizer Recipes | Soup Recipes | Salad Recipes | Bread Recipes | Vegetable Recipes | Pasta Recipes | Poultry Recipes | Beef Recipes | Pork Recipes | Veal Recipes | Lamb Recipes | Seafood Recipes | Pizza Recipes | Cooking for Kids | Italian Cheese | Italian Wine | Dessert Recipes | Coffee and Espresso| Italian Dinner Music | Food Glossary | About the Cook | Sitemap | Share This Site | Contact | Privacy Policy | Disclaimer | Submit Your Recipes | Your Italian Recipes | Archived Menus