Pork Tenderloin
with Fried Gnocchi
---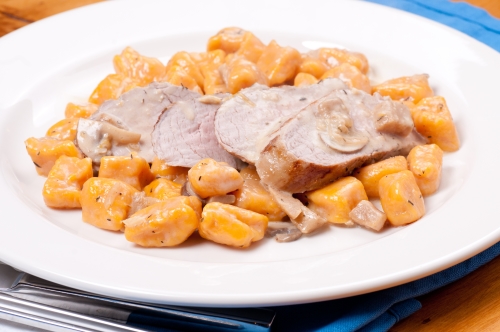 ---
PORK AND GNOCCHI
Tender Pork Tenderloin with fried gnocchi is a deliciously filling dish to feed your family and friends. Pork is a very versatile meat and can be make many different ways. This Italian style recipe uses a little cream with gives the pork a rich flavor.
Combining the pork with sun dried tomatoes gives this dish an added touch. Sun dried tomatoes began in Italy as a way to store tomatoes during the winter. These tomatoes have an intense, concentrated flavor and can be used in a variety of Italian dishes.
Make your own sun dried tomatoes at home and store them for later use. Just take 5 pounds of Roma tomatoes cut in half, sprinkle with salt and place them on a rack in the oven on the lowest temperature. Cook for around six to twelve hours until the tomatoes are shriveled and dry. Store in a plastic bag or in a jar with olive oil. The tomatoes will last indefinitely.
I use sun dried tomatoes packed in olive oil for this Pork Tenderloin with fried gnocchi.
INGREDIENTS
1 1/2 pounds of pork tenderloin, cut into half inch slices
3 Tbls of sun-dried tomatoes packed in oil, chopped
1 shallots, sliced
3 cloves of garlic, chopped
1 small red onion. Sliced
1/4 cup of prosciutto, chopped
3 Tbls of extra virgin olive oil
2 Tbls of fresh basil, chopped
1/4 cup of fresh parsley, chopped
1/2 cup of chicken broth
1/2 cup of heavy whipping cream
1 pound of fresh or packaged gnocchi
2 Tbls of butter
1/2 cup of freshly grated parmesan cheese
1/2 tsp of salt
1/2 tsp of fresh ground black pepper

PREPARATION
Before slicing the pork remove the silver skin from the pork. This is the tough thin piece of fat that runs along the top of the pork.
In a large frying pan sauté the prosciutto, shallots, onions, sun-dried tomatoes and garlic in the olive oil for 2 minutes.
Add the sliced pork and sauté for around 5 minutes more.
Season with salt and pepper
Stir in the chicken broth and cream and cook until bubbly.
Sprinkle in the chopped basil and parsley and cook for 2 more minutes.
In a large frying pan saute the gnocchi in the butter and 1 Tbls of olive oil until lightly browned and a little crisp on the outside.
Toss the gnocchi with the Parmesan cheese.

Plate the Pork Tenderloin with the side of fried gnocchi or spoon the pork over the top of the gnocchi. Serves 4 to 6 people.
---
Don't forget to click on the logo below and subscribe to my
NEW NEWSLETTER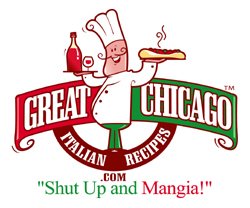 That's a discovery! That's Italian! That's
Great Chicago Italian Recipes.com
Leave Pork Tenderloin and Return to Italian Recipes

Leave Pork Tenderloin and Return to Easy Pork Recipes
---
---
Home | The Italian Grocer | Italian Heritage | Italian Chefs | New Contest | What's New | Restaurant Reviews | Your Reviews | Appetizer Recipes | Soup Recipes | Salad Recipes | Bread Recipes | Vegetable Recipes | Pasta Recipes | Poultry Recipes | Beef Recipes | Pork Recipes | Veal Recipes | Lamb Recipes | Seafood Recipes | Pizza Recipes | Cooking for Kids | Italian Cheese | Italian Wine | Dessert Recipes | Coffee and Espresso| Italian Dinner Music | Food Glossary | About the Cook | Sitemap | Share This Site | Contact | Privacy Policy | Disclaimer | Submit Your Recipes | Your Italian Recipes | Archived Menus