Italian Seafood Recipes
---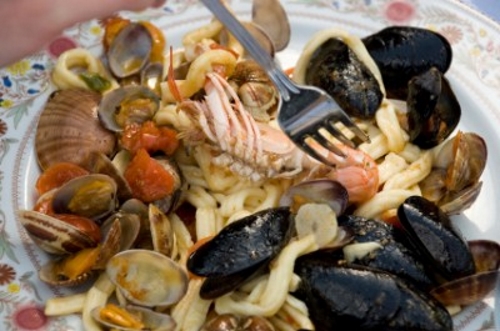 ---
Great Seafood


These Italian Seafood Recipes are not great. They are the greatest. Even though my favorite seafood is shellfish, I still find time to prepare a few different fish recipes for the family.


Italy is surrounded by the Mediterranean Sea where there is an abundance of fresh fish. (I know you know that.) The huge amount of Italian Seafood Recipes could easily fill another site.
Seafood is a very important part of Italian cooking. If you grew up in an Italian home, you ate some type of fish. If you didn't you had to move out. That's just the way it is.
I remember when I was very young and my Uncle Benny always called me a baccala when I did something wrong. It took me many years to find out he was calling me a cod fish.
Anyway, back to the food. I'll be including only the best Italian Seafood Recipes I could find and use only the freshest ingredients. Fresh seafood is the key to the best tasting Italian meals.
After making these Italian Seafood Recipes your family and friends will love you.
OK, let's cook.
Shrimp Scampi with Linguine
A simple recipe made with garlic, onion, butter and wine.
Tuscan Salmon
The fennel and sun dried tomatoes make this dish sing.
Uncle Benny's Codfish Recipe
A Delicious Friday fish or for any day. This one brings back memories.
Scallops with Garlic
Tasty bay scallops smothered with garlic, shallots and cream and served on a bed of angel hair pasta.

Mediterranean Tuna
Spicy tuna with white wine, lemon, capers and shallots.
Shrimp Fra Diavolo
Spicy shrimp to spice up your day.
Lobster Carbonara
Rich and creamy romantic dinner for two.
Cioppino
Excellent seafood stew for the whole family.
Portobello Mushrooms Stuffed with King Crab
Baked porotbello's stuffed with Alaskan king crab.
Broiled Halibut with Rosemary
Lightly breaded halibut broiled to perfection.
Baked Swordfish with Fennel
Tasty, flaky swordfish baked with a tomato fennel sauce.
Bay Scallops with Pesto
Tender scallops topped with pesto sauce on a bed of linguine.
Breaded Shrimp with Angel Hair pasta
Angel hair pasta topped with Italian style breaded shrimp, garlic, onions and mushrooms.
Tuna with Tuscan Beans
Broiled tuna steaks on a bed of Cannellini beans and tomatoes.
Snails in Marinara
A Mediterranean delicacy cooked in a delicious marinara sauce.
Shrimp alla Speciale
Sauteed shrimp loaded with fresh vegetables.
Swordfish with Salmoriglio Sauce
Delicious swordfish steaks with an old Sicilian sauce.
Sauteed Tilapia
Tender tilapia fillets with a delicious caper sauce.
Sole Fillets with Lemon Parsley Butter
Tender sole fillets with a delicious lemon parsley butter.
Sea Scallops Cacciatore
Large sauteed scallops topped with peppers,onions and tomatoes.
Crab Risotto
Creamy risotto with crab and asparagus.
Chef Tony Prioli's Branzino con Sale
Mediterranean sea bass baked in salt and stuffed with lemons and rosemary.
Chef Luca Corazzina's Roasted Pacific Halibut
This delicious seafood dish is served with summertime vegetables.
Breaded Cod Fillets
Italian seasoned cod fillets fried in olive oil and butter.
Fusilli with Tuna
Imported Italian tuna with whole wheat pasta.(Healthy Italian Recipes)
Fusilli with Scallops and Peas
Plump sea scallops with pasta.(Healthy Italian Recipes)
Sea Bass Pomodoro
Pan roasted bass served wit a bacon pomodoro sauce
Asparagus Shrimp Risotto
Tender asparagus and shrimp mixed with a creamy Parmesan risotto
Shrimp_Alfredo
Tender shrimp mixed with a cream and cheese sauce
Spicy Shrimp Pomodoro
Shrimp with a fresh spicy tomato sauce
---
Don't forget to click on the logo below and subscribe to my
NEW NEWSLETTER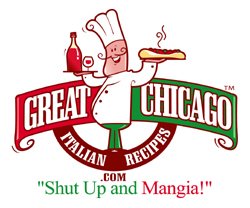 That's a discovery! That's Italian! That's
Great Chicago Italian Recipes.com
Leave Italian Seafood Recipes and Return to Italian Recipes
---
---
Home | The Italian Grocer | Italian Heritage | Italian Chefs | New Contest | What's New | Restaurant Reviews | Your Reviews | Appetizer Recipes | Soup Recipes | Salad Recipes | Bread Recipes | Vegetable Recipes | Pasta Recipes | Poultry Recipes | Beef Recipes | Pork Recipes | Veal Recipes | Lamb Recipes | Seafood Recipes | Pizza Recipes | Cooking for Kids | Italian Cheese | Italian Wine | Dessert Recipes | Coffee and Espresso| Italian Dinner Music | Food Glossary | About the Cook | Sitemap | Share This Site | Contact | Privacy Policy | Disclaimer | Submit Your Recipes | Your Italian Recipes | Archived Menus