Italian Soup Recipes
---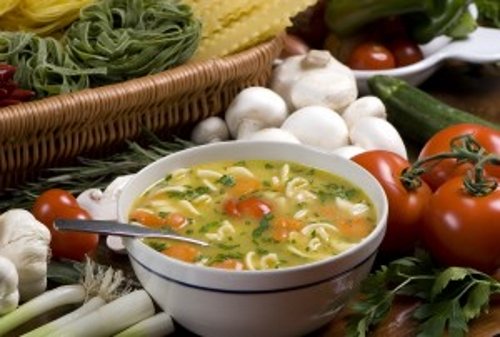 ---
TAKE THE CHILL OUT OF YOUR BONES
There is nothing like great Italian
Soup Recipes
to get you through a cold Chicago winter. Freezing temperatures and high winds are something we all have experienced at sometime or another. So when I get home after shaking and shivering most of the day, there's nothing I enjoy more than a hot refreshing bowl of soup.
Served before a meal or as a meal, these marvelous recipes will surely be a comfort anyone can enjoy. Be sure to make these
Soup Recipes
in large batches to share with your neighbors and friends.
Or make just enough for yourself and escape the rest of the world.
On these pages I will giving you some of my mother's and grandmother's favorite recipes which I hope will give you and your family as much enjoyment as it's given me.
TAKE STOCK IN YOURSELF
The thing that makes a great Italian soup or any soup is a homemade stock<. Though time consuming, a homemade stock can add so much more flavor to a soup than you can imagine. If your too busy, store bought broth will work just fine. I find myself using store bought more than I care to admit.
The best thing about homemade stock is that you get to use everything you would normally throw out. Wait a minute that doesn't sound too appetizing. What I mean is you get to use all the scraps from the vegetables. Please use fresh meats. I know you knew that.
So, whatever broth you decide to use don't forget the pasta. A great soup also includes the right pasta. Soup pasta range in size from small to tiny. My favorite is the tiny noodles "Acini de pepe" or an "Orzo". They're great with lighter soups and broths. Or for a heartier meal try "Farfaline" (bow tie pasta)or "Ditali" pasta.
Which ever way you go, here are the Italian Soup recipes that will surely keep you and your family toasty throughout the winter.
Chicken, Beef, Seafood and Vegetable Stock
Add tons of flavor to your favorite soups and recipes by using these basic soup stocks.
Minestrone Soup
Enjoy this hearty vegetable soup with a nice loaf of crusty Italian bread.
Pasta e Fagioli
Eat this rustic Northern Italian soup and you will soon be longing for the old country.
Italian Style Pot Roast Soup
Easy to make soup that will warm every part of your body.
Chicken Tortellini Soup
Easy to make soup to warm your body and soul.
Lentil Soup
Hearty rustic style soup.
Spinach Soup with Tortellini
Delicious soup with tortellini and melted fontina cheese.
Cauliflower Soup
Chunks of cauliflower with bits of carrots and tomatoes.
Oxtail and Barley Soup
Great recipe with oxtail, barley and vegetables.
Italian Wedding Soup
A marriage of meat and vegetables.
Cipollata - Onion Soup
Delicious Tuscan onion soup served over Ciabatta bread.
Tomato Soup
Delicious tomato soup made with ripe roma tomatos.
Stracciatella
Traditional Roman style soup.
Italian Meatball Soup
Nice beef soup with mini meatballs topped with Parmesan cheese.
Italian Potato Soup
Hearty soup with veggies and topped with Parmesan cheese.
Lima Bean Soup
Delicious soup made with beans and smoked pork butt.
Chicken with Rice
Tender pieces of chicken in a delicious vegetable broth.
Tortellini and Zucchini Soup
Great soup for a cool day.(Healthy Italian Recipes)
Beef Barley Soup
Meaty vegetable soup with barley.
Split Pea Soup
Delicious soup made with ham.
Italian Cabbage Soup
Excellent nutritious soup for a cold day.
---
Don't forget to click on the logo below and subscribe to my
NEW NEWSLETTER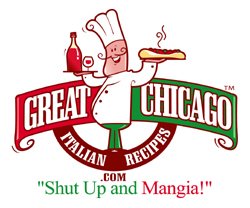 That' a discovery! That's Italian! That's
Great-Chicago-Italian-Recipes.com
Leave Italian Soup Recipes and Return to Italian Recipes
---
For some delicious crock pot soup recipes take a look at what www.A-Crock-Cook.com has to offer.
---
---
Home | The Italian Grocer | Italian Heritage | Italian Chefs | New Contest | What's New | Restaurant Reviews | Your Reviews | Appetizer Recipes | Soup Recipes | Salad Recipes | Bread Recipes | Vegetable Recipes | Pasta Recipes | Poultry Recipes | Beef Recipes | Pork Recipes | Veal Recipes | Lamb Recipes | Seafood Recipes | Pizza Recipes | Cooking for Kids | Italian Cheese | Italian Wine | Dessert Recipes | Coffee and Espresso| Italian Dinner Music | Food Glossary | About the Cook | Sitemap | Share This Site | Contact | Privacy Policy | Disclaimer | Submit Your Recipes | Your Italian Recipes | Archived Menus