Oxtail and Barley Soup
---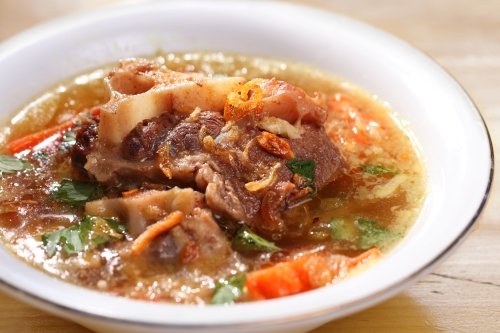 ---
DELICIOUS OXTAILS
There's nothing better than a bowl of Oxtail and Barley Soup to help cope with the changing seasons. This hearty soup is reminiscent of when of when my Mother would make it in big batches for neighbors and family members to enjoy. It was the first time I had tasted barley which she always added to the soup to give it a unique flavor.
Oxtail, which nowadays is actually a culinary term for the tail of a beef animal, is a gelatinous meat which is slow cooked and is used primarily for soups and stews. When combined with the rich nut-like flavor of barley it creates a bold full bodied soup which is quit different than most soups.
Barley is a cereal grain which has a chewy, pasta-like consistency. It is mainly used in making beer, whisky and breads but it is exceptionally good in this Oxtail and Barley Soup recipe.


INGREDIENTS
3 pounds of oxtail
2 carrots, peeled and cut into pieces
1 large onions, chopped
2 stalks of celery, slices into pieces
2 cloves of garlic, chopped
1 turnip, diced
10 white button mushrooms, sliced
1/4 cup of extra virgin olive oil
1 15oz can of tomatoes, diced
1/2 cup of red wine
1 quart can of beef stock or broth
3 cups of water
2 bay leaves
1/2 cup of pearl barley
1/2 tsp of salt
1/2 tsp of fresh ground black pepper



PREPARATION
Place the oxtails in boiling water for around 3 minutes.
Season the oxtails with salt and pepper and place them in a roasting pan and drizzle with some of the olive oil.
Roast at 350 degrees for around 20 minutes on each side until the oxtails are nice and brown.
In a large pot sauté the onions and garlic in the remaining oil for 3 minutes.
Add the carrots, celery, mushrooms and turnips and sauté for another five minutes.
Add the wine, beef stock, water, tomatoes and oxtails.
Add the bay leaves and bring to a boil.
Reduce the heat and simmer for around 3 hours.
During the last 45 minutes of cooking add the barley.
Remove the bay leaves before serving.

Serves 6 to 8 people.





---
Don't forget to click on the logo below and subscribe to my
NEW NEWSLETTER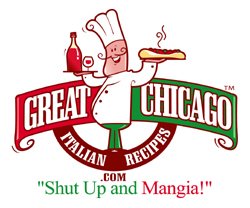 That's a discovery! That's Italian! That's
Great Chicago Italian Recipes.com
Leave Oxtail and Barley Soup and Return to Italian Recipes
Leave Oxtail and Barley Soup and Return to Homemade Italian Soups
---
---
Home | The Italian Grocer | Italian Heritage | Italian Chefs | New Contest | What's New | Restaurant Reviews | Your Reviews | Appetizer Recipes | Soup Recipes | Salad Recipes | Bread Recipes | Vegetable Recipes | Pasta Recipes | Poultry Recipes | Beef Recipes | Pork Recipes | Veal Recipes | Lamb Recipes | Seafood Recipes | Pizza Recipes | Cooking for Kids | Italian Cheese | Italian Wine | Dessert Recipes | Coffee and Espresso| Italian Dinner Music | Food Glossary | About the Cook | Sitemap | Share This Site | Contact | Privacy Policy | Disclaimer | Submit Your Recipes | Your Italian Recipes | Archived Menus