Delicious Appetizer Recipes
---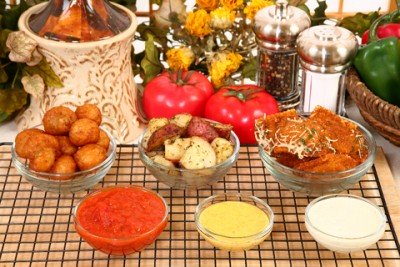 ---
DINNER BEFORE DINNER
These delicious
Italian Appetizer Recipes
make a perfect beginning for any great Italian meal. Some of these appetizers also make great meals.
Those delicious little morsels spread out on the dining room table just waiting to be enjoyed by all. The first chapter in the book of food. The first act in the theater of fine Italian dinners. The first note played in the concerto of.....Oh, well, you get the picture. I'm getting a little carried away just thinking about preparing these wonderful appetizer recipes.
These traditional Italian Appetizer Recipes are quick and easy to make and uncompromising in taste. I always spread out the apps around three hours before dinner, this way it gives the family a little time for nap between courses.
Make around ten of them and you could skip dinner completely and just go straight for the nap. At least that seems to work for my family.
Some of my favorite recipes include....


---
Mussels in Marinara
I have to admit this is my favorite. This is my recipe which has a little spice and plenty of taste.

Italian Sausage and Peppers
Hot or mild Italian sausage with juicy tender slices of red, green and yellow bell peppers. Just savor the flavors and watch out for that juice dripping down your chin.

Prosciutto and Melon
This simple Italian favorite will have your family and guests singing the tunes of Verdi and Puccini.

Bruschetta
Garlicky, crunchy and chunky are the best way to describe this appetizer. Garlic and basil, "Don't Leave Home Without It". Carry it with you and you'll make many friends.
Mozzarella Impanata
Fried mozzarella is a definite hit among children and adults alike. Chewy and stringy and oh so good best describes this delicious dish.
Garlic Bread
Crisp garlic bread with herbs and Parmesan cheese.
Stuffed Artichokes
Delicious stuffed artichokes braised in chicken broth.
Stuffed Mushrooms
Baby Portobello mushrooms stuffed with sausage,cheese and prosciutto.
Deviled Eggs
Great little apps for the whole party.
Aunt Rose's Crab Dip
Creamy crab with a secret.
Zucchini Fritters
Crispy fritter with sour cream.
Caponatina
Tasty eggplant appetizer.
Filippo's Broiled Clams
Delicious littleneck clams with prosciutto.
Fried Ravioli with Rosemary Butter Sauce
Rosemary, garlic, onions and butter top these delicious breaded raviolis.
Baked Shrimp
Tossed in olive oil, rolled in breadcrumbs and Parmesan and baked to perfection.
Caprese Mushrooms
Delicious portabella mushrooms layered with tomato, cheese and basil.
Fried Calamari
Crispy tender fried squid with marinara.
Muffuletta Sandwich
The great New Orleans classic Italian sandwich.
Chef Franco Lania's Arancini di Riso
Delicious Sicilian rice balls.
Italian Baked Mussels
Plump tender mussels topped with Italian seasoned breadcrumbs.
Simple Healthy Bruschetta
Simple appetizer with fresh diced tomatoes(Healthy Italian Recipes).
Vegetable Fritto Misto
Fresh vegetables battered and deep fried.
Stuffed Melrose Peppers
Delicious sweet peppers stuffed with homemade Italian sausage.
Mini-Meatball Parmesan
Great mini-meatball Parmesan recipe.

Zucchini Flowers Stuffed with Ricotta and Basil
Lightly crisp zucchini blossoms stuffed with cheese.

---
Don't forget to click on the logo below and subscribe to my
NEW NEWSLETTER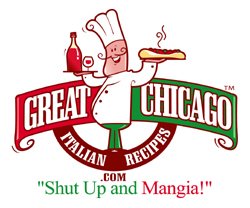 That's a discovery! That's Italian! That's Great-Chicago-Italian-Recipes.com!
Leave Appetizer Recipes and Return to Italian Recipes
---
Are you tired of just throwing a bowl of chips and salsa on the table for your parties? Let Finger Food Recipes help you with some quick finger food and turn a basic party into an event to remember.
---
ItalyLink.com Your Gateway to Italy!
Italia Mia, your guide to Italy and its products
---
---
www.RecipeLand.com - Giant recipe collection. Fast, easy free and fun recipes at your fingertips. Recipe reviews, cooking tips and more. Serving visitors since 1996 with over 40,000 recipes.
---
Home | The Italian Grocer | Italian Heritage | Italian Chefs | New Contest | What's New | Restaurant Reviews | Your Reviews | Appetizer Recipes | Soup Recipes | Salad Recipes | Bread Recipes | Vegetable Recipes | Pasta Recipes | Poultry Recipes | Beef Recipes | Pork Recipes | Veal Recipes | Lamb Recipes | Seafood Recipes | Pizza Recipes | Cooking for Kids | Italian Cheese | Italian Wine | Dessert Recipes | Coffee and Espresso| Italian Dinner Music | Food Glossary | About the Cook | Sitemap | Share This Site | Contact | Privacy Policy | Disclaimer | Submit Your Recipes | Your Italian Recipes | Archived Menus