Zucchini Flowers Stuffed with Ricotta and Basil
---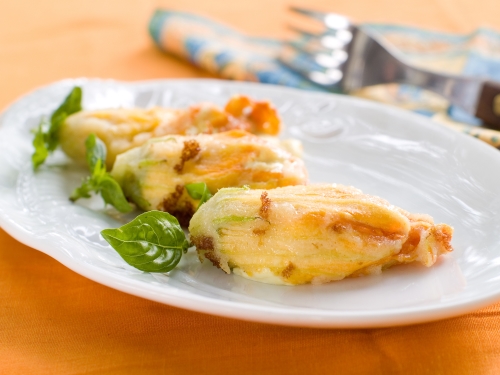 Crisp and Tender
Oh so good. The end of summer brings an abundance of delicious zucchini and better yet zucchini flowers. Fiori di zucca (Courgette Flowers) are tender yellow-orange blossoms that are filled with cheese and fresh herbs then battered-fried until they are crisp and golden.
These flowers have a delicate texture and mild flavor. There are a variety of ways to stuff and cook these flowers but ricotta, parmesan, mozzarella, mint, basil and parsley are my favorite. They can then be baked or coated with a thin batter and deep fried.
Zucchini flowers can be used in many dishes. You can make Squash Blossom Soup, put them in a salad, top your pizza with them or bake them in a frittata. These are just a few of the variety of ways they can be used. First and formost, stuffed, battered and fried makes this recipe a great starter for any Italian meal.
Ingredients
1/2 cup of fresh grated Parmigiano-Reggiano cheese
1/2 cup of fresh mozzarella, broken into pieces
1 lemon, juice and zest
¼ cup fresh basil, torn into small pieces
1/4 cup fresh mint, chopped
1/4cup of fresh Italian flat leaf parsley, chopped
¼ tsp of salt
¼ tsp of fresh ground black pepper
12 to 16 large zucchini squash blossoms
1 and 1/2 all-purpose flour
1 Tbs of baking powder
3/4 cup chilled seltzer or club soda
About 3 cups vegetable oil for frying
Preparation
In a medium size mixing bowl, mix together the ricotta cheese, Parmesan, mozzarella, lemon zest and juice, and basil, mint and parsley. and then
Season with salt and pepper.
Gently rinse the zucchini blossoms in a colander and pat dry.
Using a spoon or a piping bad fill each of the zucchini blossoms with the ricotta mixture and make sure to squeeze the petals around the filling to secure it in place. Set aside.
In another bowl mix together the flour and baking powder, then slowly whisk in the soda water. Set aside.
In a heavy bottom pot or pan, heat about 2 inches of oil over medium high heat until shimmering. Dip the flowers in the flour mixture and turn them to coat completely.
Fry in batches for 2 minutes per side until golden and crispy.
Remove to a plate lined with paper towel and immediately season with a little more salt.
Serve with lemon wedges or a marinara sauce
---
---
Don't forget to click on the logo below and subscribe to my
NEW NEWSLETTER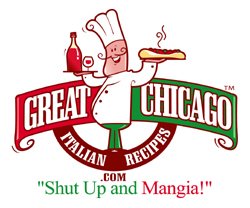 That's a discovery! That's Italian! Thats
Great-Chicago-Italian-Recipe.com
---
Leave Zucchini Flowers and Return to Italian Recipes

Leave Zucchini Flowers and Return to Appetizer Recipes

---
---
Home | The Italian Grocer | Italian Heritage | Italian Chefs | New Contest | What's New | Restaurant Reviews | Your Reviews | Appetizer Recipes | Soup Recipes | Salad Recipes | Bread Recipes | Vegetable Recipes | Pasta Recipes | Poultry Recipes | Beef Recipes | Pork Recipes | Veal Recipes | Lamb Recipes | Seafood Recipes | Pizza Recipes | Cooking for Kids | Italian Cheese | Italian Wine | Dessert Recipes | Coffee and Espresso| Italian Dinner Music | Food Glossary | About the Cook | Sitemap | Share This Site | Contact | Privacy Policy | Disclaimer | Submit Your Recipes | Your Italian Recipes | Archived Menus
Copyright 2014 by Great Chicago Italian Recipes.com, All Rights Reserved