Italian Lamb Recipes
---
---
NICE ITALIAN ACCENT


I actually almost forgot to add these great Italian Lamb recipes. I don't know what I was thinking. I guess I was just concentrating too much on the other recipes.

Anyway, many cooks and chefs have already discovered the versatility of lamb, now you can make that discovery at home with these delicious family recipes.
The best thing about lamb is that a nice glass of red wine makes this meat even more irresistible. Whether its chops, roast or stew, lamb can be enjoyed anytime of the year with a great variety of wines.
In Italy, lamb is traditionally served at Easter time to celebrate the passing and rebirth of Jesus and to celebrate the passage into spring.
I have two ways of making a great leg of lamb one is simply roasted with herbs and the other is with vegetables. Both are excellent!
A hearty lamb stew with tomatoes and potatoes will give you great comfort in the winter months. This delicious stew served with fresh baked Italian bread is about as rustic Italian as you could possibly get.
Let's now begin preparing our Italian lamb recipes
Roast Leg of Lamb
Made two different ways, this delicious lamb would be great served for the holidays.
Italian Leg of Lamb
Delicious lamb with fresh vegetables.
Italian Style Lamb Chops
These tasty chops topped with a hint of dried mint will melt in you mouth.
Italian Lamb Stew
Mouth watering rustic Italian style stew.
Herb Encrusted Rack of Lamb
Delicious rack of lamb with parmesan cheese.
Braised Lamb Shanks
Tender lamb with beef broth and red wine.
Grilled Italian Skewered Lamb
Delicious marinated lamb.
Lamb with Roasted Peppers
Roasted red peppers compliment this tender lamb dish.
Lamb Chops Peppers
Tender chops with sauteed peppers and onions.
Lamb Kabobs Italian Style
Deliciously grilled lamb with vegetables.
Chef Thomas Ciapi's Braised Texas Hill Country Provincial Lamb Shanks
Tender braised lamb shanks in a rich sauce served with veggies.
---
Don't forget to click on the logo below and subscribe to my
NEW NEWSLETTER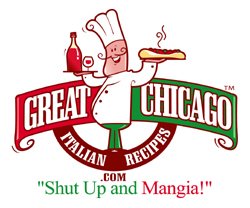 That's a discovery! That' Italian! That's
Great-Chicago-Italian-Recipes.com
Leave Italian Lamb Recipes and Return to Italian Recipes
---
---
Home | The Italian Grocer | Italian Heritage | Italian Chefs | New Contest | What's New | Restaurant Reviews | Your Reviews | Appetizer Recipes | Soup Recipes | Salad Recipes | Bread Recipes | Vegetable Recipes | Pasta Recipes | Poultry Recipes | Beef Recipes | Pork Recipes | Veal Recipes | Lamb Recipes | Seafood Recipes | Pizza Recipes | Cooking for Kids | Italian Cheese | Italian Wine | Dessert Recipes | Coffee and Espresso| Italian Dinner Music | Food Glossary | About the Cook | Sitemap | Share This Site | Contact | Privacy Policy | Disclaimer | Submit Your Recipes | Your Italian Recipes | Archived Menus