Great Chicago Italian
Recipes Blog
---
---
Here the Great Chicago Italian Recipe Blog will give you the most up-to-date information regarding...
new recipes
site changes
cooking tips,
product and produce reveiws,
and the hottest restaurants in Chicago.
Subscribing is simple, easy and free. No email address or personal information required.
Just right click on the orange RSS button and paste the URL into you RSS reader. If your not sure what a RSS reader is all about, click on the "Whats a RSS feed?" link.
If you would like a free rss reader just click on this link, RSS Reader and download.
If not, then visit my blog through my site. It's that easy. Thanks! Have fun!
That's a discovery! That's Italian! That's
Great Chicago Italian Recipes.com
Leave Italian Recipe Blog an Return to Home Sweet Home
Trofie with Pesto, Potatoes and String Beans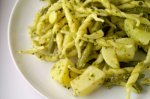 This Trofie with Pesto dish is from the Italian region of Liguria. The blend of the pesto with the pasta, potatoes and string beans make a perfect combination.
Continue reading "Trofie with Pesto, Potatoes and String Beans"