Perfect Sunday Gravy
---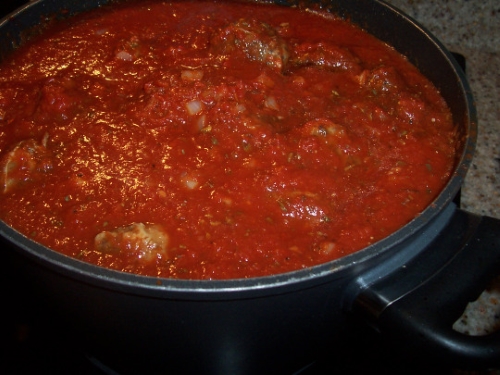 ---
Perfection

As the, "is it called gravy or sauce argument rages on", we will attempt to give you tips and information on how to make the best Sunday Gravy you have ever tasted. Traditional Sunday gravy is a rich, meat based gravy that originated in the kitchens of Italian-American families. There are many variations of this recipe and choices must be made. Should I add braciola or just use meatballs and sausage? Should I add neck bones or spare ribs? Ground beef or pork? The truth of the matter is to use what is available. If you have time to make meatballs and braciola then definitely use them. If it is easier to add fried sausage or neck bones then by all means add them. Just remember the different varieties of meat add to the overall flavor of the gravy.
Two of the most important tips we could give you is first make sure the pot you are using has a very heavy bottom. We find that a heavy bottomed pot helps prevent the gravy from burning during its long cooking time. Second make sure you brown all your meats before placing them in your gravy. This brings out the flavor of the meats and will ensure a more flavorful gravy.
Like any recipe, it is very important to layer your ingredients. Step by step you build layer upon layer of flavors. When it comes to making our perfect Sunday gravy we begin with a soffritto. Soffritto is the holy trinity of Italian cooking. It is a simple combination of sauteed aromatic ingredients such as chopped onions, carrots and celery, along with plenty of garlic, that serve as a base for our other ingredients. After the soffritto is slightly tender we usually add ground beef or pork and cook it until it is slightly browned. Then we stir in two six ounce cans of tomato paste and cook it for a few minutes until it is thoroughly mix together with the soffritto. Season the mixture with salt, pepper, dried oregano, thyme, marjoram and sugar, then deglaze the mixture with red wine, scraping the bottom of the pot while letting it reduce and condense a bit. See how the flavors are building? You are on your way to making a delicious gravy.
You are now past the hard part. Next we simply add the tomato sauce, chopped tomatoes, a little more dried seasoning and a hand full of fresh basil and parsley. Cover, bring to a boil then reduce to simmer.
Now you are ready to add your meat. Basically at the beginning we will add fried sausage and/or roasted neck bones or pork ribs. Braciola is a special treat and should also be added at the beginning of the cooking process. The fried meat balls are usually added during the last hour of cooking.
Now comes the wait. In order to ensure that the flavors are well blended and the gravy becomes rich and thick, cook the gravy for a minimum of 8 to 10 hours. When finished you will have produced the most perfect Sunday gravy you have ever tasted. Serve with your favorite pasta, ravioli, lasagna, etc., and don't forget a nice crusty loaf of Italian bread.
Enjoy my favorite traditional Sunday Gravy recipe here.
Click here for a great Meatball recipe
Click here for The Big Braciola recipe
Make your own homemade Sicilian Sausage

---
---
Don't forget to click on the logo below and subscribe to my
NEW NEWSLETTER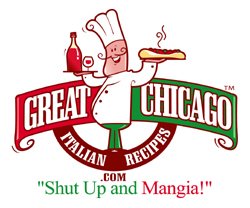 That's a discovery! That's Italian! Thats
Great-Chicago-Italian-Recipe.com
---
Leave Perfect Sunday Gravy and Return to Italian Recipes

Leave Perfect Sunday Gravy and Return to Italian Tips and Info

---
---
Home | The Italian Grocer | Italian Heritage | Italian Chefs | New Contest | What's New | Restaurant Reviews | Your Reviews | Appetizer Recipes | Soup Recipes | Salad Recipes | Bread Recipes | Vegetable Recipes | Pasta Recipes | Poultry Recipes | Beef Recipes | Pork Recipes | Veal Recipes | Lamb Recipes | Seafood Recipes | Pizza Recipes | Cooking for Kids | Italian Cheese | Italian Wine | Dessert Recipes | Coffee and Espresso| Italian Dinner Music | Food Glossary | About the Cook | Sitemap | Share This Site | Contact | Privacy Policy | Disclaimer | Submit Your Recipes | Your Italian Recipes | Archived Menus
---
Copyright 2014 By Great Chicago Italian Recipes.com, All Rights Reserved