Traditional Homemade
Sicilian Sausage
---
Fresh and Delicious
The
Traditional Homemade Sicilian Sausage
my Grandfather made has always surpassed the store bought kind. I've always had this recipe for this great tasting sausage but never had the time to make it.
The flavor of the
Homemade Sicilian Sausage
depends on the region and the family recipe. Each town or each home would produce a different type of family sausage. The type of meat varied as well as the spice mixture that was used. Each home would at least have one thing in common and that would be the sausage grinder and stuffing machine.
This recipe for Homemade Sicilian Sausage will take some time and effort to perfect. Just make sure you always get the whole family involved when preparing this recipe or for that matter, any great Italian meal. Good Luck!
INGREDIENTS
25 pounds of pork shoulder pork casings (get from butcher)
1/4 cup of whole fennel seed 1/2 cup of fresh ground black pepper
3/4 cup of salt
1/2 cup of paprika
1/4 cup of dried basil
1/8 cup of dried oregano
1/2 cup of fresh flat leaf parsley, chopped
1/4 cup of garlic, chopped
1/4 cup of crushed red pepper flakes (optional)
1/2 cup of red wine

PREPARATION
The casings overnight in salt water.
Before using the casing rinse well and cut into 18 inch pieces.
Keep the casings in a small bowl of warm water.
Cut the pork into 1 inch cubes keeping some fat on the meat so the meats stays moist.
The best ratio to this is 80% meat 20% fat.
Using the meat grinding attachment, grind the meat into a ground pork type texture.
In a large, deep pan season the meat with the remaining ingredients and thoroughly mix together by hand until all the spices are blended through.
For best results I like to refrigerate the mixture overnight t let the spices blend.
Take the meat out of the fridge and let it stand for about 30 minutes to reach room temperature. It makes stuffing a lot easier and doesn't clog up the tube.
Test the flavor of the sausage by frying some up in a pan. Adjust seasoning accordingly before stuffing.
Using a tube attachment, carefully slide the casing on the tube. Stuff the casing with sausage mixture being careful not break the casing.
Remove any air bubbles with a toothpick. This is a two person job. One to turn the crank to stuff the sausage and one to hold the sausage as it's being made.
Twist the casing around every 7 inches or however long you want.

---
Don't forget to click on the logo below and subscribe to my
NEW NEWSLETTER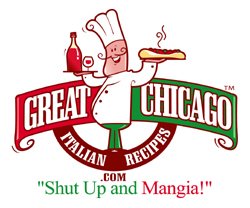 That's a discovery! That' Italian! That's
Great-Chicago-Italian-Recipes.com
Leave Homemade Sicilian Sausage and Return to Italian Recipes

Leave Homemade Sicilian Sausage and
Return to Easy Pork Recipes
---
---
Home | The Italian Grocer | Italian Heritage | Italian Chefs | New Contest | What's New | Restaurant Reviews | Your Reviews | Appetizer Recipes | Soup Recipes | Salad Recipes | Bread Recipes | Vegetable Recipes | Pasta Recipes | Poultry Recipes | Beef Recipes | Pork Recipes | Veal Recipes | Lamb Recipes | Seafood Recipes | Pizza Recipes | Cooking for Kids | Italian Cheese | Italian Wine | Dessert Recipes | Coffee and Espresso| Italian Dinner Music | Food Glossary | About the Cook | Sitemap | Share This Site | Contact | Privacy Policy | Disclaimer | Submit Your Recipes | Your Italian Recipes | Archived Menus