The Big Braciola
---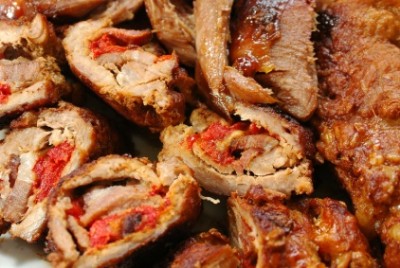 ---
Tender Meat
It's time for gravy and The Big Braciola.  Week after week I always add the usual neck bones, sausage, meatballs or ground beef to the gravy.  Today is going to be different.  Today is going to be a good day.   Today I'm going to start by making the gravy and getting the braciola ready.  Delicious flank steak rolled up with a delicious filling then braised for hours until the meat is so tender it falls apart.
The best thing about Italian food is that you can take one dish and prepare it a hundred different ways.  This is exactly the case when making
"The Big Braciola
.  Depending on the family and the region, braciola can be made with beef, veal, pork or chicken.  When making gravy I  prefer using beef.  The flavor of the flank steak braising in the gravy all day melts in your mouth.
The filling for making braciola can also vary greatly. I have two recipes on here for you to try.  Some people fill it with breadcrumbs, cheeses, salami, prosciutto, pine nuts, roasted red peppers, etc.  I simply follow my Sicilian Grandmother's recipe of seasoned ground beef, parsley, roasted red peppers,  cheese and hard boiled eggs.  This combination works very well.  Why should I change anything that brings back so many good memories.
There's still a lot to do.  So if your making gravy this any time soon, don't forget The Big Braciola.  Enjoy!
INGREDIENTS
4 pieces of flank steaks
1/2 pound of ground beef
2 cloves of garlic, finely chopped
1/2 tsp of dried basil
1/2 tsp of dried oregano
1/4 cup of fresh Italian flat leaf parsley
1  tsp of salt
1 tsp of fresh ground black pepper
1/2 cup of fresh grated Parmesan or Romano cheese
1 small jar of roasted red peppers
4 large eggs, hard boiled
3 Tbls of extra virgin olive oil

PREPARATION
Using a meat mallet, pound the steaks until they're around 1/2 inch thick.
In a medium size bowl, thoroughly mix together the ground beef, garlic, basil, oregano, parsley, 1/2 tsp of salt and 1/2 tsp of pepper.
Spread a thin layer of the  ground beef mixture on each piece of steak.
Sprinkle the ground beef generously with the cheese.
Add the roasted red peppers
Place the hard boiled eggs lengthwise in one row toward the edge of the meat.
Roll each steak and tie the ends and the middle with string.
Season the beef rolls with the remaining salt and pepper
In a large frying pan heat the olive oil.
Fry the braciola on all sides until browned.  Around 10 minutes.
Place the braciola in your gravy and simmer for hours until tender.

Serves 4 people



---
Don't forget to click on the logo below and subscribe to my
NEW NEWSLETTER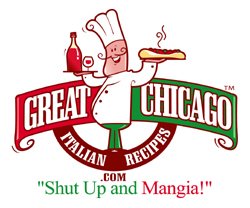 That's a discovery! That's Italian! That's
Great Chicago Italian Recipes.com
Leave The Big Braciola and Return to Italian Recipes
Leave The Big Braciola and Return to Italian Beef Dishes
---
---
Home | The Italian Grocer | Italian Heritage | Italian Chefs | New Contest | What's New | Restaurant Reviews | Your Reviews | Appetizer Recipes | Soup Recipes | Salad Recipes | Bread Recipes | Vegetable Recipes | Pasta Recipes | Poultry Recipes | Beef Recipes | Pork Recipes | Veal Recipes | Lamb Recipes | Seafood Recipes | Pizza Recipes | Cooking for Kids | Italian Cheese | Italian Wine | Dessert Recipes | Coffee and Espresso| Italian Dinner Music | Food Glossary | About the Cook | Sitemap | Share This Site | Contact | Privacy Policy | Disclaimer | Submit Your Recipes | Your Italian Recipes | Archived Menus