Pasta Primavera
---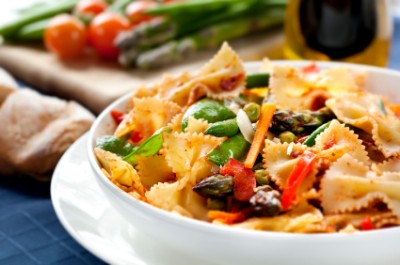 ---
Delicious Vegetables
Time to prepare my my favorite Pasta Primavera recipe. There is nothing better than fresh garden vegetables and pasta. This is the time of the year when we start planting the tomatoes, zucchini, string beans, eggplant etc. and hope to grow some of our the best vegetables right in our back yard. If you don't grow your own vegetables then the grocer will work just fine.
This dish is a little time consuming if you want to get the vegetables cooked right. You don't want to over or under cook any of the vegetables. I always use a steamer. I stopped boiling vegetables years ago. A steamer retains the nutrients and flavor of the vegetables much better than boiling. Instead of sautéing the vegetables at different times I like to steam some of them and set them aside until I'm ready to use them. It's just something I do.
If you love fresh vegetables as much as I do, you'll love this Pasta Primavera recipe.
INGREDIENTS
1 pound of pasta
1 cup of broccoli florets
2 carrots slices in circles
1 cup of string beans
6 stalks of asparagus sliced into pieces
2 small zucchini cut lengthwise and slices into pieces
1 bunch of long green onions chopped
3/4 of a cup of baby peas
1 cup of button mushrooms sliced
1 tomato finely chopped
3 cloves of garlic minced
4 Tbls of extra virgin olive oil
2 Tbls of butter
1/4 cup of fresh basil chopped
1 cup of heavy whipping cream
1 cup of freshly grated Parmigiano-Reggiano cheese
1/4 cup of fresh parsley chopped
1/4 tsp salt
1/4 tsp of freshly ground black pepper

PREPARATION
Lets steam the vegetables first and get them out of the way. Bring around 2 quarts of water to a boil in a medium sized steamer. Steam the broccoli and asparagus for 7 to 10 minutes. Steam the carrots and the string beans 15 to 20 minutes. Set the vegetables aside until ready to use. In the meantime we'll sauté the rest.
In a large skillet sauté the garlic, onions, zucchini, peas, mushrooms and tomatoes in the butter and olive oil for about 10 minutes.
In 6 quarts of boiling water cook the pasta until al dente, about 10 minutes. Drain and set aside.
Add the steamed vegetables to the skillet for 2 minutes.
Season with basil, salt and pepper.
Stir in the whipping cream until bubbly.
Stir in half of the Parmesan cheese.
Plate the spaghetti and top with the vegetable mixture.

Garnish with the parsley and serve with the remaining cheese. This Pasta Primavera recipe should serves 6 unless your real hungry.
---
Don't forget to click on the logo below and subscribe to my
NEW NEWSLETTER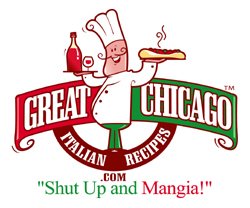 That's a discovery! That's Italian! That's
Great Chicago Italian Recipes.com
Leave Pasta Primavera and Return to Italian Recipes

Leave Pasta Primavera and Return to Best Tasting Pasta Recipes
---
---
Home | The Italian Grocer | Italian Heritage | Italian Chefs | New Contest | What's New | Restaurant Reviews | Your Reviews | Appetizer Recipes | Soup Recipes | Salad Recipes | Bread Recipes | Vegetable Recipes | Pasta Recipes | Poultry Recipes | Beef Recipes | Pork Recipes | Veal Recipes | Lamb Recipes | Seafood Recipes | Pizza Recipes | Cooking for Kids | Italian Cheese | Italian Wine | Dessert Recipes | Coffee and Espresso| Italian Dinner Music | Food Glossary | About the Cook | Sitemap | Share This Site | Contact | Privacy Policy | Disclaimer | Submit Your Recipes | Your Italian Recipes | Archived Menus