Filippo's Broiled Clams
---
---
Delicious Morsels
Ever since I was a kid I loved broiled clams. We use to go to place on the south side called Artie G's where I ate them by the dozens. They are my favorite Italian appetizer of all time. Sometimes I forget they are suppose to be appetizers and just eat them as a meal.
I've made and remade this recipe throughout the years until I finally think I got it right where I want it. When making this recipe I prefer using the littleneck variety, though some people prefer the larger chowder type. Always remember to thoroughly scrub them and discard any that are open.
Normally you could just steam them in a steamer but for this recipe I like to braise them in white wine before stuffing them.
INGREDIENTS
2 dozen littleneck clams
1/2 cup of dry white wine
1/2 cup of chicken broth
3/4 cup of freshly grated bread crumbs
1/3 of a cup of freshly grated parmesan cheese
3 slices of prosciutto, finely chopped
2 cloves of garlic, minced
1/2 tsp of dried oregano
1/2 tsp of dried basil
1/4 cup of fresh flat leaf parsley, chopped
3 Tbls of extra virgin olive oil
1/4 tsp of salt
1/4 tsp of freshly ground black pepper



PREPARATION
Mix the wine and broth together in large pot, cover and braise the clams until they open. Discard any of them that didn't open. Remove with a slotted spoon and reserve some of the broth.
Let them cool down and remove the top shell leaving the shell with the meat.
In a frying pan sauté the garlic and the prosciutto for 2 minutes in the olive oil.
Mix together the breadcrumbs, cheese, parsley oregano and basil, salt, pepper and around 1/4 cup of the reserved broth.
Add the mixture to the breadcrumbs and sauté until breadcrumbs a lightly toasted. Around 2 minutes.
Lay them out on a baking sheet and stuff them with the breadcrumb mixture.
Place under the broiler until the tops are toasted being careful not to burn.

They should serve 6 people unless your me and eat the whole thing by yourself.



---
Don't forget to click on the logo below and subscribe to my
NEW NEWSLETTER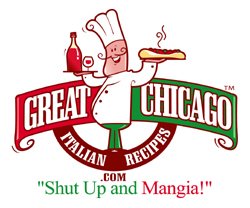 That's a discovery! That's Italian! That's
Great Chicago Italian Recipes.com
Leave Filippo's Baked Clams and Return to Italian Recipes

Leave Baked Clams and Return to Appetizer Recipes
---
---
Home | The Italian Grocer | Italian Heritage | Italian Chefs | New Contest | What's New | Restaurant Reviews | Your Reviews | Appetizer Recipes | Soup Recipes | Salad Recipes | Bread Recipes | Vegetable Recipes | Pasta Recipes | Poultry Recipes | Beef Recipes | Pork Recipes | Veal Recipes | Lamb Recipes | Seafood Recipes | Pizza Recipes | Cooking for Kids | Italian Cheese | Italian Wine | Dessert Recipes | Coffee and Espresso| Italian Dinner Music | Food Glossary | About the Cook | Sitemap | Share This Site | Contact | Privacy Policy | Disclaimer | Submit Your Recipes | Your Italian Recipes | Archived Menus