Crisp Gnocchi with
Tomatoes and Basil

---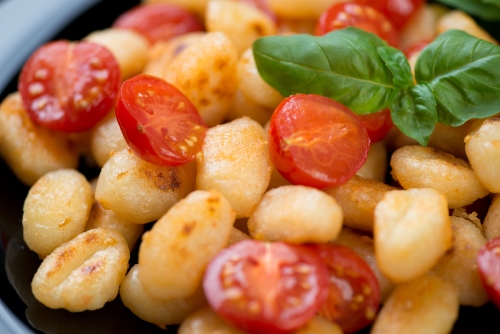 ---
Crisp and Creamy
This simple Crisp Gnocchi Tomatoes and Basil dish can easily be made for lunch or dinner. This is an excellent summertime dish. Great for outdoor parties. Each bite gives you a crisp, creamy flavor that will burst in your mouth.
The gnocchi is fried with a little olive oil and butter to create the crisp texture. Just toss in the tomatoes and basil to produce a fresh tasting meal. For added flavor add a little goat cheese or Parmesan on top.
It is refreshing and satisfying dish best served with a nice Chardonnay or Pinot Grigio, Even a Pinot Noir would go great with this dish.
Ingredients:
1 pound fresh or packaged gnocchi
2 Tbls of extra-virgin olive oil
1 Tbs of butter
10 cherry tomatoes, sliced in half
8 fresh basil leaves, torn
½ tsp of salt
½ tsp of fresh ground black pepper
6oz crumbled goat cheese (optional)
Preparation:
Heat the oil and the butter in a large frying pan
Toss in the gnocchi and fry until slightly browned and crisp (about 10 minutes)
Toss in the tomatoes and heat through (2 minutes)
Add the fresh basil
Season with salt and pepper
Add goat cheese
Plate and serve
Serves 2 people
---
---
Don't forget to click on the logo below and subscribe to my
NEW NEWSLETTER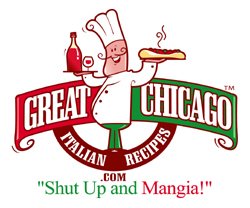 That's a discovery! That's Italian! Thats
Great-Chicago-Italian-Recipe.com
---
Leave Crisp Gnocchi and Return to Italian Recipes
Leave Crisp Gnocchi and Return to Pasta Recipes
---
---
Copyright 2014 by Great Chicago Italian Recipes.com, All Rights Reserved