Arancini di Riso
By
Chef Franco Lania
---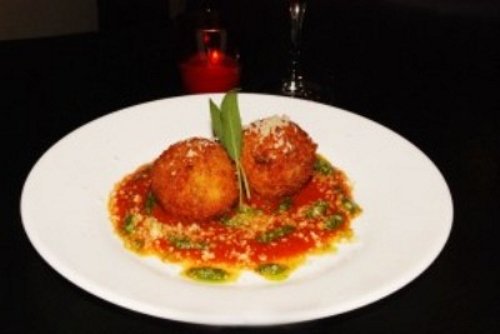 ---
Sicilian
This delicious Arancini di Riso recipe was given to us by Chef Franco Lania. These crisp, cheese filled croquettes are from Sicily and are typically sold at snack bars and from street vendors.
Known as "Rice Balls" here in the States, these excellent snacks can be served for lunch or dinner. They are filled with a variety of different ingredients depending on the family's traditions.
You can stuff the Arancini di Riso with just about anything but traditionally they are stuffed with cheeses, peas and meat sauce. Enjoy!.
INGREDIENTS
3 cups of Arborio Rice
4 Tbls of fresh thyme
7 cups of chicken stock ( have about 9 cups ready in case its needed)
3 cloves of garlic, diced fine
2 medium sized onions – finely chopped
3 sticks of butter (unsalted)Butter
2 cups of white wine
2 tsp of saffron (powdered) If more golden color is desired after the addition of the saffron one can "beef up" the color carefully with the addition of some Turmeric. (don't tell anyone) 1 and 1/2 cup of Parmesan Cheese, finely grated 1 and 1/2 cups of Fontina Cheese, medium cubed 1 and 1/2 cups of Peas (fresh or frozen) 4 cups of bread crumbs, (plain only)

PREPARATION
Soak the saffron powder in the wine
Melt the butter lightly in the pan over medium heat.
Add onion and garlic, cook slowly for 5-7 minutes (no color)
Bring the stock to a simmer
After 5-7 minutes add the rice to the pan and stir in well.
Lower the flam on the stove and heat the rice. The rice should become hot to the touch.
Be careful not to burn the rice, stir well and often until the rice is warm to the touch in all areas of the pan.
Add the thyme and stir in well to release it's perfume.
Add the white wine quickly.
Cook out wine well! Until almost completely evaporated
Add the hot stock, absorbing it into the rice one ladle at a time constantly string to prevent sticking at the bottom of the pan (using the standard risotto making methods)
Once the rice is a little harder than "Al Dente" remove from the heat.
Add the Parmesan cheese, and peas. Stir incorporate well and adjust the seasoning with salt and white pepper.
Leave to cool on and thin sheet tray, once cool down can be stored in refrigerator up to 2 days.

Shaping & Baking:
Remove risotto from the fridge, bring to room temperature if time allows.(working with rice at room temperature prevents the partially cooked rice from breaking into tiny pieces while working with it.)
Roll the rice slightly larger than a walnut.
Press a hole in the center of the ball and place a piece of Fontina cheese inside. Then close up re-forming the ball
Flower – Egg – Bread Crumb : Use the standard breading procedure to coat the balls with bread crumbs
Deep fry in clean Canola oil or frying oil of your preference. (Do not fry in Olive Oil)
Serve over a fresh Pomodoro ( Tomato Sauce)
Garnished with some dollops of fresh Pesto.

NOTE: Arancini di Riso can freeze well once breaded and not yet cooked. Place them on a parchment lined tray in a single layer tightly rapped. They last for up to a month like this.



Visit Chef Lania's website at Franco Lania.com







---
Don't forget to click on the logo below and subscribe to my
NEW NEWSLETTER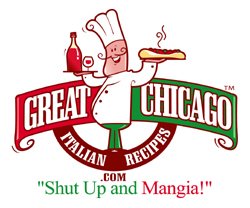 Leave Arancini di Riso and Return to Italian Recipes

Leave Arancini di Riso and Return to Italian Appetizer Recipes
---
---
Home | The Italian Grocer | Italian Heritage | Italian Chefs | New Contest | What's New | Restaurant Reviews | Your Reviews | Appetizer Recipes | Soup Recipes | Salad Recipes | Bread Recipes | Vegetable Recipes | Pasta Recipes | Poultry Recipes | Beef Recipes | Pork Recipes | Veal Recipes | Lamb Recipes | Seafood Recipes | Pizza Recipes | Cooking for Kids | Italian Cheese | Italian Wine | Dessert Recipes | Coffee and Espresso| Italian Dinner Music | Food Glossary | About the Cook | Sitemap | Share This Site | Contact | Privacy Policy | Disclaimer | Submit Your Recipes | Your Italian Recipes | Archived Menus