Stuffed Artichokes
---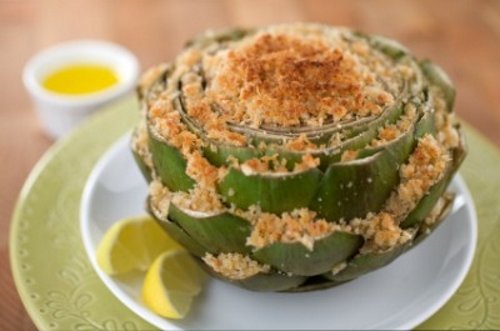 ---
CARCIOFI RIPIENI
Stuffed artichokes are one of the most common Italian appetizers and very fun to eat if you have the time. It's like opening a Cracker Jack box. You hurry to eat the tender meat off the bottom of the leaves until you get to the prize, the heart of the artichoke.
Stuffing these vegetables only adds to the enjoyment of eating them. My Grandmother's recipe for stuffed artichokes was of course the best I ever had but unfortunately like most of her recipes I have a difficult time duplicating it. You know she never measured anything. She would just put a pinch of this and a handful of that and it was delicious.
My version is close but not the same. Since you never had my Grandmother's recipe this shouldn't be a problem.
INGREDIENTS
4 large artichokes
2 cups of seasoned bread crumbs
3/4 cups of freshly grated Romano cheese
2 cloves of garlic finely chopped
1 small bunch of long green onions finely chopped
1/2 cup of chopped fresh parsley
1/2 tsp of salt
1/2 tsp of fresh ground black pepper
1/2 cup of lemon juice
2 cups of chicken broth

PREPARATION
Prepare artichokes by cutting the stems off the bottom.
Carefully cut the off the tops of the artichokes and pull off the small tough leaves at the bottom.
Snip the pointy tips off the remaining leaves. Wash thoroughly.
Lay the artichokes top down and press with the palm of your hand to loosen the leaves. Pull out the center of the artichoke.
Immediately dip the artichoke into the lemon juice to prevent them from turning brown. I usually spoon some in the middle and place the artichokes top down on a plate full of lemon juice while I prepare the breadcrumb mixture.
In a bowl mix the breadcrumbs, cheese, garlic, onions, parsley, salt and pepper.
Stuff the center and the leaves of the artichokes.
In a large pot add the artichokes and pour the chicken broth on top and around the artichokes.
Simmer over medium heat for around 1 hour until the bottom of the leaves are tender. Just pull a leaf off and make sure they're not tough. After around 30 minutes check to make sure there is enough broth. If not just add some more.

This dish will serve 4 people.



---
Don't forget to click on the logo below and subscribe to my
NEW NEWSLETTER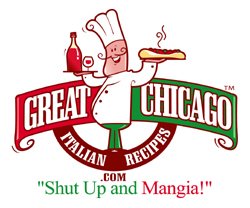 That's a discovery! That's Italian! That's
Great Chicago Italian Recipes.com
Leave Stuffed Artichokes and Return to Italian Recipes

Leave Stuffed Artichokes and Return to Appetizer Recipes
---
---
---
Home | The Italian Grocer | Italian Heritage | Italian Chefs | New Contest | What's New | Restaurant Reviews | Your Reviews | Appetizer Recipes | Soup Recipes | Salad Recipes | Bread Recipes | Vegetable Recipes | Pasta Recipes | Poultry Recipes | Beef Recipes | Pork Recipes | Veal Recipes | Lamb Recipes | Seafood Recipes | Pizza Recipes | Cooking for Kids | Italian Cheese | Italian Wine | Dessert Recipes | Coffee and Espresso| Italian Dinner Music | Food Glossary | About the Cook | Sitemap | Share This Site | Contact | Privacy Policy | Disclaimer | Submit Your Recipes | Your Italian Recipes | Archived Menus