Italian Sausage and Peppers
---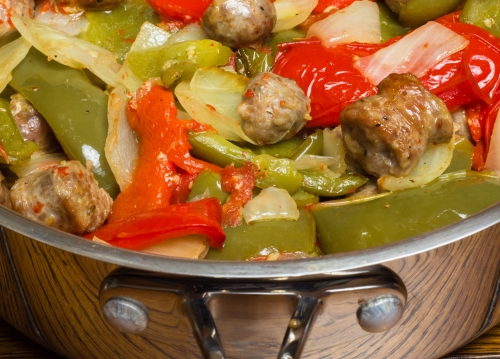 ---
JUICY JUICY
Italian Sausage and Peppers makes a wonderful appetizer for your family and friends. The Sausage and Peppers can be served in bite size pieces or on toasted garlic bread. Splash on some red gravy and your all set for a juicy, tasty Italian experience.
You can use store bought or for homemade, try this fabulous family sausage recipe below. Though time consuming, you can't beat the taste of fresh homemade sausage. Make a large one time batch and freeze the rest.
Your family and friends will love you for all your effort. Put love in, get love back. Don't eat to live. Live to eat. My family has been enjoying this Sausage and Peppers recipe for years and so will yours.
INGREDIENTS
1 pound of hot or mild Italian sausage, cut into 1 inch pieces
2 tsp of olive oil
1 green bell pepper sliced
1 red bell pepper sliced
1 onion sliced
6 baby portabello mushrooms sliced
2 or 3 cloves of garlic crushed
1 tsp dried oregano
1 tsp dried basil
1 15oz. can of diced tomatoes

PREPARATION
Fry meat in a deep frying pan for 5 to 10 minutes.
Remove from pan and set aside.
Add olive oil to pan.
Saute peppers,onions,mushrooms and garlic until tender.
Add Tomatoes.
Sprinkle in oregano and basil.
Add meat.
Cover and cook for around 15 minutes.

Serve the Sausage and Peppers on toasted garlic bread or as a a side.
---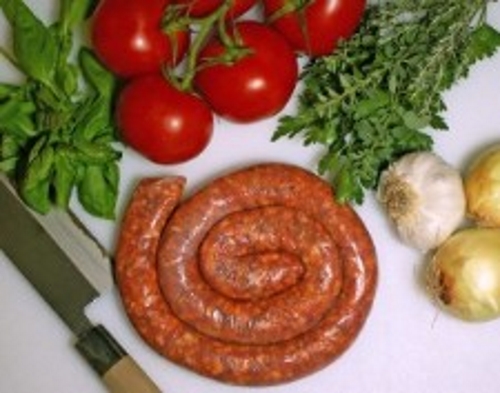 ---
HOMEMADE ITALIAN SAUSAGE
This classic Sicilian recipe will give your family years of pleasure not only in the quality of taste but as a family gathering.
Like homemade Italian wine making, get everyone together to make this recipe a yearly family tradition.
This recipe calls for a little spice, just the way we like it, but you could modify it for your own taste.
INGREDIENTS
25 pound of pork shoulder
pork casings (can get from butcher)
1/4 cup of whole fennel seed
1/2 cup of ground black pepper
3/4 cup of salt
1/2 cup of sweet paprika
1/4 cup of red pepper flakes
1/4 cup of dried basil
1/2 cup fresh chopped flat leaf parsley
1/4 cup of crushed fresh garlic
1/2 cup of dry red wine



PREPARATION
Soak the casings overnight in salt water.
Before using rinse well and cut into 18 inch strips.
Keep casings in a small bowl of warm water.
Cut the pork shoulder into 1 inch cubes trim some fat, not all.
Coarsely grind meat. I use a Kitchen Aid with meat grinding attachments.
In a large bowl mix meat with everything above.
Mix well using your hands until all the spices are evenly blended into the meat.
Set in the refrigerator overnight to let the seasoning marinate.
Fry a little of the meat, taste and adjust the seasoning. Stuff the meat in to the casing slowly so the casing doesn't break.
Twist or tie the casing around every 7 inches. How ever long you want the sausage.
Be careful that there are no air bubbles in th casing. If so prick the air bubble with a toothpick.
When done cook right away, freeze them or give them away.
This recipe should make around 23 pounds of sausage.

Savor the flavor, remember the taste and share the joy.





---
Don't forget to click on the logo below and subscribe to my
NEW NEWSLETTER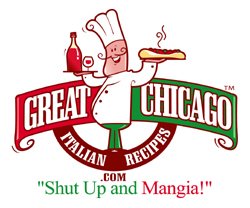 That's a discovery! That's Italian! That's
Great-Chicago-Italian-Recipes.com
Leave Italian Sausage and Peppers and Return to Italian Recipes

Leave Italian Sausage and Peppers and Return to Appetizer Recipes
---
---
---
Home | The Italian Grocer | Italian Heritage | Italian Chefs | New Contest | What's New | Restaurant Reviews | Your Reviews | Appetizer Recipes | Soup Recipes | Salad Recipes | Bread Recipes | Vegetable Recipes | Pasta Recipes | Poultry Recipes | Beef Recipes | Pork Recipes | Veal Recipes | Lamb Recipes | Seafood Recipes | Pizza Recipes | Cooking for Kids | Italian Cheese | Italian Wine | Dessert Recipes | Coffee and Espresso| Italian Dinner Music | Food Glossary | About the Cook | Sitemap | Share This Site | Contact | Privacy Policy | Disclaimer | Submit Your Recipes | Your Italian Recipes | Archived Menus