Muffuletta Sandwich
---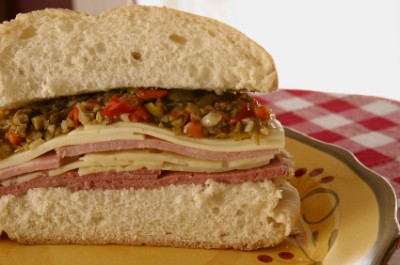 ---
Great Sandwich
This is a classic New Orleans Italian
Muffuletta Sandwich
features a delicious olive spread along with a little Chicago style twist. It's a hearty sandwich that should feed two people. This sandwich can easily be served for dinner.
This sandwich was originally claimed to be created at Decatur Street's Central Grocery around 1906. It contains delicious Italian meats and cheese topped with a delicious blend of olives, roasted red peppers and my favorite touch, Chicago style giardiniera.
Make sure you use a nice round crusty loaf of Sicilian bread or even foccacia bread would be delicious. This Muffuletta Sandwich is great served at parties.
INGREDIENTS
1 bunch of long green onions, chopped
1/2 cup of green olives, pitted and chopped
1/2 cup of black olives, pitted and chopped
4 cloves of garlic, chopped
1/2 cup of hot or mild giardiniera
1 small jar of sweet roasted red peppers, chopped
4 pepperoncinis, chopped
1/8 cup of fresh Italian flat leaf parsley
3 Tbls of balsamic vinegar
3/4 cups of extra virgin olive oil
1 tsp of dried oregano
1 tsp of dried basil
1/2 tsp of salt
1/2 tsp of fresh grated black pepper
2 Large round loafs of Sicilian bread
1/2 pound of ham
1/2 pound of Genoa salami
1/2 pound of mortadella
1/4 pound of prosciutto
1/4 pound of soppressatta
1/2 pound of mozzarella cheese
1/2 pound of provolone cheese

PREPARATION
Using a large bowl, mix together the first 14 ingredients.
Either place the mixture in a large jar or cover with plastic wrap and refrigerate overnight to let the flavors blend together.
Place the bread on a cutting board and slice lengthwise.
Layer the meat starting with the ham and ending with the cheese on the bottom piece of bread.
Heavily spread the olive mixture over the top.
Cover with the top piece of bread.
Slice into quarters.

2 loafs serve 4 people.



---
Don't forget to click on the logo below and subscribe to my
NEW NEWSLETTER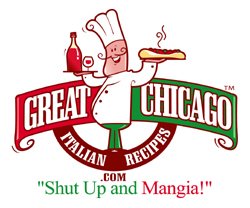 Don't forget to click on the logo below and subscribe to my
NEW NEWSLETTER
Leave Muffuletta Sandwich and Return to Italian Recipes
Leave Muffuletta Sandwich and Return to Appetizer Recipes
---
---
Home | The Italian Grocer | Italian Heritage | Italian Chefs | New Contest | What's New | Restaurant Reviews | Your Reviews | Appetizer Recipes | Soup Recipes | Salad Recipes | Bread Recipes | Vegetable Recipes | Pasta Recipes | Poultry Recipes | Beef Recipes | Pork Recipes | Veal Recipes | Lamb Recipes | Seafood Recipes | Pizza Recipes | Cooking for Kids | Italian Cheese | Italian Wine | Dessert Recipes | Coffee and Espresso| Italian Dinner Music | Food Glossary | About the Cook | Sitemap | Share This Site | Contact | Privacy Policy | Disclaimer | Submit Your Recipes | Your Italian Recipes | Archived Menus