Bay Scallops with Pesto
---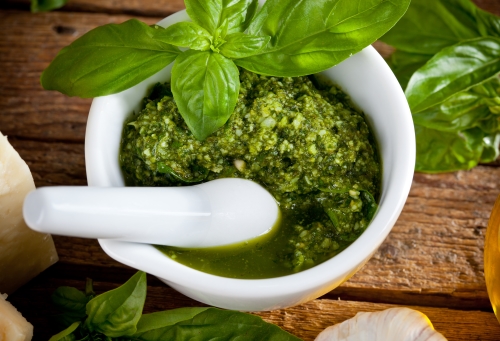 ---
TRADITIONAL GENOVESE
Bay Scallops with Pesto is a light summertime dish to serve the whole family. Pesto sauce dates back centuries originating from Genoa. Very few people prepare pesto sauce the traditional way with a marble mortar and a wooden pestle. In this day and age food processors work just fine to blend all the ingredients together to make this delicious sauce.
All the work that is involved by hand should produce a thick, creamy sauce to be poured over pasta, meats or sea foods. In this recipe we're using delicious bay scallops. Sweet, tender bay scallops are found in the coastal bays of the Northeast Atlantic regions and can be used in a variety of dishes.
In making this Bay Scallops with Pesto recipe, it is best to prepare the pesto sauce ahead of time. If you wish you can make the sauce in large batches and freeze some for future use. When cooking any type of scallop always make sure they are dry so they sear properly. You don't want to steam them or cook them to long because they'll toughen up on you. A quick sear will leave them tender.
Classic Pesto Sauce
INGREDIENTS
2 cups of fresh basil leaves, chopped
3 cloves of garlic, crushed
1/4 cup of pine nuts
1 tsp of coarse salt
1 tsp of fresh ground black pepper
1 cup of extra virgin olive oil
1/2 cup of freshly grated parmesan cheese

PREPARATION
In a food processor, slowly blend the basil, garlic and half of the oil with the parmesan cheese.
Gently blend in the pine nuts with the remaining oil until smooth.
Let the pesto rest for about an hour before using. If the sauce is too thick just blend in a little more oil.



Bay Scallops with Pesto

INGREDIENTS
1 pound of bay scallops
1 bunch of long green onions, chopped
8 baby Portobello mushrooms, sliced
1 red bell pepper, chopped
1 Tbls of butter
1 Tbls of extra virgin olive oil
1 and 1/2 cups of chicken broth
1 cup of fresh pesto sauce
1 lemon
1 pound of fettuccini
1/4 cup of parmesan cheese

PREPARATION
In a large skillet, sauté the scallops in the butter and oil until golden brown.
Remove scallops from the skillet and keep warm.
Sauté the onions, mushrooms and peppers until tender.
Add the chicken broth and stir in the pesto and cook until heated through.
Turn off the heat and return the scallops to the pesto mixture.
In 6 quarts of salted boiling water, cook the pasta until al dente. Around 8 to10 minutes.
Plate the pasta and top with the scallops and pesto and squeeze with lemon.

Serve with the remaining parmesan cheese. Serves 4 people.





---
Don't forget to click on the logo below and subscribe to my
NEW NEWSLETTER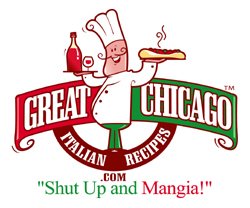 That's a discovery! That's Italian! That's
Great Chicago Italian Recipes.com
Leave Bay Scallops with Pesto and Return to Italian Recipes

Leave Bay Scallops with Pesto and Return to Italian Seafood Recipes
---
---
Home | The Italian Grocer | Italian Heritage | Italian Chefs | New Contest | What's New | Restaurant Reviews | Your Reviews | Appetizer Recipes | Soup Recipes | Salad Recipes | Bread Recipes | Vegetable Recipes | Pasta Recipes | Poultry Recipes | Beef Recipes | Pork Recipes | Veal Recipes | Lamb Recipes | Seafood Recipes | Pizza Recipes | Cooking for Kids | Italian Cheese | Italian Wine | Dessert Recipes | Coffee and Espresso| Italian Dinner Music | Food Glossary | About the Cook | Sitemap | Share This Site | Contact | Privacy Policy | Disclaimer | Submit Your Recipes | Your Italian Recipes | Archived Menus