Rosa di Parma
---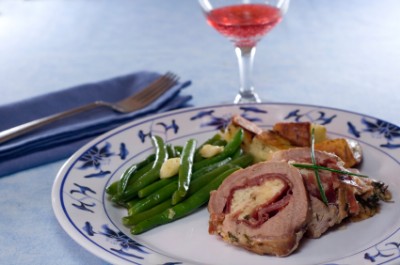 ---
Stuffed
Pork tenderloin Rosa di Parma is a traditional dish from the province of Parma. This tenderloin is simply stuffed with Parmigiano-Reggiano and prosciutto, Normally this dish is made with beef but works just as well with pork or even chicken.
Parma is in the Emilia-Romagna region of Italy. They are famously known for their production of Prosciutto di Parma and Parmigiano-Reggiano cheese. When making this recipe try to use these two imported products. It's more expensive but well worth the extra cost.
Rosa di Parma can be served plain with roasted potatoes and steamed vegetables or with a nice creamy sauce. To get the best results from this dish just pan fry it first to seal in the juices then roast it to perfection. Enjoy!
INGREDIENTS
2 pork tenderloins, trimmed
3 cloves of garlic, finely chopped
6 fresh sage leaves, chopped
1 tsp of fresh rosemary, finely chopped
1 tsp of salt
1 tsp of fresh ground black pepper
8 slices of Prosciutto di Parma
1 cup of fresh grated Parmigiano-Reggiano cheese
4 Tbls of extra virgin olive oil

PREPARATION
Pre-heat the oven to 450 degrees
Butterfly the pork tenderloin by sliding a sharp knife lengthwise down the tenderloin without cutting through. Then roll the tenderloin out while cutting to make a flat piece of meat around 1/2 inch thick.
Pound the meat slightly with a meat mallet.
Place the prosciutto on top of the meat.
Sprinkle the cheese evenly over the top of the prosciutto.
Roll the meat up and tie with butchers twine.
In a small bowl mix together the garlic, sage, rosemary, salt and pepper.
Rub the spice mixture on all sides of the tenderloin.
In a large skillet, fry the tenderloin in the olive oil until browned on all sides.
Transfer the tenderloin to a shallow roasting pan and roast for 15 to 20 minutes.
Meanwhile make the sauce.

Rosa di Parma Sauce

INGREDIENTS
3 Tbls of extra virgin olive oil
5 Roma tomatoes
1/2 tsp of salt
1 tsp of fresh ground black pepper
1/2 cup of heavy whipping cream
1 tsp of sugar
1/2 cup of fresh grated Parmesan cheese
3 Tbls of fresh flat leaf Italian parsley, chopped

PREPARATION
In a medium saucepan, sauté the garlic in the olive oil for 2 minutes.
Add the tomatoes, salt and pepper and cover and cook for about 10 minutes.
Remove the skins from the tomatoes if you prefer.
Stir in the cream and sugar and simmer for 2 minutes.
Stir in the cheese and parsley.

NOTE: Remove the tenderloin and let it rest on a cutting board for 10 to 15 minutes. Remove the string and cut the tenderloin into 1 and 1/2 inch pieces. Serve with sauce on top or on the side.
---
Don't forget to click on the logo below and subscribe to my
NEW NEWSLETTER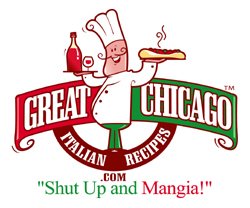 That's a discovery! That's Italian! That's
Great Chicago Italian Recipes.com
Leave Rosa di Parma and Return to Italian Recipes

Leave Rosa di Parma and Return to Easy Pork Recipes
---
---
Home | The Italian Grocer | Italian Heritage | Italian Chefs | New Contest | What's New | Restaurant Reviews | Your Reviews | Appetizer Recipes | Soup Recipes | Salad Recipes | Bread Recipes | Vegetable Recipes | Pasta Recipes | Poultry Recipes | Beef Recipes | Pork Recipes | Veal Recipes | Lamb Recipes | Seafood Recipes | Pizza Recipes | Cooking for Kids | Italian Cheese | Italian Wine | Dessert Recipes | Coffee and Espresso| Italian Dinner Music | Food Glossary | About the Cook | Sitemap | Share This Site | Contact | Privacy Policy | Disclaimer | Submit Your Recipes | Your Italian Recipes | Archived Menus