Italian Wine Classifications
---
---
Italian Wine Classification
Over the years Italy has instituted many laws to control the origin and protect the names of wines. In the 1960's the "Denominazione di Origine Controllatta" (Controlled Denomination of Origin) or D.O.C was created to control the area in which wine must be produced in. It also places some controls on grape varieties, aroma, color, flavor and aging.
The wine is sectioned into four types of classifications…
Denominazione di Origine Controllata e Garantita (D.O.C.G)
This is the highest classification for Italian wines. Very few Italian wines meet the standards needed to qualify in this category. These type of wines should be classified a D.O.C for at least 5 years and overcome other wines in this category before being classified as D.O.C.G.. Some wines in the D.O.C.G. category include…
…Barolo,
Barbareso,
Brunello di Montalcino,
Chiante
and Vino Nobile di Montepulciano.
These are five of the twenty-five already classified. The list will grow as additional wines petition for this category.


Denominazione di Origine Controlled (D.O.C)
The next classification is the D.O.C.. There are approximately over 800 wines that fit into this category. D.O.C. classifies wine made from varietals which are native to their region. These wines must follow strict guidelines like being limited to a geographical area within the region and using certain grapes that are within that region.


Indicazione Geografica Tipica (I.G.T.)
I.G.T. is Typical Geographic Indication which means that the wine is made from grapes which are typically grown in that region. Many wines from basic to high quality carry this classification.
Vino di Tavola (VDT)
Vini di Tavola is "table wine". These wine do not have any designation and is a category in which most Italian wine fall. These wines are still excellent to drink but the majority of these wines can unfortunately only be found in Italy.
Well that's it for "Italian Wine Classification". I hope this gives you some idea on how Italian wines are graded. Now lets move on to "Wine Regions"


Thanks "Wine Guys"!


---
Don't forget to click on the logo below and subscribe to my
NEW NEWSLETTER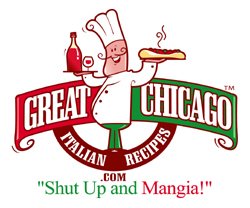 That's a discovery! That's Italian! Thats Great-Chicago-Italian-Recipes.com!
Leave Italian Wine Classification and Return to Italian Recipes
---
---
Home | The Italian Grocer | Italian Heritage | Italian Chefs | New Contest | What's New | Restaurant Reviews | Your Reviews | Appetizer Recipes | Soup Recipes | Salad Recipes | Bread Recipes | Vegetable Recipes | Pasta Recipes | Poultry Recipes | Beef Recipes | Pork Recipes | Veal Recipes | Lamb Recipes | Seafood Recipes | Pizza Recipes | Cooking for Kids | Italian Cheese | Italian Wine | Dessert Recipes | Coffee and Espresso| Italian Dinner Music | Food Glossary | About the Cook | Sitemap | Share This Site | Contact | Privacy Policy | Disclaimer | Submit Your Recipes | Your Italian Recipes | Archived Menus