Italian Grape Varieties
---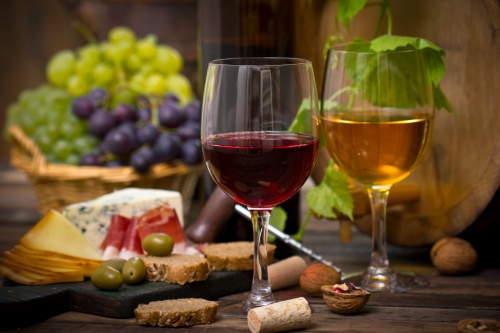 ---
Italian Grape Varieties
Freisa
- This is a medium bodied red grape. It produces highly acidic pale cherry red wines and has been grown in Piedmont since 1799.
Fumin
- Native to th Aosto Vally, these grapes are dark red and juicy with solf tannins. The qualities of the grape improves with ageing and refinement in the bottle.
Gaglioppo
- Imported to Calabria from Greece, this grape produces lightly colored reds that are softly tanic.
Gargenaga
- This white grape is widely grown in the Veneto region. With hints of lemon and almonds, the grape produces a good delicate wine.
Grechetto
- This white variety is widely grown in Umbria. Blended with Trebbiano grapes, Grechetto produces an nice dry Ovieto wine.
Grignolino
- This grape produces a dry wines with a delicate perfumed bouquet. This red grape is grown is grown almost exclusively in the Piedmont region.
Grillo
- This Sicilian white grape is one of the most important grapes used in Marsala. This grape also has a very high sugar content which makes for excellent dessert wines.
Lagrien
- These grapes come from the Northern area of Italy in the Alto adige region. This red grape produces aromatic medium bodied red and rose wines.
Lambrusco
- From the Emilia-Romagna area comes this ancient red varietal grape. This grape makes wine that is a spiciness with red fruit flavors, medium tannins and high acidity.
Malvasia
- These white grapes are cultivated throughout Italy and produce a rich Vin Santo as well as whites. The red variety is called Malvasia nero which is used in many wines from Puglia.
Merlot
- In Italy these grapes are often blended with Sangiovese. Merlot grapes make deeply colored ,full bodied, soft wines.
Molinara
- These grapes are known for bright red fruit flavors and floral characteristics. They are used as part of the Volpolicella and Bardolino blends of Northern Italy.
Monica
- This red grape variety is primarily grown in Sardinia wher it produces lightly colored medium flavored reds.
Montepulciano
- Grown in the Abruzzo region , this red grape produces a plum like fruit flavor , light in acidity and light in tannin type of wine.
Moscato
- This varietal is used primarily to make sparkling, sweet, and semi-sweet wines. It is also the finest Muscat grape produced in Italy.
Nebbiola
- These grapes are one of the oldest an most distinguished of all Italian grapes. Grown in the Piedmont region, these grapes are mainly used in making Barolos and Barbarescos.
Negroamoro
- Grown in Puglia, this black grape in widely planted in the south of Italy and makes a flavorful and strong wines.
Nero d' Avola
- One of the finest grapes in Sicily. These grapes make reds that are deeply colored and full of flavor.
Nuragus
- This grape covers a third of Sicily and makes white wines that are dry, light and crisp.
Petit Rouge
- Native of the Aosta Vally, these grapes are often used to make light and fruity red and rose wines.
Piedirosso
- These red grapes are only grown in Campania and produce rich, bold flavored wines.
Pinot Grigio
- Grown in the Friuli -Venezia Giulia region, these white grapes are tend to produce wines which are full bodied with a peachy mineral flavor.
Pinot Nero
- This grape is usually light and fruity and is found in the Northeast regions of Italy.
Primitivo
- This grape makes full bodied red wines which are deep in color with spicy red berry fruit flavors. This grape is grown in the Puglia region of Italy.
Prosecca
- This vine is only grown in Italy and almost exclusively in the Veneto region. Always used to make sparkling white wines, this grape is sometimes sweet in flavor but more often dry with crisp flavors of apples and pears.
Prugnolo Gentile
- Grown in the Montepulciano region of Italy, this grape is sometimes called Sangiovese Grosso and is used inVino Nobile Di Montepulciano along with the more common Sangiovese Piccolo.
Raboso
- Grown in Veneto, this red wine grape is heavy in tanninsn high in acidity and deep in color. It is also blended with softer wines to improve their structure.
Refosco
- This red grape is used in dark and spicy reds with strong black fruit flavors. Grown in the Friuli -Venezia Giulia region, this grape can produce wines that are powerful, tannic with a nice bitterness.
Ribolla Gialla
- An acient grape from the Friuli -Venezia Giulia region and produces light and crisp white wines with hints of apples, citrus and almonds.
Rondinella
- Native to the Veneto region, this white grape is blended with Molinara and Negrara grapes to produce Volpolicella in both its dry and amarone or recioto versions.
Ruche
- This red grape variety is grown exclusively in Piedmont and produces a wine that is very floral and perfumed.
Sagrantino
- This red grape is produced in Umbria and is one of the most tannic grapes found anywhere in the world. This grape produces Sagrantino di Montefalco, a DOCG wine that must be made from 100 percent Sagrantino.
Sangiovese
- This red grape is the principal grape in all Chianti wines. It has an intense color, high in acidity, tannic and flavors of cherries and violets. This grape is the most widely planted varietal in Italy.
Shiava /Vernatsch
- Grown in the Trentino Alto Adige region of Italy, this red grape is the base for such wines as Santa Maddalena, Caldaro and Castellel.
Sauvignon Blanc
- This widely grown white varietal is high in acid and produces a crisp, dry, and refreshing white wine.
Schioppettino
- Grown in Friuli, Italy, this grape is dark skinned and has similar aromas and flavors of a Syrah.
Sylvaner
- This white grape is high in acid with a fruity aroma and taste. It has more of a full bodied flavor than Reisling.
Teroldego
- Grown in the villages of Mezzacorona and Mezzolombardo in the Alto Adige region, this red grage produces wine that has a fruity and fresh taste.
Terrano
- Grown in the Friuli -Venezia Giulia region, this red grape is also know as Refosco but around Trieste it is called Terrano.
Tocai Friulano
- This grape produces nice white wines in Veneto, Fruili and Lombardi and are flavored with hints of apple and pear.
Trebbiano
- This grape produces more white wines than any other in Italy. Trebbiano is frequently blended and in generally dry and acidic.
Verdicchio
- Grown in Italy's Marche region, this grape produces white wines which are generally crisp and dry with a very nice aroma and flavor.
Verduzzo
- This grape is found in Italy's Friuli region. Its flavor is full of honey, citris and pinapple and is used primarily for dessert wines.
Vermentino
- This grape from the island of Sardinia in the region of Liguria, produces a crisp, light to medium white wine.
Vernaccia
- Grown exclusively in Central Italy primarily in Tuscany, this white grape produces Vernaccia di San Gimignamo.
Vespolina
- A red variety grape from the Piedmont region that is often blended withNebbiolo and Bonarda grapes.
Zibobbo
- This grape from Sicily can be used to make anything from table wine to grappa. The Zibobbo grape is similar to Moscato, and produces the wine known as Moscato di Pantelleria Naturale.
---
Don't forget to click on the logo below and subscribe to my
NEW NEWSLETTER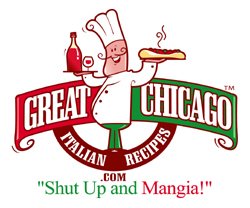 That's a discovery! That's Italian! That's
Great Chicago Italian Recipes.com
Leave Italian Grape Varieties and Return to Italian Recipes
---
---
Home | The Italian Grocer | Italian Heritage | Italian Chefs | New Contest | What's New | Restaurant Reviews | Your Reviews | Appetizer Recipes | Soup Recipes | Salad Recipes | Bread Recipes | Vegetable Recipes | Pasta Recipes | Poultry Recipes | Beef Recipes | Pork Recipes | Veal Recipes | Lamb Recipes | Seafood Recipes | Pizza Recipes | Cooking for Kids | Italian Cheese | Italian Wine | Dessert Recipes | Coffee and Espresso| Italian Dinner Music | Food Glossary | About the Cook | Sitemap | Share This Site | Contact | Privacy Policy | Disclaimer | Submit Your Recipes | Your Italian Recipes | Archived Menus