Italian Wine Regions
---
---
DELICIOUS GRAPES
Here is a list of Italian Wine Regions to help you become familiar with some of the prominent wines of Italy. To list all the varieties in one section is next to impossible. Please keep in mind that this is not my area of expertise. I drink wine, I love wine and I cook with wine, but I am far from being an expert.
Lucky for me I have many friends in the industry to help guide me through this section. From now and forever they will be referred to as the "Wine Guys". These "Wine Guys" are the ones who actually go to Italy, France, Germany, California, etc. and taste and buy and import. These are the same "Wine Guys" that I go to tastings and dinner with quite often. With this in mind lets begin.
Italy exports more wine than any other country in the world. Italian Wine producers offer a great variety of wines throughout Italy's twenty wine regions. These varieties are what make Italian wines so enjoyable.
The regions include….
Aosta Valley
Piedmont
Lombardy
Trentino
Alto Adige
Venito
Friuli
Venezia Giulia
Liguria
Emilia
Romagna
Tuscany
Umbria
Marches
Latium
Abruzzo
Molise
Campania
Apulia
Basilicata
Calabria
Sicily
Sardinia
Aosta Vally
Aosta Valley is bordered by Switzerland an France and is the smallest of Italy regions. This beautiful region is also surrounded by Europe's largest mountains, Mont Blanc-Monte Bianco, Matterhorn-Cervino, Monte Rosa and Gran Paradiso.
As far as wine is concerned the Aosto Valley is home to 19 red grape and 15 white grape varieties. This region covers 15 wine types whose names are Italian and French. Their grape varieties range from Nebbiolo, Moscata and Dolcetto from the vines of Piedmont and the Pinots and Gamay from France. Their own grape varieties include Petit Rouge, Blanc de Valdigne, Premetta, and Malvoisie and Vien de Nus which is a mutation of Pinot Gris. Valle d'Aosto's wines have reached unprecedented levels as far as quality is concerned.


Piedmont
Piedmont is one of the greatest winegrowing regions in Italy and boasts the most zones to be classified D.O.C. and D.O.C.G.. The ancient Nebbiolo vine has been responsible for producing the best Barolo and Barbaresco in the world.
It is also responsible for producing other delicious Piedmont reds such as Gattinara, Ghemme and Caremma. For a nice everyday wine, Dolcetto seems to be your best choice.
The best sparkling white wine is produced from the Moscato grape. Moscato d Asti is one of the most popular and most enjoyed wines in the world and is the pride of Piedmont.


Lombardy
Vines excel between the Alps and the Apennines in Lombardy, one of Italy's most beautiful regions. Though most of Lombardy's agriculture focuses on food production and not grape growing it is still considered a respectable wine producing area.
The Oltrepo Pavese is Italy's main source for Pino Nero grapes and is Lombardy's most productive zone, selling most of their wines to Milan. Not many of their wines produced are sold as D.O.C., but they do produce some very robust Barbera, Bonarda and Oltrepo Pavese Rosso and some fruity white Reislings an Moscatos.
D.O.C.G. has been granted to Valtellina Superiori and it's four sub-districts. Their wine has become very popular throughout the world. Lombardy's prized wines goes to Brescia which has the majority of the region's D.O.C. and D.O.C.G.s.


Trentino - Alto Adige
The Alpine region of Trentino-Alto Adige produces less than one percent of Italy's wine but produces ten percent of the country's grappa. The white Nosiola and the red Teroldego Rotoliano and the Marzemino are the three grapes that are native to the region. Merlot, Chardonnay, Cabernet, Moscato, Pinot Nero and Pinot Grigio, as well as Müller-Thurgau, are also grown throughout the area. Three quarters of their wine production is D.O.C. and most of their wine is exported.
Venito
The Venito region is one of Italy's largest wine producing regions. Much of their wine comes from Verona. Wines like Soave, Bardolino and Valpolicella, Lugana, and a great sparkling Prosecco, Bianco di Custoza are produced in this region. Verona also produces the rich, dry red wine, Amarone della Valpolicella which is made from dried grapes.
Venito was the first region the create a "wine road" which is a wine-touring road that features road signs providing information on vines and the wines in the region.


Friuli-Venezia Giulia
The wines of Friuli-Venezia Giulia are mostly white, though some exceptional reds have been produced there as well. The most important white wine produced in this region is the Tocai Friulano. Other local whites include Chardonnay, Müller-Thurgau, Pinot Bianco, Chardonnay, Ribolla Gialla, Pinot Grigio, Riesling Italiaco and Riesling Renano, Sauvignon Blanc, Traminer Aromatico, Verduzzo and Malvasia Istriana.
Cabernet Franc, Cabernet Sauvignon, Collio and Collio Cabernet, Merlot, Pignolo, Pinot Nero, Refosco dal Peduncolo Rosso, Schioppettino, Tazzelenghe, and Terrano are some of the reds produced in the region.


Liguria
Bordered by France and Tuscany , this little mountainous region actually produces one hundred different varieties of grapes. Their vineyards are scattered along the Italian Riviara. This area includes well-known resorts areas like Potofino, San Remo, and the port city of Genoa.
Vermentino and Pigato are the main grapes used for white wines. Dolcetto, often called Ormeasco or Sciacchetra by locals and Rosesse are used to produce their red and wines.
Their wines compliment their food which includes a wide variety of seafood, pastas and baked goods.


Emilia - Romagna
Emilia - Romagna is a distinctive winemaking region famed for it's cooking. This region boasts some of the most fertile plains for grape growing in Italy. The wineries here contribute almost twenty percent of total Italian wine production. They rank a proud fourth after Apulia, Sicily and Veneto, helping to achieve Italy's off-again on-again world dominance (against France) in wine production.
Trebbiano and Sangiovese alone account for almost half the varietals grown here. The Sangiovese remains the local favorite red with its robust and fruity flavors, but there's also a delightfully dry Lambrusco in a style rarely seen outside the country.
Sparkling white wines dominate in the hills of Piacenza. The better known Sauvignon and Chardonnay, and also the Pinot and Cabernet, are still wildly popular, of course. But, the rarer varieties, such as the white Pagadebit and red Cagnina, are well-hidden, but highly appreciated local treats. And from the hills south of Imola, Forli, and Rimini come many zesty semisweets.
Reds range from the Barbera and Bonarda with their distinctive regional intensity all the way to the pungent Pinots and Merlots of Colli Piacentini and Colli Bolognesi.


Tuscany
Midway between Milan and Rome lies Tuscany. Tuscany's modern Renaissance in wine began in chianti and spread throughout the other central zones. Tuscany boasts four of Italy's nine top-rated D.O.C.G. classified zones. At only one shop in Tuscany the number of available labels has grown from 1,000 a few years ago to over 5,000 today. Small wonder Italy now vies with France for the world leader in wine production.
Produced by vineyards that range from the Castello di Fonterutoli owned by the same family since 1435 to ones founded only a few years ago, Tuscan wines are experiencing an all-time high in quality and popularity. Wines produced here range from the simple Chiantis to the complex super Tuscan reds, with fruity aromas.
The Chianti and Chianti Classico, probably the best known Italian wines in the world, are made with a blend of Sangiovese, Cabernet Sauvignon, Canaiolo, Ciliegiolo and other grapes. Also they are used in other great blends such as the Brunello di Montalcino, Morellino di Scansano andCarmignano.
And lets not forget the Trebbiano grape which make the infamous Vin Santo dessert wine.


Umbria
One of the most popular wines in the region is Orvieto. Originally sweet tasting this wine has now evolved to being dry and fruity. Umbria in renown for their white wines, though the regions two D.O.C.G. wines, Montefalco Sagrantino and Torgiano Rosso Riserva, are red.
The grape varieties of this region include, Sangiovese, Canaiolo, Trebbiano and Malvasia plus the newer Grechetto grape. Also a full array of international varieties, like Chardonnay, Cabernet and Merlot are also found in this region.

Italian Wine Regions Continued


---
Don't forget to click on the logo below and subscribe to my
NEW NEWSLETTER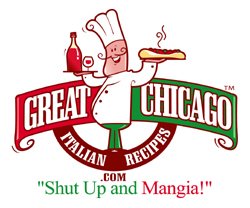 That's a discovery! That's Italian! That's
Great Chicago Italian Recipes.com
Leave Italian Wine Regions and Return to Italian Recipes
---
---
Home | The Italian Grocer | Italian Heritage | Italian Chefs | New Contest | What's New | Restaurant Reviews | Your Reviews | Appetizer Recipes | Soup Recipes | Salad Recipes | Bread Recipes | Vegetable Recipes | Pasta Recipes | Poultry Recipes | Beef Recipes | Pork Recipes | Veal Recipes | Lamb Recipes | Seafood Recipes | Pizza Recipes | Cooking for Kids | Italian Cheese | Italian Wine | Dessert Recipes | Coffee and Espresso| Italian Dinner Music | Food Glossary | About the Cook | Sitemap | Share This Site | Contact | Privacy Policy | Disclaimer | Submit Your Recipes | Your Italian Recipes | Archived Menus