Italian Wine Regions
Continued
---
---
Marches
This pleasant Adriatic region features Verdicchio, a dry crisp white wine made from at least eighty five percent of the grape with the same name. This wine has become one of Italy's most dignified whites.
The region's premium reds are Rosso Conero and Rosso Piceno. The first comes from primarily Montepulciano grapes and the second Sangiovese grapes. Both grape varieties give these wines their distint characterzation.


Latium
The Romans, who produced excellent wines for centuries, has been historically linked to white wines. Twenty white wines produced in the region are D.O.C. out of twenty -five wine that are D.O.C..
Among the grapes used to make these wines are mostly Malvasia and Trebbiano grapes. Sauvignon Blanc, Chardonnay and Voigner grapes are used in lesser quantitys. As far as reds are concerned, Cabernet Sauvignon , Merlot, Cesanese, Syrah, Petit Verdot, Sangiovese and Montepulciano are used.


Abbruzo
Abruzzo is a major producer of wine. The best-known wine of Abruzzo is Montepulciano d'Abruzzo. Montepulciano grapes make full-bodied, robust wines that are often peppery and spicy and compliments the regions cuisine.
In the official classification of Italian DOC wines Montepulciano D'Abruzzo is in sixth place, behind Chianti, Asti, Oltrepò Pavese, Soave, and Valpolicella.
Trebbiano d'Abruzzo is a dry white made from the Trebbiano d'Abruzzo and Trebbiano Toscano grapes from this region.


Molise
Molise is the second smallest region in Italy stretching from the Apennines to the Adriatic. Their wine production is somewhat limited producing only three D.O.C. wines, the Biferno, Molise and Pentro.


Campania
Campania has been famous for it's wine throughout most of history. Ancient varietals include Aglianico, Fiano, Greco di Tufo and Falanghina.
The Taurasi D.O.C.G. zone is the center of production of wine with the same name. This red wine is a dry, aromatic full bodied wine which mict be aged three years. One of which is must be in a chestnut or oak cask.
Two of Italy's most distinguished white varietals are Fiano di Avellino and Greco di Tufo which are grown in the hills east of Naples.
One of the best know wines to be produced in Campania is Lacrima Christi.


Apulia
If Apulia were a country, its wine production would rank seventh in the world. This region of mostly flat plains produces more wine than any other Italian region.
Apulia counts 25 D.O.C. wines including the Primitivo di Manduria, a red named after the grape with the same name.
The traditional wines of this area are the powerful red wines made from Primitivo, Negroamaro and Malvasia Nera but Apulia. A recent trend towards whites is led by Verdeca, Bianco d'Alessano, Bombino Bianco and Trebbiano Toscano. Malvasia Bianca is the base of most Salento whites. Aleatico di Puglia, the regions very red dessert wine comes from the province of Bari, Apulia's capital.


Basilicata
Basilicata produces only one D.O.C. wine, Aglianico del Vulture. This wine is robust and deep in color which has a very strong aging potential in better vintages.
Basilicata's few other wines of note include some sweet Malvasia and Moscato made around Monte Vulture. These fit into the region's IGT of Basilicata, which also applies to some recently conceived wines from Merlot, Pinot Bianco, Chardonnay and Sauvignon.


Calabria
Greeks referred to this region of southern Italy as Enotria, the land of wine. This predominately mountainous region has two grape varieties of Greek origin. Gaglioppo for the red and Grecco in the whites.
Gaglioppo is an ancient vine and is the chief varietal of Ciro and other Calabrian reds. Other varietals include Greco Bianco which can be dry as in Ciro Bianco or sweet as in Greco di Bianco. Greco Nero makes decent red wine on its own but is often blended with Gaglioppo. Finally, Mantonico (Greek for prophet) grown around Bianco on the Ionian sea and base of Le Passule, a delicious dessert wine from Librandi.


Sicily
Sicily is the largest island in the Mediterranean and has more vinyards than any other region in Italiy. Mostly noted for its rich, golden fortified Marsala wine, Sicily is still a major source for premium red, white and rose wine.
Dessert wines account for about 90% of the total D.O.C. production. Though there are several good reds and whites throughout the island.


Sardinia
Sardinia is a beautiful Medeterranian island that produces many sweet, semi-sweet and dry wines. Like the Sherry-like Vernaccia di Oristano, Malvasia di Bosa and Nasco di Cagliari; the Port-like Cannonau, Monica di Cagliari and Girò di Cagliari; and the luscious Moscato of Cagliari and Sorso-Sennori.
Vermentino is a white, which is D.O.C.G. as Vermentino di Gallura and D.O.C. under a regionwide category. Torbato di Alghero also has winning style. Nuragus makes a popular white from the Campidano plains near the capital of Cagliari.


---
Don't forget to click on the logo below and subscribe to my
NEW NEWSLETTER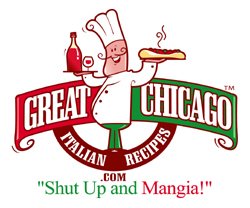 That's a discovery! That's Italian! That's
Great Chicago Italian Recipes.com
Leave Italian Wine Regions Continued and Return to Italian Recipes
---
---
Home | The Italian Grocer | Italian Heritage | Italian Chefs | New Contest | What's New | Restaurant Reviews | Your Reviews | Appetizer Recipes | Soup Recipes | Salad Recipes | Bread Recipes | Vegetable Recipes | Pasta Recipes | Poultry Recipes | Beef Recipes | Pork Recipes | Veal Recipes | Lamb Recipes | Seafood Recipes | Pizza Recipes | Cooking for Kids | Italian Cheese | Italian Wine | Dessert Recipes | Coffee and Espresso| Italian Dinner Music | Food Glossary | About the Cook | Sitemap | Share This Site | Contact | Privacy Policy | Disclaimer | Submit Your Recipes | Your Italian Recipes | Archived Menus