Italian Hot Giardiniera
---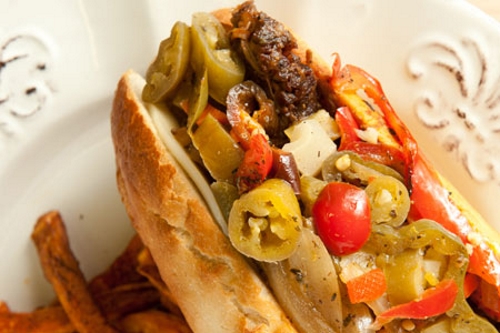 ---
MARINATED VEGETABLES
This recipe for Hot Giardiniera is great if your looking for something spicy to top your spaghetti, pizza, beef sandwich or Italian sausage. If your not familiar with giardiniera, it's tons of chopped vegetables marinated together with olive oil and vinegar. I usually make my giardiniera in large batches to give away to family and friends. Though this recipe makes around a quart. Which is enough for me.
This is Italian giardiniera at it's finest. The combination of vegetables vary depending on what's available and what you choose to use. If you prefer a milder version just omit the jalapeno peppers. I just tend to like it hot.
Most people use Italian green olives. I prefer Spanish Manzanilla olives with the pimento and an awful lot of garlic. One of the best ways to eat Hot Giardiniera is on top of a toasted piece of Italian bread with shaved Parmesan cheese. Giardiniera also works great on baccala or salmon.
INGREDIENTS
1 red sweet pepper, diced into tiny pieces
1/2 green sweet pepper, diced into tiny pieces
2 bunches of long green onions, finely chopped
3 cauliflower florets, cut into very tiny pieces
3 large cloves of garlic, finely chopped
15 jalapeno peppers, cut into little pieces
20 Manzanella olives, sliced in half
2 plum tomatoes. Diced into small pieces
2 stalks of celery, chopped
2 carrots, slices into small julienne pieces
1 and 1/2 cups of extra virgin olive oil
1 and 1/2 cups of cider vinegar
1 Tbls of salt
1 Tbls of freshly ground black pepper
2 17oz air-seal square glass jars

PREPARATION
Simply mix all the vegetable together in a large bowl.
Season with salt and pepper.
Place the vegetable mixture in the two jars.
Add equal portions of oil and vinegar to both completely covering the vegetable.
Tightly seal the jar and refrigerate for at least two days before using.
The giardiniera should last refrigerated around 2 weeks.

The most difficult part of this recipe is waiting the two days.

NOTE:Just for reference this is a recipe I have made for many years. The texture of the vegetables are still crisp after being cured. If you are looking to make a giardiniera like you find in a jar then just add one cup of salt water to the vegetables and let them soak for 12 hours in the fridge, rinse them thoroughly, then jar them. Or you can par boil the veggies before jarring them. Either way should work.



---
Don't forget to click on the logo below and subscribe to my
NEW NEWSLETTER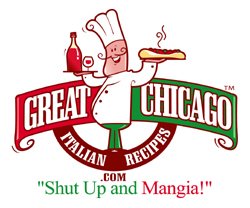 That's a discovery! That's Italian! That's
Great Chicago Italian Recipes.com
Leave Hot Giardiniera and Return to Italian Recipes

Leave Hot Giardiniera and Return to Italian Vegetable Recipes
---
---
Home | The Italian Grocer | Italian Heritage | Italian Chefs | New Contest | What's New | Restaurant Reviews | Your Reviews | Appetizer Recipes | Soup Recipes | Salad Recipes | Bread Recipes | Vegetable Recipes | Pasta Recipes | Poultry Recipes | Beef Recipes | Pork Recipes | Veal Recipes | Lamb Recipes | Seafood Recipes | Pizza Recipes | Cooking for Kids | Italian Cheese | Italian Wine | Dessert Recipes | Coffee and Espresso| Italian Dinner Music | Food Glossary | About the Cook | Sitemap | Share This Site | Contact | Privacy Policy | Disclaimer | Submit Your Recipes | Your Italian Recipes | Archived Menus