Eggplant Parmesan
---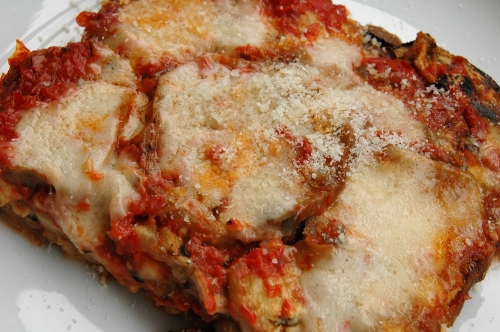 ---
MELANZANE ALLA PARMIGIANA
Choosing the perfect eggplant for this delicious Eggplant Parmesan recipe is easy to do. Look for an eggplant that has a smooth unblemished shiny skin. You can see if they are ripe if you press the skin slightly. If it bounces back into shape it's ripe, if it leaves an indentation pick another one.
As far mozzarella cheese is concerned, I always like to use fresh buffalo mozzarella for any recipe that calls for mozzarella, but many times I've used the shredded package kind for these kinds of casserole type recipes.
This dish takes a little time to prepare, but when you finish combining all the ingredients you could cook it immediately or refrigerate it for later in the evening or the next day. How long it takes depends on if the sauce is made or not. Putting it all together is the easy part.
This Eggplant Parmesan recipe is for my cousin Dennis. This way he'll stop bothering me to make it every time I talk to him.


INGREDIENTS
2 large eggplants
salt
1 cup of flour for dredging
2 cups of seasoned bread crumbs
4 eggs
1/4 cup of milk
1/2 cup of vegetable oil
1/2 cup of freshly grated Parmesan
1 package of shredded mozzarella cheese or enough fresh buffalo mozzarella sliced thin
Your favorite marinara sauce which I hope is mine. Marinara Sauce Recipe

PREPARATION
First prepare the eggplant.
Cut the ends off then slice the eggplants into circles 1/2 inch thick
Immediately salt the eggplant to draw out the moisture and prevent browning.
Let them sit and drain on paper towels for about 30 minutes.
Pat dry.
Beat eggs and milk together.
Use three bowls, one for the flour, one for the egg mixture and one for the bread crumbs.
First place the eggplant in the flour, then the egg mixture, then the bread crumbs.
Heat a large skillet with the oil.
Fry eggplant on both sides until golden brown.
Remove from oil and drain on a paper towel.
Pre-heat the oven to 350 degrees
Place some sauce in the bottom of a casserole dish.
Lay the eggplant on the bottom of the dish.
Put some more sauce on top, sprinkle with some Parmesan cheese and top with the mozzarella.
Repeat this step one more time.
Bake uncovered in the oven for about a half hour until cheese is browned and bubbly.
If baked the next day I would baked for around an hour until it's warmed throughout.

Serves 4 to 6 people.



---
Don't forget to click on the logo below and subscribe to my
NEW NEWSLETTER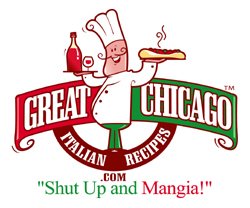 That's a discovery! That's Italian! That's
Great Chicago Italian Recipes.com
Leave Eggplant Parmesan and Return to Italian Recipes

Leave Eggplant Parmesan and Return to Italian Vegetable Recipes
---
---
Home | The Italian Grocer | Italian Heritage | Italian Chefs | New Contest | What's New | Restaurant Reviews | Your Reviews | Appetizer Recipes | Soup Recipes | Salad Recipes | Bread Recipes | Vegetable Recipes | Pasta Recipes | Poultry Recipes | Beef Recipes | Pork Recipes | Veal Recipes | Lamb Recipes | Seafood Recipes | Pizza Recipes | Cooking for Kids | Italian Cheese | Italian Wine | Dessert Recipes | Coffee and Espresso| Italian Dinner Music | Food Glossary | About the Cook | Sitemap | Share This Site | Contact | Privacy Policy | Disclaimer | Submit Your Recipes | Your Italian Recipes | Archived Menus