Cassata alla Siciliana
---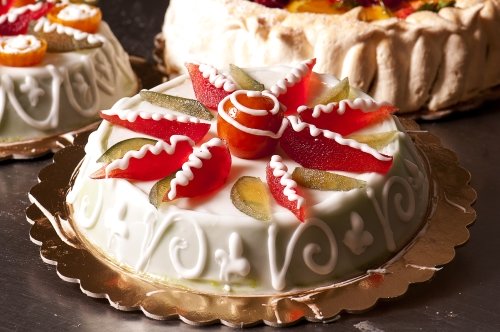 ---
SICILIAN,SICILIAN, SICILIAN
Direct from Palermo, this Cassata alla Siciliana is a dessert rich in flavor and makes a beautiful presentation. Its creamy filling layered between sponge cake and topped with chocolate and candied fruit is a traditional Sicilian dessert.
Cassata was originally created for Easter. But now it is enjoyed all year long. Known as the official cake of Sicily, Cassata's ancient origin dates back to 1575 where it is recorded in a document from the Synod of Mazara and is defined as an "indispensable component of the Easter celebration".
This cake is rich with all kinds of treats. Sponge cake, chocolate, ricotta cheese, candied fruits and nuts are just a few ingredients that go into Cassata alla Siciliana. It's not a simple recipe and it takes great skill to decorate, but you can't beat the end results.
The fresh ricotta cream filling is a traditional ingredient in many popular Sicilian desserts including cannoli and cheesecakes. I'm sure you'll enjoy it in this classic Cassata alla Siciliana recipe.
INGREDIENTS
Sponge cake
6 eggs
1/2 cup white sugar
1 1/2 tablespoons lemon juice
1 1/2 tablespoons orange zest
2 tablespoons almond extract
1 cup cake flour
1/2 teaspoon salt

Filling
6 tablespoons orange liquor, Grand Marnier
1 1/2 pounds ricotta cheese
1/2 cup confectioners sugar
2 (1 ounce) squares sweet chocolate, grated
1/4 cup candied cherries, chopped
1/2 teaspoon ground cinnamon
1/2 cup pistachios, chopped

Frosting and Topping
1/4 cup butter
2 1/2 cups confectioners' sugar
2 egg whites
1 teaspoon vanilla extract
1/4 cup rum
1/4 cup confectioners' sugar for dusting
1/4 cup candied cherries
1/4 pound of candied melon
1/4 pound of candied orange peel
1/4 cup of whole pistachios
Chunks of sweet chocolate

PREPARATION
Preheat oven to 350 .
To make the sponge cake have 6 eggs, lemon juice, orange zest and the almond extract at room temperature for at least one hour before baking.
Separate 6 eggs and set the egg whites aside. Beat egg yolks until they thicken. Beat in sugar, lemon juice, orange zest, and almond extract. Beat until foamy.
Sift flour 3 times and fold into eggs yolks gently but thoroughly. Beat egg whites until foamy, add salt, and beat until stiff but not dry. Fold into yolks.
Pour batter into one ungreased 9 inch spring form pan.
Bake at 350 degrees for 50 to 60 minutes.
Leave cake in pan to cool, and invert on a wire rack.
Once cake is completely cool slice into 3 layers and brush the layers with the Grand Marnier.
For the filling blend ricotta with a hand mixer or a Kitchen Aid, add 1/2 cup confectioner's sugar and beat for about 3 minutes until creamy. Stir in 6 tablespoons rum, grated sweet chocolate, chopped candied cherries, cinnamon and toasted almonds.
Spread ricotta filling over sponge cake layers, using half-inch of filling on each layer.
Leave the top and sides of cake plain.
To make the frosting cream the butter with 1 cup of the sifted confectioners sugar.
Beat the 2 egg whites until stiff and gradually beat into the egg whites the remaining 1 1/2 cups confectioners sugar.
Fold egg whites into the butter mixture and add fold in 1 teaspoon almond extract.
Cover sides and top cake evenly with frosting.
Decorate with chocolate, pistachios and candied fruits.
Store in refrigerator until ready to serve.

Cassata alla Siciliana serves 8 to 10 people.



---
Don't forget to click on the logo below and subscribe to my
NEW NEWSLETTER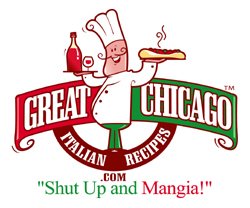 That's a discovery! That's Italian! That's
Great Chicago Italian Recipes.com
Leave Cassata alla Siciliana and Return to Italian Recipes
---
---
Home | The Italian Grocer | Italian Heritage | Italian Chefs | New Contest | What's New | Restaurant Reviews | Your Reviews | Appetizer Recipes | Soup Recipes | Salad Recipes | Bread Recipes | Vegetable Recipes | Pasta Recipes | Poultry Recipes | Beef Recipes | Pork Recipes | Veal Recipes | Lamb Recipes | Seafood Recipes | Pizza Recipes | Cooking for Kids | Italian Cheese | Italian Wine | Dessert Recipes | Coffee and Espresso| Italian Dinner Music | Food Glossary | About the Cook | Sitemap | Share This Site | Contact | Privacy Policy | Disclaimer | Submit Your Recipes | Your Italian Recipes | Archived Menus