The Essence of Grappa
---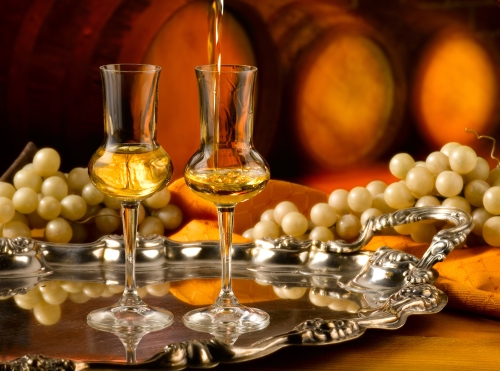 ---
Great Brandy
Grappa
is a unique Italian beverage made from the grape's discarded  skins, stalks, seeds and stems.  This fragrant pomice brandy has been produced in Italy since sometime between the 12th and 15th centuries.  It's another type of product that seems to have been developed out of necessity by the peasants.  Not one to let anything go to waste, the laborers who help produce the wine, would use the remnants  of grapes to produce the beverage  to unwind after work and keep them warm in the winter.
During this time it was predominately produce in the Northern regions of Italy.  Today, almost every winery in Italy produces some form of grappa and it is distributed worldwide.  
Similar to grain alcohol, this beverage remained a drink for the working class until the 1960's.  Now it is marketed to upper class wine connoisseurs with discriminating tastes and sold in the finest restaurants.
Distillery owner Giannoli Nonino, whose company has been producing this beverage since 1897 in Percoto, Italy, completely change the character of grappa by producing it from only one grape varietal as opposed to a mixture of different grape varietals.  Nonini is also responsible for decorative bottle the liquor is sold in and for producing deliciously flavored grappas using apricots, cherries, peaches and raspberries among other fruits.
This brandy is a great way to end an Italian meal.  It should either be chilled and sipped straight up or added to your espresso for a little extra kick.   Grappa is available in your favorite wine shops or liquor stores. 
---
Don't forget to click on the logo below and subscribe to my
NEW NEWSLETTER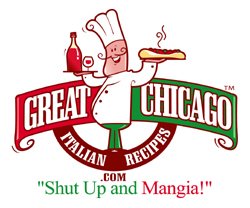 That's a discovery! That' Italian! That's
Great-Chicago-Italian-Recipes.com
Leave Grappa and Return to Italian Recipes

Leave Grappa and Return toThe Italian Experience
---
---
Home | The Italian Grocer | Italian Heritage | Italian Chefs | New Contest | What's New | Restaurant Reviews | Your Reviews | Appetizer Recipes | Soup Recipes | Salad Recipes | Bread Recipes | Vegetable Recipes | Pasta Recipes | Poultry Recipes | Beef Recipes | Pork Recipes | Veal Recipes | Lamb Recipes | Seafood Recipes | Pizza Recipes | Cooking for Kids | Italian Cheese | Italian Wine | Dessert Recipes | Coffee and Espresso| Italian Dinner Music | Food Glossary | About the Cook | Sitemap | Share This Site | Contact | Privacy Policy | Disclaimer | Submit Your Recipes | Your Italian Recipes | Archived Menus