Great Italian Chefs
featuring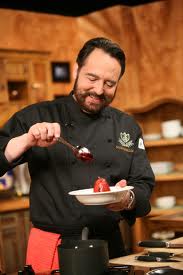 Chef Nick Stellino
(Nick Stellino Cooking with Friends)
---
Wonderful World
What can be said about Chef Nick Stellino? He was once quoted as saying, "When Italians talk about food, we are talking about our souls". This pretty much sums up his passion and commitment to the art of Italian cooking.
His multiple television shows and books throughout the years have inspired me and many others to cook, create and enjoy the many dishes our heritage has to offer. His enthusiasm for cooking is never ending. By offering great advise, practical cooking techniques and great stories, Chef Stellino draws us into a remarkable world.
For this, and his many other accomplishments, including being the recipient of the "2010 Distinguished Service Award" from the "Italian Trade Commission", we salute you. Grazie Chef Stellino!
Phillip J. Speciale
---
Chef's Bio
Nick Stellino grew up in Palermo, on the island of Sicily, and came to the United States in 1975. In 1991, he decided to leave his lucrative career as a Wall Street stockbroker in order to follow his dream of becoming a chef. He started in his culinary career as a dishwasher. Over time, he apprenticed with the best chefs in America. "I was in heaven working my way up the restaurant line," says Nick. "But I wanted to share my enthusiasm for Italian cooking with more people. I decided a cooking show was the answer." Employing the energy, dedication and entrepreneurial vision that had taken him from Palermo to Wall Street, Nick began calling television production companies. His efforts culminated in the highly successful series Nick Stellino Cooking with Friends, Cucina Amore I, II and III, Nick Stellino's Family Kitchen I, II, III, IV and V, and the PBS specials, Nick Stellino's Dinner Party and Nick Stellino: Food, Love & Family.
Nick's latest cookbook and its companion television series, "Nick Stellino Cooking with Friends", which is now airing on Public Television.
Nick has published many cookbooks and has partnered with major publishing companies including Putnam and Doubleday. In 2006, Nick celebrated the launch of his seventh cookbook, titled "Dine In!", which is the companion to his public television series, Nick Stellino's Family Kitchen. His other titles, which can be purchased from major retailers such as the Barnes & Noble online store and Amazon.com, include:
Nick Stellino Cooking with Friends
Cucina Amore
Nick Stellino's Glorious Italian Cooking
Nick Stellino's Mediterranean Flavors
Nick Stellino's Family Kitchen
Nick Stellino's Passione; Pasta, Pizza, and Panini
Mangiamo! Let's Eat!
Nick Stellino's Dine In!
Nick makes numerous appearances at popular food festivals around the United States, including Boston Cooks, Philadelphia's The Book and The Cook, Seattle's "Festa Italiana" and the "Aspen Food & Wine Festival".
He was Grand Marshal of San Francisco's 1999 Columbus Day Parade, the first time in 130 years that a chef had been accorded that honor. In May 2000 and 2001, Nick appeared as a presenter at the prestigious James Beard Foundation Awards held in New York. He is also one of the few chefs who have been selected to cook at the Grand Gala Dinner for the James Beard Awards for three years in a row.
In addition to running his marketing and production company (Stellino Productions Inc.), Nick is a sought-after motivational speaker with a prestigious list of national clients, including Pompeian Olive Oil, Domino Sugar, C&H Sugar, Bolla Wines of Italy, Maurice Lacroix Luxury Watches, Sears, Marriott Hotels & Resorts, BJ's Wholesale Club and The Kimpton Hotels. (For more information, please see http://premierespeakers.com/nick_stellino.)
Nick Stellino has been a featured guest on numerous national shows, including The Oprah Winfrey Show, Today, CBS This Morning and Good Morning America. He has been featured in national publications including Robb Report, TV Guide, The New York Times, the Los Angeles Times, The Magazine of La Cucina Italiana, Bon Appétit, InSync, Home, WatchTime and Primo.
Nick spends his time traveling in the United States and abroad, sharing his passion for food and life. "I believe that the family table is our last tribal meeting ground, where we all sit together and share our stories surrounded by great food, great wine, our family and friends. A family that eats together stays together!" Nick has been married for 25 years to his lovely wife, Nanci..


View Chef Nick Stellino's recipe for "Pork Chops with Nancibella Sauce".
Don't forget to click on the logo below and subscribe to my
NEW NEWSLETTER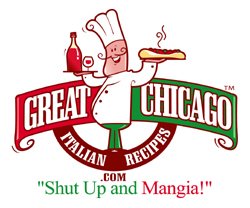 That's a discovery! That' Italian! That's
Great-Chicago-Italian-Recipes.com
Leave Nick Stellino and Return to Italian Recipes
Leave Nick Stellino and Return to Great Italian Chefs
---
Home | The Italian Grocer | Italian Heritage | Italian Chefs | New Contest | What's New | Restaurant Reviews | Your Reviews | Appetizer Recipes | Soup Recipes | Salad Recipes | Bread Recipes | Vegetable Recipes | Pasta Recipes | Poultry Recipes | Beef Recipes | Pork Recipes | Veal Recipes | Lamb Recipes | Seafood Recipes | Pizza Recipes | Cooking for Kids | Italian Cheese | Italian Wine | Dessert Recipes | Coffee and Espresso| Italian Dinner Music | Food Glossary | About the Cook | Sitemap | Share This Site | Contact | Privacy Policy | Disclaimer | Submit Your Recipes | Your Italian Recipes | Archived Menus