Great Italian Chefs
featuring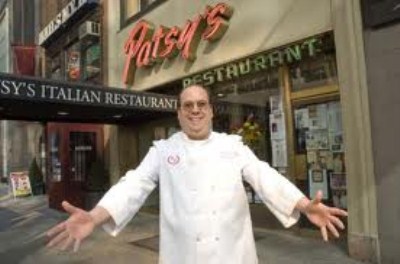 Executive Chef Sal Scognamillo
(Chef/Co-Owner of Patsy's)
---
Tradition
Since founded in 1944, Patsy's Italian Restaurant in New York has had only three Chefs in the kitchen preparing some of the most delicious Neapolitan dishes. Pasquale "Patsy" Scognamillo, his son Joseph and his son Sal have established a type of restaurant that raises images of family, friendship and tradition.
For over sixty-five years the Scognamillo family has committed themselves to carrying out these traditions by creating and serving wonderful dishes like "Chicken Contadina" , "Veal Rollatine Marsala", "Rigatoni Sorrentino" plus many more. Its no wonder why celebrities form all over the world have dined at Patsy's.
In 1985, Chef Sal Scognamillo took over the kitchen and has taken Patsy's to the next level while maintaining the original family recipes his father and grandfather cooked before him. He continues to carry on his family's traditions which is so important in preserving our Italian heritage. For this and his many other accomplishments we salute you Chef.
I would also like the thank Chef Scognamillo for sharing one of Frank Sinatra's favorite dishes, "Veal Cutlet Milanese", from his book, "Patsy's Cookbook: Classic Italian Recipes from a New York City Landmark Restaurant".
Phillip J. Speciale
---
Chefs Bio
Salvatore (Sal) Scognamillo is a co-owner and third generation executive chef of the world-renowned Patsy's Italian Restaurant located at 236 West 56th Street on Manhattan's West Side.
Patsy's was founded in 1944 by his grandfather, Pasquale "Patsy" Scognamillo. The restaurant has been in it's current theater district location (in the building just next to the original site) since 1954. Chef Sal was trained by his father, Joe, and his grandfather before him. He still maintain the same level of comfort and quality that made Patsy's famous.
In 1985, upon his father's retirement from the kitchen, Sal assumed the position of Executive Chef. Over the past 25 years he has overseen the expansion of Patsy's empire to include jar sauces, prepared foods, oils and vinegars. He also oversees the operation of Patsy's second location in the Atlantic City Hilton Casino which opened in June of 2008.
Throughout the years as Executive Chef, Sal has had the opportunity to prepare many of their famous Neapolitan classics for Patsy's most well known customers including Frank Sinatra, Robert DiNero, Don Rickles, Rosemary Clooney, Tony Bennett, Tony Danza, Jenifer Lopez, George Clooney and many more.
Patsy's was always and still remains a family owned restaurant. Sal co-owns the restaurant with his father Joe and his cousin Frank DiCola.
View Chef Sal Scognamillo's family recipe for "Veal Cutlet Milanese"
Don't forget to click on the logo below and subscribe to my
NEW NEWSLETTER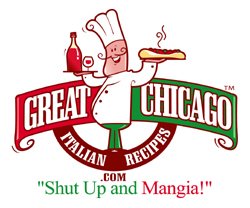 That's a discovery! That' Italian! That's
Great-Chicago-Italian-Recipes.com
Leave Sal Scognamillo and Return to Italian Recipes
Leave Sal Scognamillo and Return to Great Italian Chefs
---
---
Home | The Italian Grocer | Italian Heritage | Italian Chefs | New Contest | What's New | Restaurant Reviews | Your Reviews | Appetizer Recipes | Soup Recipes | Salad Recipes | Bread Recipes | Vegetable Recipes | Pasta Recipes | Poultry Recipes | Beef Recipes | Pork Recipes | Veal Recipes | Lamb Recipes | Seafood Recipes | Pizza Recipes | Cooking for Kids | Italian Cheese | Italian Wine | Dessert Recipes | Coffee and Espresso| Italian Dinner Music | Food Glossary | About the Cook | Sitemap | Share This Site | Contact | Privacy Policy | Disclaimer | Submit Your Recipes | Your Italian Recipes | Archived Menus