Dessert Recipes
---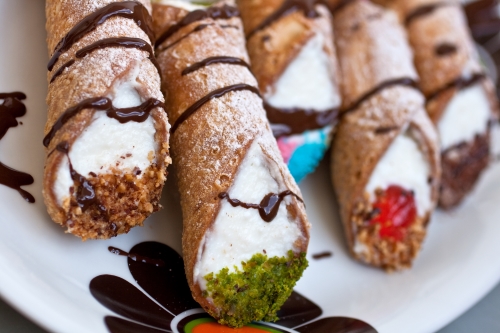 ---
JUST DESSERTS
Here is a few delicious Dessert Recipes to end a perfect Italian meal. Even though at the end of most Italian dinners there isn't enough room for dessert, you still have to at least make an attempt. Desserts are very difficult to resist.
Italians have been making some of the best desserts in Europe for centuries and continue to dominate the dessert market with such treats as tiramisu, cannoli, cassata and zabaglione. These are only a few of my favorite dessert recipes.
Since my wife does all the baking, I rarely make the dessert in my house. I'll stick to preparing the main course just to stay on the safe side and leave all the dessert recipes to her.
The following dessert recipes are definitely some of the best.


---
Amaretti Cookies
INGREDIENTS
1 and 1/4 cup of whole almonds, ground
1 cup of powdered sugar
2 egg whites
1 and 1/2 Tbls of Amaretto
1/2 tsp of vanilla



PREPARATION
Line a cookie sheet with aluminum foil.
In a small bowl stir together the almonds and powdered sugar.
In another bowl mix together the egg whites, amaretto and vanilla using an electric mixer.
Mix on medium speed until stiff peaks form.
Fold in almond mixture 1/3 at a time.
Drop the almond mixture with a teaspoon on the cookie sheet around 2 inches apart.
Pre-heat the oven to 350 degrees
Bake around 15 minutes.
Turn the oven off and leave the door closed
Let the cookies dry in the oven for around 30 minutes.
Cool on a wire rack.


---
Coconut Balls Cookies
INGREDIENTS
1 cup butter, softened
1/2 cup sugar
2 teaspoons vanilla extract
1/4 teaspoon salt
2 cups sifted all-purpose flour
1/2 pound pecan halves, or whole almonds
shredded coconut



PREPARATION
Pre-heat oven to 325 degrees.
Mix together butter, sugar and vanilla until fluffy.
Sift flour with salt and add to butter mixture.
Shape dough around each nut to form a 1-inch diameter ball.
Roll in coconut.
Place on an ungreased cookie sheet.
Bake for 20 minutes.
Cool and serve



---
Chocolate Torte
INGREDIENTS
1 pound unsalted butter
1 cup plus 2 Tbs sugar
1 cup plus 2 Tbs brewed espresso
12 oz bittersweet chocolate
4 oz unsweetened chocolate
8 large eggs, slightly beaten



PREPARATION
Preheat oven to 350 degrees
Line a 9" spring form pan with aluminum foil; grease and flour foil.
In large saucepan over low heat, melt butter, sugar and coffee together, whisking to blend.
Add bittersweet and unsweetened chocolates. Whisk constantly until melted.
Remove from heat, and whisk in eggs gradually.
Pour batter into prepared pan.
Bake for 50-55 minutes. Cake is done when top has a crust and is dry to the touch.
Cool to room temperature, then refrigerate 12-14 hours.


---
Tortoni
INGREDIENTS
2 and a half cups of heavy whipping cream
3/4 of a cup of powdered sugar
1 tsp of vanilla
1 tsp dark rum
1 cup of coconut cookies, crushed
2 egg whites
1/4 cup of sliced toasted almonds
12 maraschino cherries



PREPARATION
Prepare a 12 opening muffin tin with paper liners.
Whip cream until slightly stiff.
Add sugar vanilla, and rum.
Fold in crushed cookies.
In another bowl beat egg whites until stiff peaks form.
Gently fold the egg whites into the cream mixture.
Scoop into the lined muffin pan.
Garnish with almonds and cherries.
Freeze for 3 to 4 hour.


---
Mascarpone and Peaches
INGREDIENTS
4 large ripe peaches
1/3 cup amaretto or orange flavored liquor
1 Tbls of lemon juice
1/2 pound of mascarpone cheese
1/4 cup of sugar
1 cup of heavy whipping cream
1/2 cup of amaretti cookies, crushed
1 Tbls of sliced toasted almonds



PREPARATION
Bring a saucepan 3/4 full of water to a boil
Using a slotted spoon, add one peach at a time into the water
Cook for 30 minutes
Remove the peach and place it in an ice bath
Peel off the skin, remove the pit.
Cut the peaches into thin wedges.
Place in a bowl and add the liqueur and lemon juice.
Toss to coat.
In a large bowl whisk together the cheese and sugar until well blended
In a separate bowl whip the cream until stiff peaks form
Fold the cream into the cheese
Spoon half the cream into stemmed glasses,
Top the cream with the peaches.
Top the peaches with a little swirl of cream
Chill for around 30 minutes and serve.

Serves 4 people.


---
Don't forget to click on the logo below and subscribe to my
NEW NEWSLETTER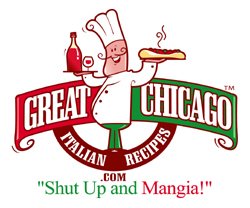 That's a discovery! That's Italian! That's
Great Chicago Italian Recipes.com
Leave Dessert Recipes and Return to Italian Recipes
---
---
---
Home | The Italian Grocer | Italian Heritage | Italian Chefs | New Contest | What's New | Restaurant Reviews | Your Reviews | Appetizer Recipes | Soup Recipes | Salad Recipes | Bread Recipes | Vegetable Recipes | Pasta Recipes | Poultry Recipes | Beef Recipes | Pork Recipes | Veal Recipes | Lamb Recipes | Seafood Recipes | Pizza Recipes | Cooking for Kids | Italian Cheese | Italian Wine | Dessert Recipes | Coffee and Espresso| Italian Dinner Music | Food Glossary | About the Cook | Sitemap | Share This Site | Contact | Privacy Policy | Disclaimer | Submit Your Recipes | Your Italian Recipes | Archived Menus