Turkey Piccata
---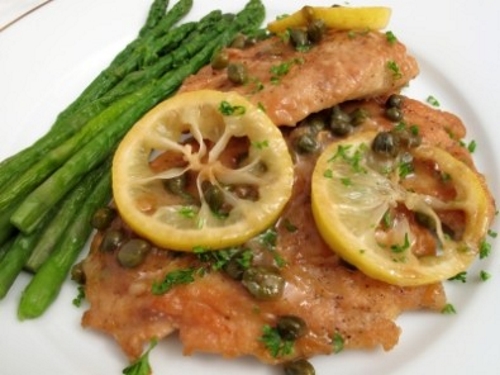 ---
Lean and Lemony
Turkey Piccata
is a flavorful dish with about 4 grams of fat. The lemony flavor of the sauce, made with capers, gives this dish a rich taste without all the calories. This classic recipe is traditionally made with veal, but turkey or chicken make a great substitute.
Capers are widely used in the Mediterranean region. They are unripened flower buds that are pickled in vinegar, wine or salt to bring out their tangy lemony flavor. They can be used in salads, sauces, dressings and in a variety of main dishes.
You can serve this Turkey Piccata dish on a plate of whole wheat angel hair pasta or with a nice salad.
INGREDIENTS
4 turkey cutlets, pounded thin
1 cup of all purpose flour for dredging
1 tsp of salt
1 tsp of fresh ground black pepper
2 Tbls of extra virgin olive oil
2 cloves of garlic, chopped
2 lemons
1/2 cup of reduced sodium chicken broth
1/2 cup of white wine
1 Tbls of capers, rinsed
1 Tbls of unsalted butter
1/4 cup of flat leaf parsley

PREPARATION
In a shallow dish, combine the flour, salt and pepper.
Dredge the turkey cutlets in the flour and pat off the excess flour.
In a large frying pan, heat the olive oil and cook the cutlets on low heat until they are browned on both sides. Around 2 minutes on each side
Remove the turkey to a platter and keep warm.
Add the garlic and sauté for 1 minute.
Deglaze the pan with the chicken broth and wine by bringing it to a boil while scraping the brown bits at the bottom of the pan.
Add the capers and the juice from 1 lemon and cook for 1 minute longer.
Add the butter until it is melted.
Pour the sauce over the turkey
Garnish with parsley and serve with a quartered lemon.

Serves 4 people

NEXT: 7. Rigatoni with Eggplant



---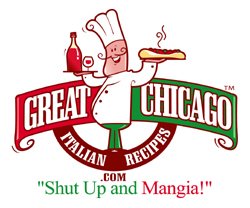 That's a discovery! That' Italian! That's
Great-Chicago-Italian-Recipes.com
Leave Turkey Piccata and Return to Italian Recipes
Leave Turkey Piccata and Return to Healthy Recipes
Leave Turkey Piccata and Return to Italian Poultry Recipes
---
---
Home | The Italian Grocer | Italian Heritage | Italian Chefs | New Contest | What's New | Restaurant Reviews | Your Reviews | Appetizer Recipes | Soup Recipes | Salad Recipes | Bread Recipes | Vegetable Recipes | Pasta Recipes | Poultry Recipes | Beef Recipes | Pork Recipes | Veal Recipes | Lamb Recipes | Seafood Recipes | Pizza Recipes | Cooking for Kids | Italian Cheese | Italian Wine | Dessert Recipes | Coffee and Espresso| Italian Dinner Music | Food Glossary | About the Cook | Sitemap | Share This Site | Contact | Privacy Policy | Disclaimer | Submit Your Recipes | Your Italian Recipes | Archived Menus