---
"Celebrate the happiness that friends are always giving, make every day a holiday and celebrate just living!" - Amanda Bradley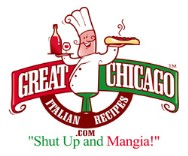 ---
Benvenuto
This November 11th issue of "Shut Up and Mangia!" is part one of "An Italian Thanksgiving".
Throughout the years my family has celebrated Thanksgiving with many different types of recipes including the traditional turkey and stuffing. Since it is one of the of the most celebrated holidays in the country, I thought it was a good idea to devote two newsletters to recall all the traditions and recipes celebrated Italian style. Part one of this issue will focus on antipasti, pasta and desserts and the November 18th issue will focus on meats, stuffing and side dishes.
To me Thanksgiving is a day to celebrate food, family and friends. It's also a day to give thanks that we are fortunate enough to have an abundance of resources at our disposal. As the years go by the family seems to get smaller but the meaning of Thanksgiving hasn't changed at all. Have a great Holiday!
---
Site News
Not much has been going on with the site recently. Just trying to add more great recipes and maintaining the site.
I know it's been months now but the "Wine Section" should be completed soon.
Again, if anybody has some great Italian Recipes they would like to share, please send them through my Share Recipes section as usual.
Thanks again to everyone for supporting the site by purchasing products from The Italian Grocer and my Cafepress store. These are great products are specifically chosen for all your Italian cooking needs.


---
Italian Restaurants Serving Thanksgiving Dinner
Coco PazzoCafe
located at 636 North St. Clair is a perfect place to celebrate Thanksgiving. This Italian restaurant gives you a Tuscan-style meal that includes pumpkin soup and turkey stuffed with wild rice and risotto. For reservation call 312-664-2777.
Café Lucci
will celebrate Thanksgiving by serving turkey, lentil soup, sweet apple stuffing and all the trimmings. Café Lucci, is located at 609 Milwaukee Ave. in Glenview, Illinois. For reservation call 847-729-2268.

Fornetto Mie
is located in the Whitehall Hotel at 107 East Delaware. This Italian-Asian restaurant is offering a four course dinner for $37.50. For reservations call 312-573-6300.

Harry Caray's Italian Steakhouse
located at 10233 W. Higgins Rd. in Rosemont, Illinois will be featuring traditional turkey and prime ribs dinners with a huge buffet of side dishes to choose from. For reservations call 847-699-1200.
---
GreatThanksgiving Books
Here are a couple of great Thanksgiving recipe books to help celebrate the holiday. The first book "The Thanksgiving Table: Recipes and Ideas to Create Your Own Holiday Tradition"
by Diane Morgan focuses on cooking and tradition with some great recipes to get you started.
The second book, "Thanksgiving: Festive Recipes for the Holiday Table (Williams Sonoma Kitchen Library)"
by Chuck Williams, features great traditional recipes with easy to follow intructions.
If you've never cook Thanksgiving dinner before, these two books will come in handy in preparing a great holiday meal.
---
Chicago Thanksgiving Events
On Thanksgiving Day, Thursday November 22, Chicago hosts it's annual Thanksgiving Day parade on State Street from Congress Parkway to Randolph Street. From fantastic floats to marching bands, this parade attracts more than 300,000 spectators, making it one parade you shouldn't miss. For more information contact Chicago Festival.org.
---
Great Thanksgiving Sites
I found couple of interesting sites you may want to visit for the holiday. The first is Thanksgiving on the Net. This site is packed with information about the holiday and has a few good links to other Thanksgiving sites.
The other site we really enjoyed was The Holiday Spot. This site is full of gift ideas, crafts, coloring pages, recipes plus so much more for the whole family.
---
Great Italian Thanksgiving Recipes Part One
Here are a few recipes to help celebrate the holiday. First we start with an Antipasto Tray and Stuffed Artichokes then we move on to two pasta dishes, Gnocchi with Roasted Garlic, Sage and Tomatoes and one of my favorites, Broccoli and Provolone Alfredo. For dessert you can choose from Pumpkin Cheesecake or delicious Chocolate Mousse. The November 18th issue will contain recipes for meats, stuffing and side dishes.
---
Final Thoughts
Final thoughts
Feel free to email this newsletter to a friend so they can Subscribe to "Shut Up and Mangia!" and begin to enjoy the many Italian recipes we have to offer.
Take Care and have a Happy Thanksgiving,
Phillip J. Speciale

That's a discovery! That's Italian! That's
Great Chicago Italian Recipes.com
---